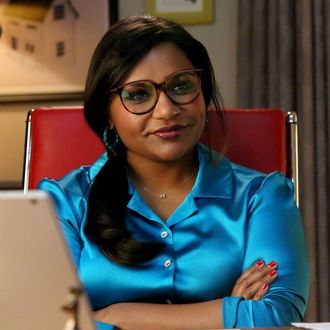 Photo: Evans Vestal Ward/Universal Television/NBCU Photo Bank via Getty Images
Calming concerns from fans of Hulu's The Mindy Project about what's going to happen in their pop-culture spouting, self-centered heroine's love life after the divisive fourth season finale, series star and creator Mindy Kaling told the TCA audience on Friday in Beverly Hills that the fifth season premiere is titled "Decision 2016" because "in Mindy's mind, that's the largest looming question this year." "We're not going to leave [viewers] hanging," said series executive producer Matt Warburton, adding that the premiere will "communicate to the audience what's going to happen" with Chris Messina's character.
"Romantic comedies always end with the couple getting together; this past season was what happens when the couple's together but they're very different, and can they stay together?" Kaling said of season four. "In our version of it, we thought these people have this incredible chemistry, but it's volatile, and it doesn't work. Having Mindy go through thinking she found the right one and having a kid with this man … what she learned the most [was] she could still be a happy person. Figuring out that her career was equally important to her as all of the other aspects of her life was, I think, the biggest part of this past season."
Messina, who will be a guest star in season five, is "still in the world of the show, so fans don't have to worry," Kaling said. Kaling's real-life bestie B.J. Novak, Nasim Pedrad, and Bill Hader are also set to guest star.
And not everything about the 16-episode fifth season will be about dating. Kaling said they were developing the idea for a story called "If I was born a white man" where they'd cast "a white actor we like to live my life for me."