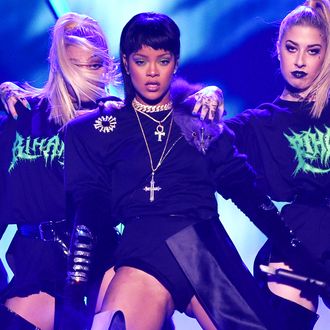 Photo: John Shearer/Getty Images for MTV.com
It would seem that the MTV Video Music Awards can't even buy traditional viewership anymore. Last night's telecast, which was aired concurrently across 11 Viacom-owned networks, included four performances from Rihanna throughout the evening, an extended medley of Beyoncé performing her blockbuster album Lemonade, four minutes of totally unregulated Kanye West, and the VMA return of Britney Spears. But despite all that A-list gold, the show still pulled just 6.5 million viewers. That's down 34 percent from last year. At this point, the network will have to promise a cage match between Taylor Swift and Kim Kardashian to reverse the TV-ratings slump, but it's not all bad news, because alternative engagement in the show is skyrocketing, according to MTV. The VMAs reportedly raked in nearly 63 million video streams, up 70 percent from last year's day-of tally, and Facebook accounted for almost 46 million streams, an explosion of 938 percent growth since last year. The hashtag #VMA was even the top global trending topic for 13 hours yesterday.
This is, of course, part of a long-term downward trend for linear TV ratings that has been steadily accelerating over the past ten years, since the ability to view programming on-demand became a widespread option and people started subbing in computers and à la carte streaming subscriptions for set top boxes and expensive contracts with cable providers. The Rio Olympics is the most recent example of a once erosion-proof TV event suffering major viewership losses, even as the number of people streaming the event online increased greatly. When it comes to revenue, though, digital advertising still doesn't demand the same price that flashy TV spots do, which is what makes the evolution in audience preferences a troubling reality for networks. NBC and MTV also have to face the reality that when you don't broadcast time-sensitive content at the same time all across the country — as was the case with NBC's prime-time Olympics coverage as well as the VMAs last night — people are going to stream events live before they can be spoiled online by all that precious social chatter.
We'll have to wait until the 2017 Video Music Awards to see just how many millions of viewers Taylor Swift brings with her, as she was just about the only gossip-worthy musician absent from this year's telecast. Swift was fulfilling jury-duty obligations this time around, but if she comes back next time and brings a Taylor Bump with her, you can bet you'll never see an awards show without her sitting front and center next to her own dedicated reaction camera ever again.