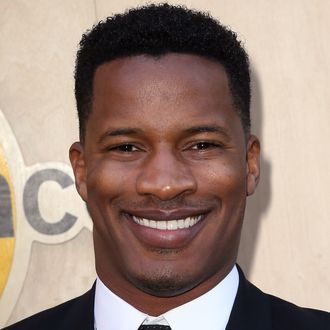 Following interviews he did with Deadline and Variety earlier this month to address the 1999 rape charges he faced as a student at Penn State University, The Birth of a Nation director Nate Parker sat down with Ebony to candidly discuss topics that included rape culture, male privilege, and consent. During his sophomore year at the university, Parker and his roommate, Jean Celestin, were accused of raping a female classmate while she was allegedly unconscious in Parker's room. Years later, the woman's brother revealed that she committed suicide. Parker was acquitted of the charges, while Celestin's sexual-assault conviction was eventually overturned on appeal. Parker says that, despite the story dominating the media ahead of Nation's Oscar campaign — the film debuted at Sundance earlier this year to solid reviews and a record-breaking sale — he does not believe there is a conspiracy to "kill" the story about Nat Turner's slave rebellion:
I'm like, it's here now. And I'm going to celebrate Nat Turner and if he's a leader who inspires me, I gotta face injustices in my own community. I gotta face my past, whether it be 17 years ago or 17 minutes ago. I gotta be able to look at it and say, well, you know, I have engaged in hyper-male culture, and I'm learning about it, and I'm learning how I can change and help young boys and young men change. I'm going to honestly confront this. This is all I can do. I'm not perfect, I'm a flawed man, but I'm willing to try to get better, I'm willing to listen … people may say that, "Oh, now is good timing." I don't know what to say to them except I'm trying.
He also explains why he didn't come off as more "empathetic" to the controversy in his Deadline and Variety interviews:
This is hard; I've been trying to figure out how to say this. Not everyone has the best intentions … I was acting as if I was the victim, and that's wrong. I was acting as if I was the victim because I felt like, my only thought was I'm innocent and everyone needs to know. I didn't even think for a second about her, not even for a second. You asked me why I wasn't empathetic? Why didn't it come off more empathetic? Because I wasn't being empathetic. Why didn't it come off more contrite? Because I wasn't being contrite. Maybe I was being even arrogant … what I realized is that I never took a moment to think about the woman. I didn't think about her then, and I didn't think about her when I was saying those statements, which was wrong and insensitive.
You can read the entire Ebony interview here.