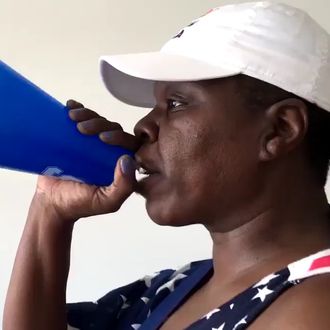 Move over, Bob Costas, a new commentator is coming to town. Leslie Jones has been dominating the Games' coverage by hilariously live-tweeting all of the events — honestly, if you can't make it to a television, just read her tweets — with a constant stream of videos and witty remarks. (Not to mention some pretty sweet patriotic outfits.) "Take her down to Copacabana Beach or Maracanã Stadium," her followers soon chimed, "and let her use her infectious enthusiasm to cover some of the events on-camera for NBC." Well, ask and you shall receive, social-media users. Jim Bell, executive producer of the NBC Olympics coverage, took notice of the tweets and extended a formal invitation for Jones to head down to Rio, and now it's official: Leslie Jones has reportedly accepted NBC's offer to cover the Olympics, and is already on her way to Rio. She's expected to arrive by Friday to provide more commentary as a guest contributor, now from up close.
Watch Jones excitedly announce her travel plans below:
This post has been updated throughout.