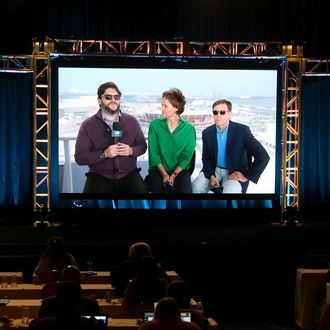 Photo: Frederick M. Brown/Getty Images
With panic over the Zika virus, water sanitation, economic recession, security problems, and political scandals, the upcoming Summer Olympics in Rio has been plagued by problems before it starts on Friday (check out the full event schedule here). But that didn't stop NBC's news team, which is broadcasting the sporting events and whose company has spent a ton of cash securing the rights to do so, from trying to sell this edition of the biannual tradition to journalists on Tuesday at the Television Critics Association press day in Beverly Hills, Calif.  Here are some of the takeaways.
Rio is well aware of its problems.
Rio Mayor Eduardo Paes is "straightforward in acknowledging these problems exist, that they're real, and that Rio probably has the largest array of problems or potential problems of any of these events" said NBC Olympics prime-time host Bob Costas. "I think it's become a cliché to say that every Olympics has faced issues and that's almost the case. But usually the Olympics come off with any significant difficulty … we hope that's the case because there's so many great athletes." He added that Paes said "realistically, we never expected the Olympics to solve hundreds of years of social problems."
NBC will continue to cover these stories, when warranted.
Jim Bell, executive producer of NBC Olympics, said that he is there to cover the Olympics and that this is a narrative that routinely happens going into these games. But "should it be a story while we're here, we'll cover it." Costas added that when it comes to Zika, "the outcome of that is something you'll have track months down the road."
Don't drink the water.
"Every bit of competition that takes part on open water — marathon swimming, sailing — you've got to talk about the condition of the water," said Costas. "These athletes are dealing with it and, in some cases, the best they've been told is try to keep your mouth closed … So I guess some new techniques will be acquired." NBC Olympics correspondent Mary Carillo said that aquatic athletes also had problems in London when they were swimming in Hyde Park. Because geese.
Gymnast Simone Biles to still the one to watch.
"The people who are real experts have told us that, when the Olympics are over, if Simone Biles delivers her A-game, she will be, by acclimation, the greatest all-around female gymnast of all time," said Costas. "At the same time, [Japan's] Kōhei Uchimura  … if he maxes out among the male gymnasts, then he'll leave Rio with the same designation."