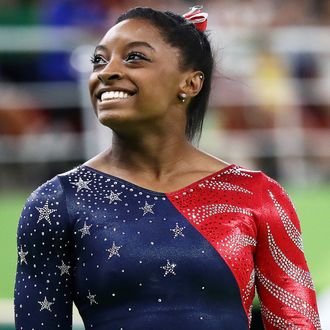 Simone Biles.
Photo: Ezra Shaw/Getty Images
NBC's rough first week of 2016 Rio Olympics coverage continues: After one commentator had to apologize for giving undue credit to Hungarian swimmer Katinka Hosszú's husband for her gold-medal performance, another is expressing his regret after offending those who are adopted. In his Sunday coverage of the U.S. women's gymnastics team qualifier, NBC's Al Trautwig described gold-medal favorite Simone Biles's parents as "her grandfather and his wife." The problem with that phrasing? Biles's maternal grandfather, Ron Biles, and his wife, Nellie Biles, legally adopted Simone and her sister Adria in 2000 after they'd been in foster care — meaning they are her parents, full stop.
The profile NBC aired of Biles that same night referred to Ron and Nellie as her "mother and father," while Trautwig noted that Biles calls them "mom and dad." When the adoption community called Trautwig out on Twitter for the error — some wondering whether or not he simply misspoke — Trautwig responded that his refusal to acknowledge Biles's adoptive parents as her parents was intentional.
The AP reports that NBC ordered Trautwig to delete his tweet. And in a new statement, Trautwig has now expressed his "regret" over his poor choice of words, both on-air and online. "I regret that I wasn't more clear in my wording on the air. I compounded the error on Twitter, which I quickly corrected. To set the record straight, Ron and Nellie are Simone's parents." So, how many more days until Leslie Jones gets to Rio?