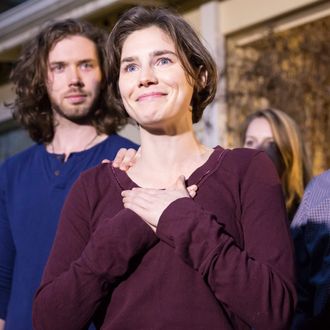 Amanda Knox.
Photo: Stephen Brashear/Getty Images
Werner Herzog peering into a bunch of volcanoes? A true-crime doc about Amanda Knox's trial? An undercover exposé on the ivory trade executive produced by Leonardo DiCaprio? Oh, Netflix has got you pegged. The streaming service announced four new fall documentaries today, all of which are set to premiere at the Toronto Film Festival September 8 through September 18, and all four of which you should start scheduling your plans around now. Netflix previously announced these upcoming nonfiction films: Ava DuVernay's The 13th; a documentary about sexual assault, Audrie & Daisy; a bio-doc of the titular fireworks artist Sky Ladder: The Art of Cai Guo-Qiang; and the documentary short Extremis, which explores end-of-life medical decisions. Joining the slate are:
The White Helmets (September 16)
A Netflix original short by Oscar-nominated director Orlando von Einsiedel and producer Joanna Natasegara, The White Helmets follows three rescue workers in Aleppo, Syria, and Turkey in 2016, exploring both the personal challenges facing those who work in areas of armed conflict and the reality of day-to-day life for Syrians who remain in their country.  

Amanda Knox (September 30)
An in-depth exploration of Knox's conviction and acquittal for the 2007 murder of roommate Meredith Kercher, Amanda Knox is directed by Rod Blackhurst (Here Alone) and Brian McGinn (Chef's Table) and produced by Mette Heide (India's Daughter).

Into the Inferno (October 28)
Werner Herzog and volcanologist Clive Oppenheimer visit Indonesia, Ethiopia, Iceland, and North Korea to explore the myths, philosophy, and history of the world's volcanoes, as well as the communities that live beside them.  

The Ivory Game (November 4)
A feature exposé on the global trafficking of elephant ivory by directors Richard Ladkani and Kief Davidson, who spent 16 months undercover with "intelligence operatives, undercover activists, passionate frontline rangers and tough-as-nails conservationists" to unearth the black-market network of ivory poachers and purveyors.