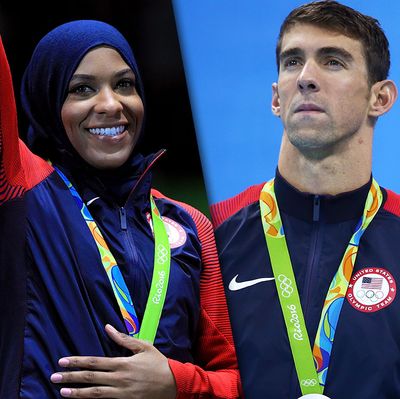 Photo: Tom Pennington/Getty Images/Clive Rose/Getty Images/Emmanuel Dunand/AFP/Getty Images
Hot bodies, raging hormones, crowded hot tubs. No, I'm not talking about The Bachelorette. This is the Olympic Games, the greatest reality television series of all time. The only problem? The Games only last for two weeks every two years. We need more! That's why we here at Vulture are proposing new reality shows to give us what we want in the off-season. Yes, we had the dud that was What Would Ryan Lochte Do?, but let's pretend that never happened. Apparently the Italians have a show called Gymnasts — Parallel Lives that follows the team as they prepare for the Games, and it sounds awesome — so clearly it can be done. Here are five Olympians we'd like to see more of when the Games are over.
Michael Phelps
So what does this guy do now? He's got 28 medals, he's the most-decorated Olympian of all time, he's retiring. Where does your life go? I'm picturing this show following him as he sets up a swim clinic or sports academy of some kind in his native Baltimore area. Let's imagine he also starts traveling the country with different advertising campaigns and consulting jobs. Don't forget he's a new dad to the world's cutest pair of cheeks so there would be a ton of baby hijinks, and the man is newly engaged so there could also be some wedding-planning drama. His lovable mama would also pop in from time to time to give big hugs and sage advice about being a parent and a spouse. Something wholesome like this would be great for his image.
Aly Raisman
Now this would be very similar to the Phelps show, but with dating. Girlfriend just spent the last 20 years of her life in a gym, now she needs to learn how to swipe right. How do you make conversation over lattes when you're one of the greatest gymnasts in the world? The show, of course, would also see her working in gyms and training young gymnasts, and it would also give us an excuse to check in on her close friend Simone Biles, who of course will be training for the next Olympics. I'm also picturing lots of scenic Massachusetts landscapes as the backdrop for deep emotional conversations about love. (You know Aly's wardrobe is half leotards, half Patagonia vests.)
Ibtihaj Muhammad
We need more Muslim role models on television. Period. We cannot live on the Shahs of Sunset alone. In a political climate where Americans are afraid of anyone who doesn't look like them, having a mainstream show that follows Muhammad around in her everyday life would be very powerful. It would also be important for little girls everywhere to see a woman performing a male-dominated sport. I'm seeing the tagline: You don't have to be a princess, you can also be the knight.
Tom Daley
We know the British can do reality TV with the best of them, and a show about Tom Daley would have one of the key elements of any great reality show — a hot protagonist. The show could literally be nothing more than him trying on speedos. Or combing his hair. Or making tea. Whatever. (I kid, but seriously, this guy should be in more commercials.) A bonus here would be Tom's hot fiancé, Oscar-winning screenwriter Dustin Lance Black, so there would be plenty of opportunities for swanky trips to L.A. and movie sets, and of course the obligatory appearance at LGBTQ rallies and events. Let's hope there's some Sam Smith shade, too.
Carmen Marton and Safwan Khalil
These two are adorable. The Australian tae kwon do champions are an engaged couple who met on the competition circuit. She converted from Catholicism to Islam for him, and you know that has to involve some TV-worthy culture clash between their families. I would 100 percent watch the wedding-planning drama that ensues here. Just look at their cute Instagram!