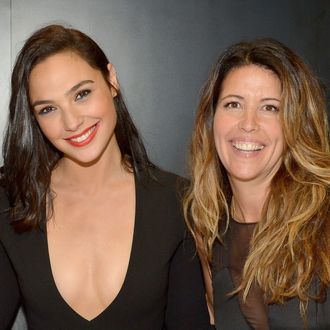 Wonder Woman Gal Gadot and director Patty Jenkins.
Photo: Charley Gallay/2016 Getty Images
It is not a secret that Warner Bros. is struggling with its DC Films properties. The money is good, for sure, but the reviews have gone from bad (Man of Steel) to real bad (Batman v. Superman: Dawn of Justice, Suicide Squad). So even though it wasn't surprising to hear an alleged former WB employee say that those inside the studio are already dragging Wonder Woman, it was still damn depressing. "What are you even doing?" asked "Gracie Law," the anonymous writer who penned an open letter to her former bosses, utterly dismantling the senior leadership at Warner Bros. "I wish to God you were forced to live out of a car until you made a #1 movie of the year. Maybe Wonder Woman wouldn't be such a mess. Don't try to hide behind the great trailer. People inside are already confirming it's another mess."
Well, this afternoon Wonder Woman director Patty Jenkins took to Twitter to defend her film, insisting that there has been no such mud thrown at the first female-lead superhero movie of the Superhero Movie Era. And since Warner Bros. isn't commenting on the letter, Jenkins should stand up for the work. Let's just hope — really, with everything you have — that she isn't just trying to save face. Because that was a totally great trailer, and if DC squanders Wonder Woman too, then Captain Marvel is going to have an even wider door to stride through to claim the exclusive title of baddest heroine on the block. We need you, Patty. We really do. Read all of Jenkins's tweets below.