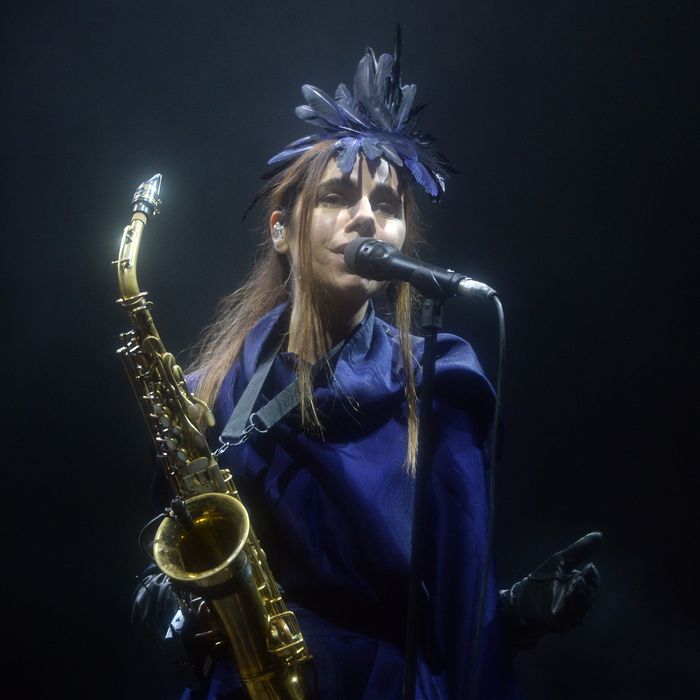 Photo: Rune Hellestad /Corbis via Getty Images
This spring British singer-songwriter PJ Harvey released The Hope Six Demolition Project, the latest in a string of acclaimed solo albums stretching back into the early '90s, each pairing raw blues, punk-rock furor, and incisive lyricism. Hope Six was written in the wake of trips to Kosovo, Afghanistan, and Washington, D.C., and matter-of-factly describes the resignation and systemic injustice the singer encountered in the nation's capital. Last night Harvey took the tour to Manhattan's Terminal 5 for the second of two consecutive sold-out shows. Backed by a murderer's row of session musicians — including longtime collaborators John Parish and Mick Harvey of Nick Cave and the Bad Seeds, and Queens of the Stone Age's Alain Johannes — the singer thundered through a set list comprising Hope Six in its entirety and selected highlights from 2011's Let England Shake and the '90s trio of Rid of Me, To Bring You My Love, and Is This Desire?
The stage arrangement honored Hope Six's marching band / jazz combo underpinnings, piling Harvey and nine other players into the same space. Routinely this meant a guitar and bass setup with horn accompaniment and hefty low end from a drummer and a pair of secondary percussionists. But everyone shuffled instruments, so that one song might require four guitars while the next spread them back out over drums and keyboards. Johannes, for one, cycled between his signature cigar-box guitar, vocals, hand claps, maracas, and, most amusingly, guitar plucked by maracas. Harvey and her band nailed all of Hope Six's strange twists nearly note for note, and the bombast proved a boon to songs played from her earlier works. Once you hear the bluesy 1995 murder ballad "Down by the Water" backed by bass clarinet and baritone saxophone, you can't un-hear it, not that you'd want to.
In the midst of the maelstrom, Harvey held court like alt-rock royalty, donning a cap of feathers and twirling through Hope Six's flurry of political screeds. Her voice was the night's only constant, but it is a mercurial instrument, raw and bruised when necessary but also capable of drawing up into a light, twee lilt. Harvey's range showed face in the string of '90s gems that brought the set toward its close. For "50 ft Queenie," she affected a high-pitched punk-rock screech, but "Down by the Water" was offset by a methodical, disaffected delivery that rendered the horror of the song's drowned-child story all the more chilling. "To Bring You My Love" warped the thing like bubblegum, zipping up and down octaves and playing ghoulish games with tone and vibrato. Harvey approaches song like an actress; the mood of the piece dictates the texture of her performance.
Devoting the majority of the night's body of songs to the new album worked because Hope Six is great (Harvey doesn't have a bad record in her), but it would've been nice to hear this ten-piece band cut loose on more of her back catalogue. Even so, the show transfixed thanks to the skill and versatility of all the players, and the synergy that makes Hope Six so coolly well-rounded. In all its martial glory, the record, and the show by extension, speaks to the many tiny ways that America hides the truth that it's a territory that subsists on a dream of prosperity many never live to experience. The music could be beguilingly sweet, but the message burned hotly underneath.