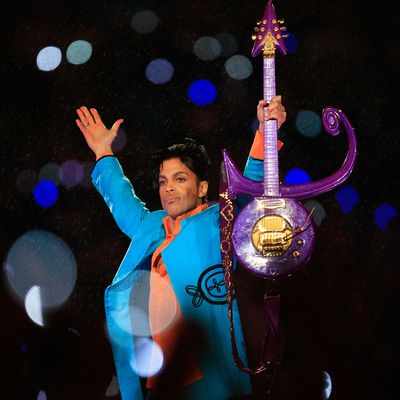 Photo: Jamie Squire/Getty Images
Prince died on April 21, but his family members, attorneys, and assorted other representatives have not yet discovered a last will and testament for the late legend. Whether it was his refusal to accept mortality or a rare bit of careless procrastination, the Purple One's estate might as well share a name with his 1996 album, Chaos and Disorder. With no spouse or known children, the estate may be divided among Prince's sister and five half-siblings, although other potential heirs are fighting to be included — and the courts still have to figure out just how rich Prince was when he died, from an accidental opioid overdose. Some estimates say $300 million, and that's without considering the value of his likeness (for hologram tours, merchandising, etc.), his extensive vault of unreleased recordings, his real estate, and taxes owed to both federal and state agencies.
It's a convoluted mess, so Vulture is here to break down what's happened, who the main players are, and what's at stake.
The Will
If Prince ever created a will, he hid it so well that nobody has been able to find it. His sister, Tyka Nelson, asked Carver County judge Kevin Eide to appoint Bremer Trust, a financial company that Prince used before his death, to handle all of the musician's postmortem business matters. Barring an unexpected discovery, we'll never know why Prince didn't draft a will, or even a plan for anyone to care for him if he somehow became incapacitated. That's difficult to fathom, given how litigious Prince was in his lifetime. (See: the lawsuits he filed against fans who shared bootleg recordings of his concerts, or the infamous period when he identified himself with an unpronounceable symbol because of a legal row with Warner Brothers.) According to The Hollywood Reporter, one of Prince's former lawyers said the star changed attorneys "like underwear." As of January 2017, a Minneapolis judge appointed another financial company, Comerica Bank & Trust N.A., to be the permanent corporate administrator over Prince's estate, rejecting both CNN's Van Jones and entertainment lawyer L. Londell McMillan's bids to serve as co-personal representatives for Prince's estate. In April, Comerica named Spotify executive Troy Carter (who used to manage Lady Gaga) an entertainment adviser on Prince's estate, joining McMillan and Charles Koppelman in that role.

The Heirs
Under Minnesota law, Prince's money is set to go to his biological sister, Tyka, and his five surviving half-siblings, John Nelson, Norrine Nelson, Sharon Nelson, Alfred Jackson, and Omarr Baker. That's due to the fact that his parents are deceased, he wasn't married, and his only known child, Boy Gregory, died a week after his birth due to the rare genetic disorder known as Pfeiffer syndrome, which resulted in fatal skull deformities.
This is where a murky situation gets even murkier. Two of the most compelling other claimants to Prince's estate are Brianna Nelson and Victoria Nelson, the daughter and granddaughter of Prince's late half-sibling Duane Nelson. Duane was Prince's head of security until the pair had a falling-out, reportedly over Duane's violent incidents with a former girlfriend and neighbors in the '90s. Prince ultimately filed a restraining order against Duane, who died in 2011. According to the Star Tribune, the other siblings left Duane's name out of Tyka's initial filing because they believe he is not actually the son of Prince's father, John Lewis Nelson, and therefore not biologically related to the singer, despite the fact John is listed as a parent on Duane's birth certificate.
Judge Eide also had his hands full with dozens of people who claimed to be Prince's blood relatives, including a Colorado inmate alleging to be his love child; a woman seeking $750 billion as compensation for her "now 40 years long post-Civil Rights Movement Sociopolitical Hostage Crisis" that somehow had something to do with the Purple One; someone who filed a billion-dollar claim thanks to an "implied agreement"; and a secret wife who claimed to be involved in a C.I.A. cover-up. On July 29, Judge Eide dismissed 29 of these cases and ordered DNA testing for Tyka, John, Norrine, Sharon, Brianna, and Victoria to determine who really is biologically related to Prince on his father's side. The results of those DNA tests have not yet been revealed. The ruling that would make the six siblings Prince's lawful heirs had been delayed by appeals from the others claiming to be Prince's heirs. However, in May 2017, Judge Eide announced he would take the siblings' request to have the process expedited under consideration. The siblings claimed the holdup was costing Prince's estate money and denying the estate proper administration. As of May 19, Judge Eide formally named Tyka Wilson and Prince's five half-siblings the lawful heirs to his estate. There is, however, one stipulation: They'll have to obtain a court order to be distributed any assets and "nothing will be distributed that might adversely affect the claims of those with pending appeals."
The Property
Paisley Park was Prince's best-known property, thanks to its status as his sometimes home, recording studio, and venue where he often held all-night concerts and parties for any fans willing to make the trek out to the suburbs of Chanhassen, Minnesota. Aside from that, Minneapolis Public Radio found that Prince had property all across the Land of 10,000 Lakes, including his childhood home, the house from Purple Rain, commercial space, and a vacant lot.
The Minnesota/St. Paul Business Journal also reported that "public records show that Prince has been associated with addresses in Beverly Hills, New York, and potentially New Jersey, Virginia, and Tennessee." The trust got permission to start selling off six of these properties, beginning with a $22 million commercial building and a $13.7 million, 156-acre piece of land. For any concerned fans, a trust representative said it has "no plans to sell either Paisley Park or the property referred to as the Purple Rain house." For the family, it's a great opportunity to get some quick money as they continue to sort through everything.
The family will also make money by allowing fans into Paisley Park for paid tours, which will begin on October 6. "Opening Paisley Park is something that Prince always wanted to do and was actively working on," Tyka Nelson said in a statement in late August. "Only a few hundred people have had the rare opportunity to tour the estate during his lifetime. Now, fans from around the world will be able to experience Prince's world for the first time as we open the doors to this incredible place." While tours of the estate were originally delayed due to the former administrator's issues securing permanent permits from the city council, Paisley Park was reopened in late October 2016 and rezoned as a museum.

Visitors will be able to see his recording studio, rehearsal rooms, and the concert stage where he prepped for tours and held invite-only shows. (Plenty of memorabilia will also be on display, including outfits, instruments, rare audio and video, cars, and motorcycles, though Prince's second-floor apartment, the elevator where he died, and his underground vault will be off-limits.) The family is partnering with the company that operates Elvis Presley's Graceland to set up the exhibit, with some input from Prince himself — as Rolling Stone reported, he sent emails and texts to associates detailing how he wanted the museum to run after his death. General admission tickets will start at $38.50 and VIP tours will cost $100.
The Vaults
As a recording artist, Prince worked at an inhuman pace, reportedly staying up for days at a time working on tracks. Judge Eide ruled that Bremer Trust could hire music-industry experts to examine his vaults, cataloguing and determining the value of his unreleased recordings. As of now, it's unknown how many studio and live albums, as well as music videos and films, Prince had stored away when he died. In February 2017, the estate's advisers said there was "not an active search" taking place through the vault due to more pressing interests.

"I've never said this before, but I didn't always give the record companies the best song. There are songs in the vault that no one's ever heard. There are several vaults; it's not just one vault," he said in a 2014 interview with Rolling Stone. That includes "a couple Revolution albums […] and two Time albums, one Vanity 6 album […] and tons of stuff recorded in different periods."
It could take over a year for any expert to determine what those recordings are actually worth. Luckily, as Rolling Stone reported, the estate is seemingly in good hands: those of "former EMI head Charles Koppelman (who signed Prince to that label for Emancipation in 1997) and one-time Prince lawyer L. Londell McMillan, who currently owns hip-hop magazine The Source."

Some of what Prince had been hiding in his vault all this time was revealed in a 40-track greatest hits album called Prince 4Ever, released in November 2016. It included the studio version of "Moonbeam Levels" and was released through a partnership between Prince's estate and NPG Records/Warner Bros. On June 23, even more unreleased Prince music will escape the vault via a reissue of Purple Rain that the estate says Prince was involved with prior to his death and granted permission for its release. The reissue will include remastered versions of all the album's classics, unheard or rare songs (like the studio versions of "Electric Intercourse" and "Our Destiny/Roadhouse Garden"), and two concert films. Apple Music is reportedly being shopped one of those films — Prince's famed 1983 performance in Minneapolis — as an exclusive premiere, as well as the rights to do a documentary about the making of the film Purple Rain.

The Music Rights
In November 2016, Prince's estate struck a deal reportedly worth $31 million with Universal Music Publishing Group for the rights to Prince's music after intense competition from all the major labels. That deal gave Universal the songwriting rights to license Prince's songs, while Prince's estate would still own the songs. Not long after, in February 2017, Prince's music returned to all music streaming services after Tidal had claimed exclusivity under Prince's wishes. (Prince's estate has since sued Tidal over whether the service had the legal right to stream some of Prince's catalogue after his death.)
However, as of May 2017, Universal is reportedly trying to void its contract with Prince's estate. According to court documents filed by the estate, Universal has accused the estate of fraud, claiming that it misrepresented which parts of Prince's discography the label could have access to and when. Representatives for the estate deny those claims. Universal's specific gripe is that Prince's estate allegedly did not have the authority to sell the rights to Prince's past work under Warner Bros. until that label's separate contract expires in 2021, but had told Universal it would be available by 2018. Universal is said to be demanding that the money it paid Prince's estate be returned.

Who owns what has also thrown the state of at least one unreleased Prince project into disarray. Ahead of the first anniversary of Prince's death, the label Rogue Music Alliance and its producer-engineer George Ian Boxill attempted to release the Deliverance EP, a six-song project featuring unreleased Prince songs recorded from 2006 to 2008, one of which, the title track, was made available. But before the rest could see the light of day, Prince's estate had preemptively filed a lawsuit seeking to have the EP blocked from distribution on the grounds that Boxill was unauthorized to release these songs under a confidentiality agreement they say Boxill signed. The estate also sued to have the master recordings returned to their possession. The day before the EP's would-be release, a federal judge sided with the estate and granted a restraining order against Deliverance — though the judge could not block future release of the already-sold first single — and ordered the estate to pay $1 million to continue the blocking the EP's release until the case goes to trial. It's not currently known if the estate has agreed to make this payment.

The Likeness
With so-called holograms, CGI replications, unauthorized merchandise, and more being used to make bucks off the likenesses of dead celebrities, Minnesota House of Representatives member Joe Hoppe proposed the PRINCE Act, which stands for "the Personal Rights in Names Can Endure." "The legislation allows for a postmortem right of publicity for a period of at least 50 years after the death of the individual," one lawyer noted, according to The Wall Street Journal. Other attorneys and legal experts decried the bill as too broad, saying it could allow lawyers to sue people for the mere act of hosting a Prince dance party. Hoppe eventually set the act aside, though he hopes to reintroduce it with more definitive, narrow language sometime in the future.
The Philanthropy
Prince's lack of a will also causes trouble for any charitable organizations he supported. As a devout Jehovah's Witness, Prince declined to talk about his philanthropy, which included helping low-income children learn how to code, providing poor families with solar panels to ease their electric bills, and often directly helping the families of black victims of police shootings. Sadly, his posthumous support for these and other causes is unknown.
The Taxes
Whoever ends up as Prince's heir might have to pay taxes on what they inherit. Federally, the IRS imposes a top estate-tax rate of 40 percent, a fee often referred to as the "death tax." (The effective rate, of course, is lower than that.) Minnesota can also hit each inheritor for a top rate of 16 percent. According to the Star Tribune, government agencies could call upon that debt as soon as January 21, the nine-month anniversary of Prince's death. And that's only if the IRS makes a determination on what Prince's estate is worth. His heirs could end up fighting the government, like Michael Jackson's family has done. In that court fight, they claimed that Jackson's estate was worth just $2,105 at the time of his death, while the IRS countered with a hefty $434 million.
Reports have argued that the whole estate — vault contents such as 67 gold bars included — could be valued in the $300 million range. According to estimates, Prince's estate was ordered to pay $100 million in taxes this year, almost half the estate's worth. Several music deals brokered by the estate's advisers, such as the partnerships with Universal and with streaming services, have reportedly been part of the estate's plan to soften the blow and pay off the taxes.

The Future
So far, Tyka Nelson and the other known heirs seem lucky to have Judge Eide presiding over the mess. But they'll have to wait out expert assessments of his physical and intellectual property, and an IRS fight, in what could very well be a years-long process. Once all that is settled, there's still the possibility that the family could sue the parties who helped Prince obtain the opioids that killed him for wrongful death, or sue each other for larger shares of his estate. They'll likely want to get it over with as soon as possible, because their legal bills have already crossed $2 million. In September alone, two lawsuits were filed against the estate — one asking for $56,000 and the other for $350,000 — regarding parties scheduled to take place at Paisley Park that were canceled after his death.
Aside from opening the Paisley museum, the family has another huge event to look forward to: On October 13, they're throwing a huge tribute concert at Minneapolis's U.S. Bank Stadium. Performers include Stevie Wonder, Christina Aguilera, Chaka Khan, Morris Day and the Time, and Prince's old backing band the New Power Generation. It'll be a nice way to honor the man — and a nice payday for his family. The estate's advisers also say that the possibilities for profiting off of Prince's legacy are endless, "whether it's a motion picture, documentaries, Broadway, Cirque de Soleil." "All of those are opportunities that I think are in the future for Londell and me and the estate to work on," estate adviser Charles Koppleman says.

This post has been updated throughout.