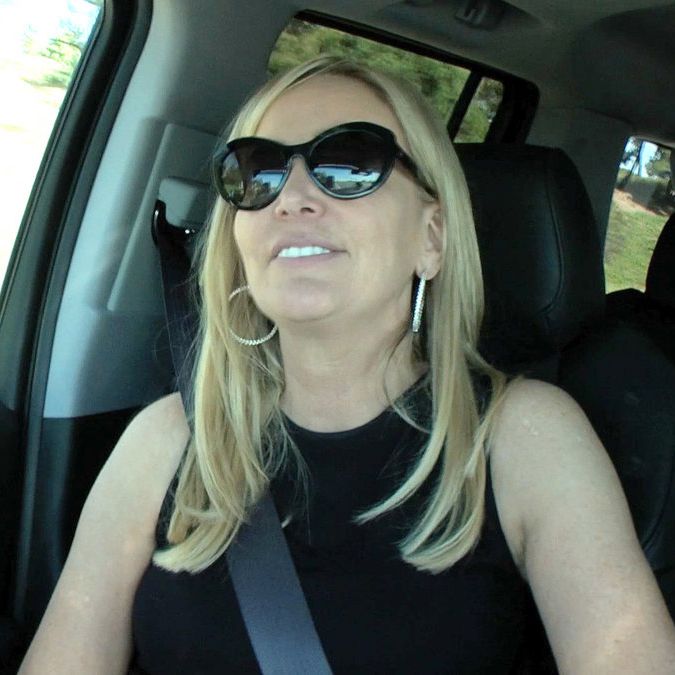 Shannon Beador.
Photo: Bravo
If there is one piece of advice we can give you here at the Real Housewives Institute, it is this: Never get your vows renewed. Vicki Gunvalson renewed her vows just before getting divorced. So did Ramona Singer. Kristen Taekman renewed her vows and then her husband was caught spending thousands of dollars trying to have affairs on the internet. Heidi Klum and Seal used to renew their wedding vows all the time and now they're broken up. Mariah Carey and Nick Cannon did it, too, and they're as ruined as Mimi's vocal chords after years of eating Skinny Cow ice cream and pretending she's still thin.
If you are thinking about renewing your vows, just don't, as I once implored on Gawker.com, a helium balloon with a note attached that a billionaire set loose into the air and has been stuck, deflated, on a power line somewhere near Sausalito. I think this renewal is going to turn out badly for Shannon Beador as well. Isn't this the weirdest, creepiest, oddest birthday surprise that ever did happen? It is obviously just a way to make up for humiliating himself on television last year by taking Shannon to a sports bar for her birthday and shoving some buffalo sliders down her gob, but David Beador really went overboard.
There is a moment when he walks Shannon out of their hotel room and into the ceremony where he says, "We're going to renew our vows now," and she is sitting there crying, and it is as if she is being held hostage and he is forcing her to do it. "I would have worn a different dress," she says, smoothing the magenta that looks wonderful but definitely clashes with the matching red theme her daughters chose for the occasion. David seemingly thought about everything, except ruining the pictures forever.
The birthday surprise, I thought, was darling. Yes, he is trying hard, but taking her back to where they got married and throwing her a dinner out of the blue with her best friends is just really sweet. Sure, he invited Jeff Lewis, the man who stole Lisa Rinna's lips and can't be trusted to behave whenever there are cameras present, but he at least knew better than to invite Vicki and Kelly, who look nothing like Grimace and the Hamburglar except they totally are.
Yes, all of that was wonderful. But springing a vow renewal on someone? Well, that is just totally nuts. Shouldn't marriage be about communicating and doing things that will make both partners happy? I'm all about surprises, but it seems that a big decision like this is something that should be proposed first and the interest gauged. Instead, David just acts in his own self-interest and doesn't consider Shannon's feelings at all. Isn't that what got them in trouble in the first place? And so, Shannon is there wearing the wrong dress, completely unprepared, and has no idea what to say during the ceremony because she found out about it 30 seconds before they re-walked down the aisle.
When they are standing up there with the minister, he says, "There's a lot of people saying, 'No way. This isn't going to happen. This marriage is done.'" Guess what, I still am! A vow renewal is the death knell, and in a couple of years, when they both realize that there is no reason to continue on after their children go to college, and that one twin who looks like Cara Delevingne drops out to be a supermodel, they will remember this time and understand their folly.
As I said, Vicki and Kelly were not invited to the vow renewal and they celebrate by going to some restaurant that has eight kinds of olive oil, a martini menu, and food, I guess. (Not that you would ever see these two pushing solid food around on a plate.) Vicki tries Kelly's martini and it is so spicy, she makes this fish face where she sticks her tongue out between Jeff Lewis's old lips and makes a flickering sound. I swear, when you close your eyes for the last time and open them again in the afterlife, Satan is standing over you making the exact same face, except he's also jamming three fingers into your gooch while he's doing it.
The dinner between Vicki and Kelly is so incredibly awful for so many reasons, the biggest of which is that Kelly tells Vicki that she is her mentor. Having Vicki as your mentor is appointing Benny Hill as the secretary of the treasury and then expecting him to solve an economic crisis. It's like putting Woody Harrelson in charge of your school bake sale and then wondering why you feel really woozy an hour after you eat a brownie. It's like giving Oprah Winfrey the keys to your Panera Bread franchise and expecting her to return it in one piece because SHE LOVES BREEEEEEAAAAAADDDDDD!!!
Also, Kelly is talking about her marriage and how awful and controlling her husband used to be and how he hasn't really gotten better since they've reconciled and some days she just really wants to divorce him. Vicki responds by saying that Kelly should stick with him and learn to love him. Why? Not for the good of their child or because he has a great heart or because he is the former CFO of LeapFrog and has more money than Shannon Beador has nose-cleaning solutions. She should apparently stay with him because being single sucks. Oh please. I would take the flaming pit of brimstone that is Bumble over being in a loveless marriage with a man so controlling he wouldn't even let me divorce him any day of the week.
Kelly Dodd, a tampon that has lost its string, is a source of consternation for everyone this episode. Meghan is busy getting her embryos implanted and even she is worried about Kelly. On the day Meghan has to decide how to break it to her disinterested husband that they should have a girl and a boy when he didn't even want one baby in the first place, she is worried about how to tell Kelly that she is an embarrassment and a bad friend. Meghan's solution? Get hopped up on Valium, put on your large-framed Gloria Steinem feminista glasses, and just tell her, right to her face, that she is a disappointment. I love Valium groggy Meghan. When she's doped up on downers, she's the same exact person as her husband but with much chicer eye wear. It's almost uncanny.
Of course, there is one moment of this episode that I will never forget. It's when Shannon and David first arrive at the hotel and they have 15 minutes to kill before the surprise party and David closes the door and says, "We could stay in here and knock it out real quick." That, ladies and gentlemen, is love. The cupids and Casanovas out there think that, in order to display your passion, you need to hump and growl for hours on end, breaking a shimmering sweat as you moan and gasp in each other's ears, shifting positions and rummaging around the bed until every square inch of the sheets has been covered in the mucous-y proof of your consummation.
That is wrong. Real love, true love, is that intimacy where you bang it out in the time it takes to watch an extended Rihanna video on YouTube. It's about knowing that other person's body so well you can push their buttons as easily as programming the microwave to reheat your coffee. It's about knowing that you don't need the approval of the gods of love, that you have each other, swimming around in each other's bodies, so familiar in the territory that it's not special and no pretense must be made. That is what will join them together for eternity, the small moment when their bodies are together, creating little bursts of friction that could even light a black hole on fire.