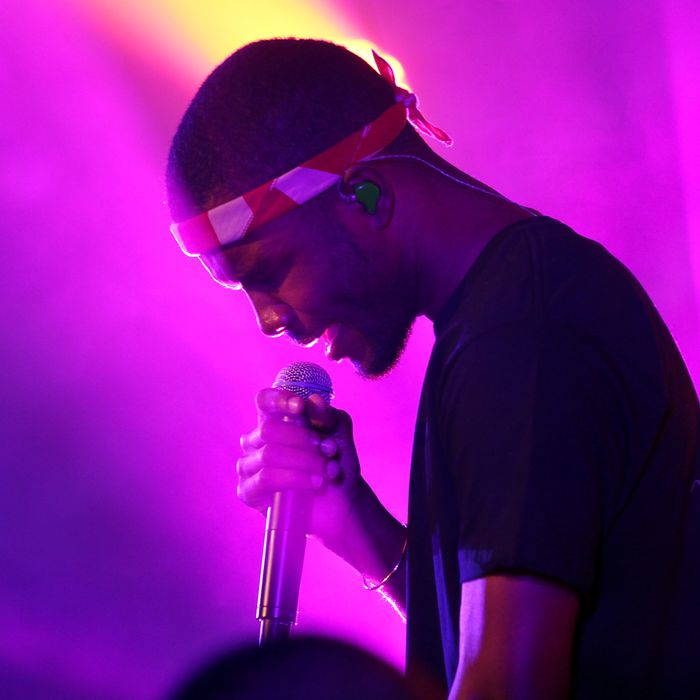 Photo: Roger Kisby/Getty Images
The last time Frank Ocean released a record, thirsty culture critics coined a genre to describe it. The rise of alt-R&B, as it was charitably dubbed — hawks preferred PBR&B — was predicated on the idea that traditional R&B had grown stale enough to engender a backlash. The thinking was that works by Frank, Miguel, and the Weeknd, which had little in common besides 2012 release dates, were harbingers of their genre's new wave. Frank's Nostalgia, Ultra and Channel Orange, Miguel's Kaleidoscope Dream, and the Weeknd's Trilogy sucked attention away from excellent, if more traditional, soul outings like Brandy's Two Eleven, Usher's Looking 4 Myself, K. Michelle's Rebellious Soul, and more. On the eve of what is believed to be the release of Frank's long-awaited sophomore studio album Boys Don't Cry (and a week out from Drake collaborator PARTYNEXTDOOR's hotly anticipated P3 project), let's avoid repeating the selective soul-music amnesia the last record inspired.
This year has already seen top-notch full-lengths from Rihanna, Beyoncé, and Anderson .Paak. Just last month, Chicago singer-rapper Dreezy released the sleek, confident No Hard Feelings, and the duo of New Jersey singer Eric Roberson and Foreign Exchange singer Phonte released the sprightly, funky collaborative album Tigallero. This week, American Idol winner Fantasia Barrino flexed her mettle over the stormy ballads of The Definition Of…, while London singer Nao churned out breathtaking retro-futurist electro-soul on her debut studio album, For All We Know, and Toronto producer Stwo served up D.T.S.N.T. , a platter of chilly T.O. soul showcasing a cadre of the city's rising voices (see: Drake cohort Amir Obe and "Gazi" singer A. Chal). Boys Don't Cry is bound to flatten the R&B conversation over the next week, as any high-profile album that comes down the pipeline a year late ought to. But if R&B didn't need a savior when Frank Ocean first crash-landed on the radio, it certainly doesn't now.