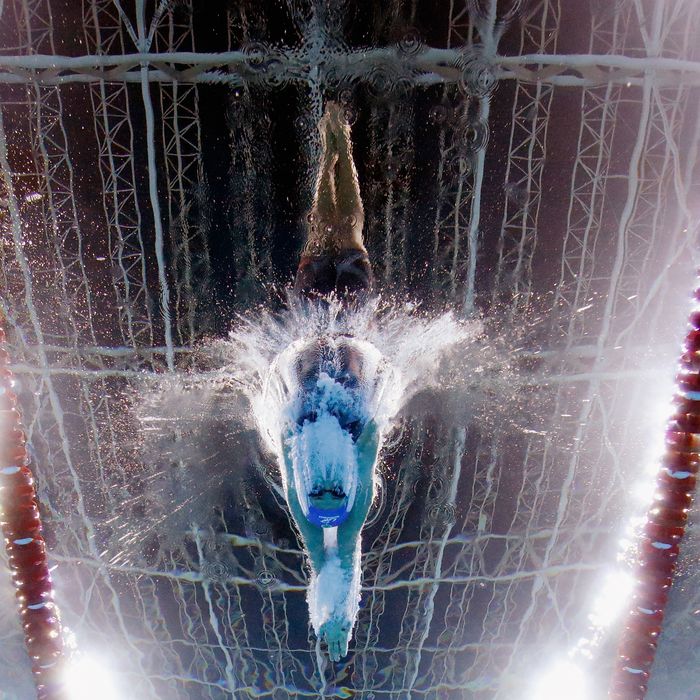 Photo: Al Bello/Getty Images
American athletes cleaned up at the Rio Olympics, dominating the Games in a way no Olympic team has done in decades. But all that winning didn't translate into ratings gold for NBC: After getting off to a rocky start with the lowest-rated opening weekend of Summer Olympics coverage in at least 20 years, Sunday's Closing Ceremonies appear to have delivered the smallest Nielsen numbers for an Olympics capper since at least 1972, and most likely ever. Worse for the Peacock, despite a plethora of gold-medal performances from superstars such as Gabby Douglas, Michael Phelps, and Katie Ledecky, the Rio games rank as the lowest-rated summer Olympics since Sydney 2000. The preliminary final score: a 14.4 household rating and 25.4 million viewers, down about 18 percent from London's 17.6 rating and 31.1 million viewers. Given NBC's commitment to spending roughly $8 billion for U.S. rights to the games through 2032, it's hard to imagine anyone at NBC is overjoyed by how audiences responded to Rio. And yet, it would also be an overstatement to declare what happened a complete catastrophe for the network. Let's break down what we do know about NBC's Rio ratings: 
Not even the Olympics are immune to audience erosion.
Broadcast networks have been dealing with sizable linear ratings declines for more than a decade now, prompted first by time-shifting technologies and more recently by the advent of streaming and video on demand. NBC's Olympics coverage seemed to be defying the trend, with overall ratings for summer Olympiads increasing anywhere from 8 to 9 percent every four years, starting with the Athens games in 2004. Per Advertising Age, NBC Sports executives had actually been predicting the upward trend would continue with Rio, perhaps a sign Peacock officials believed the lure of such a huge near-live sporting event would function as a sort of protection spell against the various forces driving down ratings elsewhere. It didn't. Not only did the numbers not improve, the declines were so steep — Sunday's Closing Ceremony brought in roughly half the young-adult audience as the end of London — NBC has had to offer extra air time to its advertisers to make up for the shortfall, according to Ad Age.
But relative to the rest of TV, the Olympics haven't lost their ability to dominate.
Depending on which metric or demo you use, Rio ratings will end up declining roughly 20 to 25 percent versus London. That's not nothing, but it's actually not all that bad when you consider how much ground the major networks have lost since 2012. So while the Olympics finally fell victim to Nielsen gravity this summer, the rate of decline (so far) appears to be less dramatic than the overall losses for linear TV. What's more, because it's harder than ever for networks (both cable and broadcast) to get audiences to show up to watch anything in real time (or even near real time) these days, it's impressive how the Olympics can still draw massive crowds every single night while other networks (especially in the summer) struggle to maintain a pulse. Back in 1984, for example, when ABC averaged a monstrous 25.2 rating with week one of the Olympics, second-place NBC managed to pull a 9.3 rating (meaning about 9 percent of American TV homes checked out NBC that week). By contrast, the 15.9 rating NBC drew with week one of Rio was nearly eight times as big as the performance of runner-up CBS, which notched a relatively microscopic 2.4 for the week. Plus, people actually watch advertisements during live events like the Olympics, including those endless promos for NBC's new fall shows.
Some of the ratings decline can be chalked up to streaming.
NBC's daily ratings memos to reporters have made a big deal out of the fact that, for the first time ever, all of NBC's coverage was simultaneously available to stream online. Plus, the network also chose to compete with its own coverage by having some of its cable siblings air prime-time coverage against the mothership's broadcast. The network's argument — see, people are still watching, just not all on NBC — is not without merit. Clearly, some viewers, particularly younger ones for whom the idea of a "network" is almost foreign, are watching in different ways. But even by NBC's own account, these added platforms only lifted overall viewership by 5–10 percent most nights. And even if NBC charges more per viewer for online eyeballs, because there are far fewer people watching that way, the network still makes the bulk of its ad revenue off of the main network.
It's too soon to assess the financial damage to NBC.
Trades such as Ad Age have suggested that, because NBC had backup plans in place, the network won't have to give up much (if any) of its valuable fourth-quarter advertising inventory to make up for failing to meet its ratings guarantees to Olympic advertisers. Perhaps this means that the Peacock won't end up taking an immediate huge hit to its bottom line, and that while it may make a bit less than it hoped from the Games, it won't be a financial disaster. But whatever spin NBC execs offer up in the next few days, it seems logical to wait for two events before offering up a verdict on the impact of the ratings drop. First, the network's parent company, Comcast, will report its third-quarter earnings in October. If there's an Olympic-size effect on profits, it would seem this would be the time the company might 'fess up to it. Longer term, ad rates for the 2018 and 2020 Olympics won't be set in a vacuum: Madison Avenue is going to take this summer's numbers into account when bargaining with NBC on future ad buys. Even if there's no pain in 2016, the ripple effect could make it a bit harder for NBC to recoup its multibillion-dollar investment.