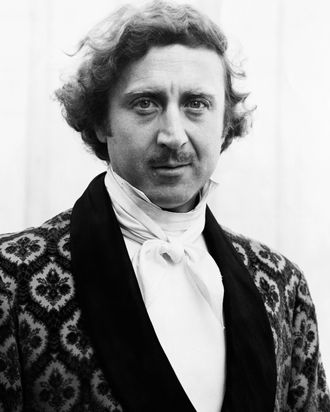 Gene Wilder circa Young Frankenstein.
Photo: John Springer Collection/Corbis via Getty Images
As the news of his death spreads, everyone will think of his or her favorite insane-slow-burn Gene Wilder moment. The late Pauline Kael mentioned a quintessential one, the bit in Start the Revolution Without Me (1970) in which Wilder (as a haughty aristocrat) is informed that the noble bird on his shoulder is, in fact, dead. Wilder fixes the upstart with his laser-blue stare and says, with that eerie calm-that's-being-slowly-strangled-to-death-by-escalating rage, "Repeat that."
My own favorite is in Young Frankenstein (1974), which Wilder conceived and co-wrote with Mel Brooks. Here, with elaborate patience, Wilder's Dr. Frankenstein poses the question to Marty Feldman's Igor: What brain did the hunchback steal for the inexplicably brutal creature? "You won't be mad?" asks Igor. "I. Will. Not. Be Mad." By the time we hear, "Abby someone," and the gentle but quivering, "Abby — who?" we are ready — eager — for the murderous explosion to come. No one built as exquisitely as Wilder from the genial, the gentle, the hopeful, to violent, no-holds-barred hysteria. At those moments, Wilder was unique — a genius.
From whence did this persona come? Born Jerome Silberman in Milwaukee in 1933, Wilder spent much of his childhood as the object of anti-Semitic bullying, which was likely how he learned to keep his feelings under wraps while nursing an imagination of disaster. Lee Strasberg at the Actors Studio compelled (coerced, bullied) him to tap into his dark side, but — unlike many Studio grads — Wilder used that newfound ability carefully, almost warily. In repose, he could be mistaken for a mild, Stan Laurel sidekick — and he was just that, in outline, opposite Zero Mostel's Oliver Hardy in Brooks's The Producers (1968). But there was always something seething underneath. As Willy Wonka in the clunky but fondly remembered Willy Wonka & the Chocolate Factory, Wilder made Roald Dahl's sadism more family-friendly. But he still suggested — in the immortal phrase of "J.J. Hunsecker" — "a cookie full of arsenic."
With his sympathy for the freaky outcast (nurtured by psychoanalysis), Wilder created Young Frankenstein, the rare parody that was also an act of celebration — of both the work being parodied and the original Frankenstein myth. It was the apex of Wilder's and Brooks's series of collaborations, a succession of highs with almost no lows. When the two parted ways, both lost something. Wilder had a sentimental streak and a longing to be a "straight" romantic lead that led to vehicles like the weirdly flat The World's Greatest Lover and the dire The Woman in Red. (Poor directing did in his attempt to do a Brooks-like parody with Feldman in The Adventures of Sherlock Holmes's Smarter Brother.) Brooks, who liked to cut the foreplay and jump right to hysteria, needed Wilder's discipline and the grounding in psychological reality that came from Wilder's Method training.
Wilder's financial windfall came from his screen partnership with Richard Pryor, beginning with the blockbuster Silver Streak (1976), in which he was a passable romantic lead and, for a few moments, had something wonderfully jazzy going with Pryor. As a stereotypical ungainly white man, Wilder was a great foil for his edgy, African-American co-star. But in subsequent vehicles, Pryor lost that edge, and cocaine abuse addled his timing. And then there was Gilda Radner, Wilder's third wife and the second woman in his life (the other was his mother) to die of ovarian cancer at a tragically young age. It was a love story offscreen, but onscreen with Radner he was perhaps too gentle. The madness had receded.
Rather than fight a business he no longer enjoyed, Wilder left the field — another tragedy, since he might have shifted into character parts the way other clowns with acting chops (Robin Williams, Albert Brooks) did. But he never abased himself, never betrayed his gifts, never sold his profession short. From his home in Connecticut, where he lived with his fourth wife, he wrote an upbeat memoir and several novels before Alzheimer's took him.
His death will have the effect of sending us back to his work. You can savor his brief turn in Bonnie and Clyde, in which his high-strung conviviality exists astride a grave, and he freaks out Faye Dunaway's Bonnie Parker. His scenes with Mostel in The Producers are classics, although the two didn't rekindle the magic in the little-remembered American Film Theater production of Ionesco's Rhinoceros. (It's still worth a look to see Mostel transform into a rhinoceros in one of the roles that made him, onstage, a legend.) Blazing Saddles looms large, although as good as Cleavon Little is, the movie would have taken off into the stratosphere if Brooks had succeeded in casting Pryor in his prime. (The studio was too frightened of Pryor back then.)
Above all, re-watch Young Frankenstein, and learn. Watch Wilder be convulsively funny while serving as the straight man. Watch him lovingly yield the spotlight to the boisterous Feldman, the soulful Peter Boyle, the exquisitely tremulous Teri Garr, and the incomparably insouciant Madeline Kahn, among many others. With its emphasis on self-plumbing, the Method could produce actors too much in their own heads, but Wilder could go deep into himself and still be the greatest audience imaginable for his fellow clowns. That's what lingers today. To be able to court madness in oneself while giving others a safe space to let their own creative spirits rip — that's akin in comedy to saintliness.