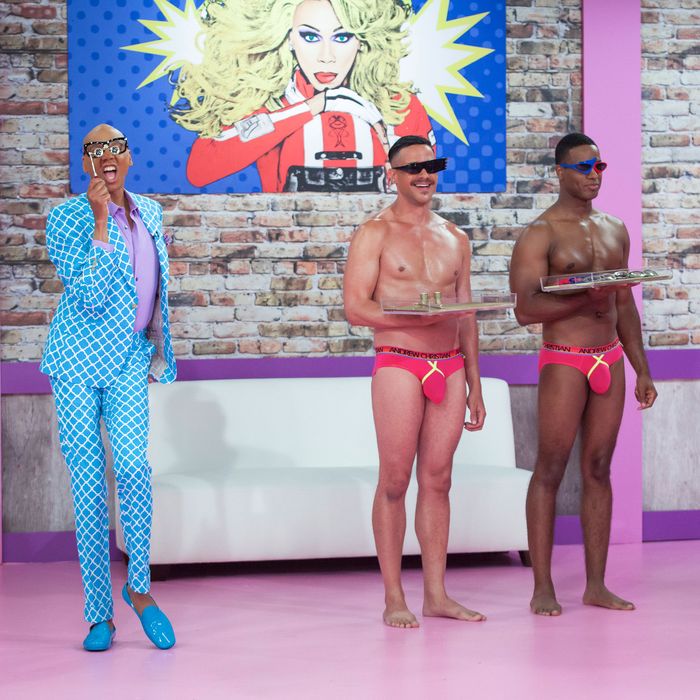 I am so excited to have all of these girls back in the same room that I could almost shoot a rainbow of poppers-scented sequins out of my ass. But I have only one question: What the hell happened to everyone's lips? Did all of their faces shrink (particularly Adore Delano's and Alaska's), because their lips look like a hot-dog bun that's been left out in the rain. Or maybe it's just that everything on Adore got that much bigger. Meanwhile, Alyssa Edwards and Roxxxy Andrews are much more svelte than the last time they both sashayed away. Sadly, when Roxxxy lost the weight she didn't lose any of those extraneous Xes.
Still, when every queen strutted into the room, from Katya in her hammer-and-sickle brilliance to Alaska making me so incredibly glad to see acres and acres of Glad bags, I gasped every single time. Well, except when Tatianna came out. Say who? Say what? I watched season two and I don't remember her one bit. I'm also not that happy to see Roxxxy, who I kind of hate. I do have grudging respect, though, if only because she pioneered the wig-under-the-wig trick.
I'm sorry, but I still hate Phi Phi and here is why: She puts on her green sparkly dress with the purple question marks as the Riddler from Batman and says that she's there to play the villain. Okay, cute. She's not there to make friends. Get it. Then she's like, "Everyone thinks I was such a bitch, but I'm not really like that. I'm so nice." Then all she does is complain about how everyone thinks she's an awful person even though she's not. She tries to say that she does all this cosplay drag now, but that's not even a thing, is it? The worst part is that Phi Phi has absolutely no sense of humor about herself. Phi Phi wants to rehab her image so bad, but she's not really doing it by what we're seeing here.
But let's talk about the girls who we are so excited to see, including Ginger Minj, always underrated, showing off impressive tucking skills in her Spanx one-piece. Katya is another one of my favorites and her manic pixie dream "girl" act always makes me worry that she might be back on the meth just a little bit. Detox always serves up some crazy alternative lewks, like she got kicked out of the Misfits on Jem and the Holograms. Here, she looks like Phyllis Diller doing a cameo appearance in Tron.
And then, there are two girls who I will always root for like I'm a teenager hoping the pregnancy test comes out negative: Alaska and Alyssa Edwards. Alyssa Edwards is an idiot savant. She is a walking performance-art piece and she doesn't know it. She doesn't even understand why she's so funny and amazing and how she is both a masterful drag queen and a comment on the current state of drag culture all at once. That's how I like her: brilliant, daffy, and just a little bit dim.
Alaska, on the other hand, is breaking drag apart, gluing it back together, and not bothering to sand down the jagged edges of her deconstruction. She is brilliant, she knows it, and I just want to sit next to her on the couch and leech off some of her creative energy. That energy was definitely on display in the reading challenge, when she put all the other queens to shame and then rolled around on the floor in her Great Pacific Garbage Patch of a dress and I just couldn't be happier.
The first season of Drag Race All Stars was marred by the fact that the girls competed and were eliminated in teams. This one is marred by a new twist: The winner of the challenge gets to kick off one of the girls in the bottom. I think the girls outlined all the reasons why this rule change sucks when they went off to deliberate who should go home. Right now, it's clear who sucked and who didn't, but when the competition is closer, the girls are just going to kick off the strongest competitors who have a bad week. Either that or they're going to spare their friends and there will be alliances and it's going to suck. What is great about Drag Race is that talent always wins (along with charisma, uniqueness, and nerve) and this rule subverts that dictum. However, I loved watching Ru and the other judges having a hoot drinking cocktails while the girls sweated it out.
This week's challenge is a talent show, and it seems like all of the girls just decided to dust off the numbers they do on the Battle of the Seasons live tour that comes to a theater near you once a year. Here's what they had to offer.
Adore Delano: She wears a crimped wig and a sparkly dressed and looked like one of the members of Wilson Phillips. I'm not going to say which one. She kills.
Alyssa Edwards: First of all, "variety" is not a talent. That said, I could watch Alyssa's ADD seizure of a performance on a loop for the rest of my life and still find things about it to love. Most of them would have to do with that puppet.
Coco Montrese: Dressed as the puff pad in your grandmother's makeup powder in her boudoir, Coco auditions for Dancing With the Stars. No one votes for her.
Detox: This is essentially a Blue Man Group number. She is neither blue nor a group, but she is a man. (Spoiler alert.)
Ginger Minj: She sings a song about butterflies that has nothing to do with Mariah Carey. I didn't know that was allowed.
Katya: Katya does gymnastics. Guys, Katya does freaking gymnastics. It's like I died and went to heaven and Svetlana Khorkina was there to open the pearly gates.
Phi Phi O'Hara: No matter what Pitch Perfect would lead you believe, "a capella" is not a talent.  Neither is Phi Phi.
Roxxxy Andrews: She does the wig-under-a-wig trick. You knew it was coming. That's her talent. She has definitely done this on the Al and Chuck dot Travel cruise.
Alaska: Glenda the Good Witch took three hits of molly and then sang a hilarious song about how freaking gay she is and I left Svetlana Khorkina in heaven to come back to life just so I could die again.
Tatianna: In the immortal words of Shania Twain, that don't impress me much. None of it.
After some excruciatingly harsh judgment from Michelle Visage, Roxxxy and Tatianna were declared the winners. Okay, fine. I can see Roxxxy, because it's an entertaining number, but Tatianna's spoken word isn't all that. Maybe it's because I got my master's degree in poetry, but what she does isn't actually that well-written. It's bad puns with a backbeat. Just because she rose above everyone's low expectations doesn't mean she deserved to win.
As she and Roxxxy lip sync for the win, they both look exactly the same, in similar dresses, with short wigs. It's like they're doing bad impersonations of Liza Minnelli in a community-theater production of Cabaret. I was waiting for Roxxxy to reveal a third wig because that would have slayed. Sadly, she does not. Roxxxy is chosen as the winner which, whatever, fine. She chooses Coco Montrese to send home, which must have been an easy decision. Her drag isn't up to the caliber of everyone else on the show. Whether that eviction is fair or not, Alyssa Edwards finally gets to outlast her once and forever Drag Race rival.