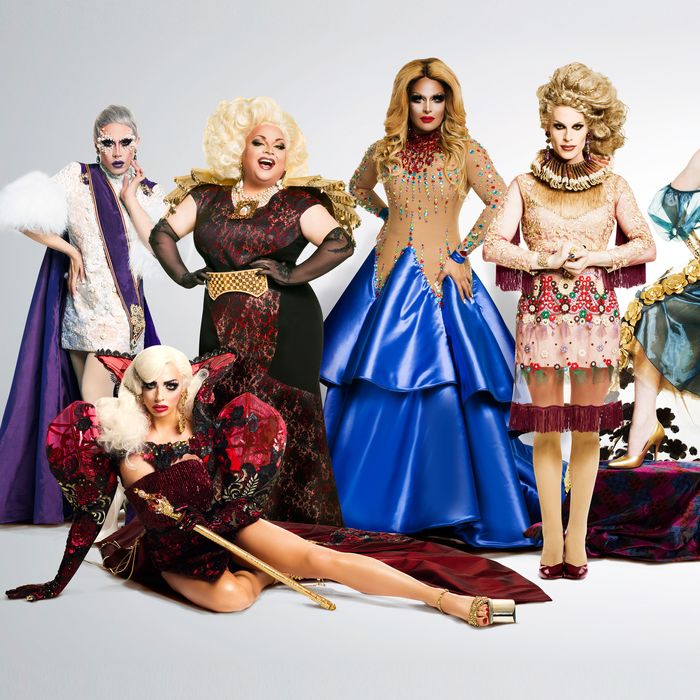 Bow down to your queens.
Photo: LOGO
With the Lochtegate Olympics over, RuPaul's competitive drag extravaganza is coming at exactly the right time. In honor of the premiere of RuPaul's Drag Race All Stars season two — hitting Logo this Thursday, August 25, at 8 p.m. ET — we've analyzed the field of returning fan favorites to determine who is the most — and least — likely to take home the crown. Will it be Alaska, the queen who turns trash bags into treasure? Or perhaps Phi Phi O'Hara, the "tired-ass showgirl" with something to prove that will make her Ruhabilitation complete? The main question is how the contestants will handle the new elimination protocol, in which they have to eliminate each other — according to the show's new rules, each week the top two queens will "lip-sync for their legacy," with the winner deciding who sashays away. Will the queens start building alliances? Or will they try to play clean? It's truly anyone's game. Except that it isn't!
Adore Delano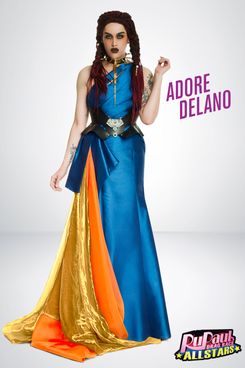 The former American Idol hopeful turned mermaid is charismatic and almost peerless in the Drag Race universe when it comes to using her voice box. But during her season, she had a mild aversion to preparation and tended to coast on her charm. Sure, Adore can sing, but does she have the range?
• Strengths: Releases music that you can listen to, thinks quickly on her feet, is a Libra
• Weaknesses: Rests on personality, is a Libra
• Odds she'll win: 15-1
• Odds she'll have to borrow a cincher: Even
• Odds she'll have new music Available On iTunes™ the second she's eliminated: 5-1
• Most iconic moment: Her eerily accurate take on Anna Nicole Smith during "Snatch Game"
Alaska Thunderfuck 5000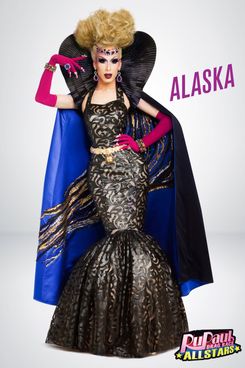 Although she began her Drag Race run known as Sharon Needles's boyfriend, Alaska has since eclipsed her Pittsburgh ex-paramour as one of the most successful alumnae of RuPaul's School for Girls. Considering her knack for forming alliances and the fact that her greatest weakness — lip-synching — won't directly lead to her elimination under the new format, All Stars season two is Alaska's game to lose.
• Strengths: Comedic timing, sizzling vocal fry, impersonation, releases listenable music
• Weaknesses: Lip-synching, still hasn't sent a royalty check to Coco Ferocha and Isis Mirage for use of "hiiiieeeeeeeeeeee" as far as we can tell
• Odds she'll win: 2-1
• Odds she'll forget to wear nails: 783,207-1
• Odds she'll say "anus" by episode three: Even
• Most iconic moment: The commercial for her dangerous, flawless, overpriced celebrity fragrance, Red for Filth
Alyssa Edwards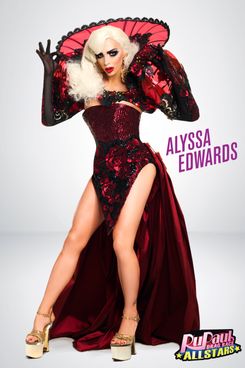 In her 1964 essay "Notes on 'Camp,'" Susan Sontag writes that seriousness, especially "a seriousness that fails," is an essential ingredient of pure camp. That might actually be Alyssa's secret: She's entertaining because she's clueless. Alyssa frequently went left when she should've gone right, and did so with utmost seriousness. But based on her post–Drag Race YouTube series, winkingly titled Alyssa's Secret, the joke has come full circle, raising the question of whether she'll have the same camp potential. Self-awareness aside, Alyssa doesn't stand much of a chance of winning this season of All Stars. Her verbal sparring with longtime pageant-circuit rival Coco Montrese grated on her fellow contestants' nerves throughout season five, and now they'll actually have the ability to send Alyssa and Coco home as soon as they want, should the pair resume their war of words.
• Strengths: Dancing
• Weaknesses: Everything else
• Odds she'll win: 20-1
• Odds she'll form an alliance with Coco: 50-1
• Odds she'll become a damn seamstress: 550-1
• Most iconic moment: "…backrolls?"
Coco Montrese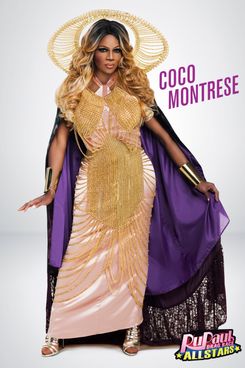 The undisputed lip-sync assassin of season five, Coco's in a bit of a bind because of the format change. If she lands in the top two and gets to lip sync, there's no doubt that she'll win and send a queen home packing. The only problem is that Coco rarely did all that well in the main challenges during her season, save for her surprising turn as "Ru's good cousin" at the RuPaul Roast. Plus, something says that the Drag Race producers cast her and Alyssa to revisit a beef, not necessarily because they thought either could take home the win.
• Strengths: Lip-syncing, lip-syncing, lip-syncing
• Weaknesses: Paints for the Vegas stage even when the camera's only two feet away
• Odds she'll win: 25-1
• Odds she'll do a little bit more pink in the eye: 35-1
• Odds she's joking, bitch: 499,959,301-1
• Most iconic moment: That moment during her lip sync to Paula Abdul's "Cold Hearted" where she pointed at her mouth
Detox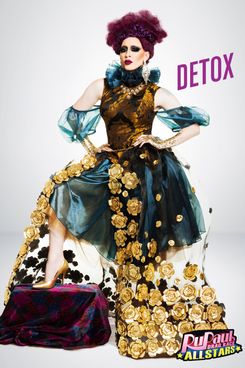 Not to be Detox's drag mother, but she has so much potential: If only she would apply herself! She's smart, she's got stage presence, and she can throw down in the Untucked lounge. But during her first run, Detox had a tendency to settle for good when she could have been great, and sometimes exhibited questionable taste. (Remember her Ke$ha impersonation during Snatch Game?) The big question for All Stars will be whether or not the WeHo queen will step up and treat the show like the marathon that it is. If not, maybe Rolaskatox can carry her like the U.S. swim team did for Ryan Lochte?
• Strengths: Has a copyrighted lip-sync lip quiver; a wardrobe of vintage Mugler
• Weaknesses: If she uses the lip-sync quiver again; effort level!
• Odds she'll win: 5-1
• Odds she'll have had it: 10-1
• Odds she'll have had it, officially: 5-1
• Most iconic moment: Her jaw-unhinging lip sync against Lineysha Sparx
Ginger Minj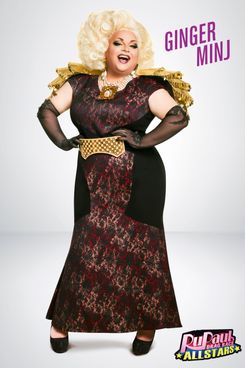 Ginger's star shone brightly in season seven, but it's not hard to sparkle when you're standing next to a black hole of anti-charisma like Violet Chachki. Will the glamour toad still burn bright in the presence of X-factor machines like Alaska, Adore, and Alyssa? Plus, Ginger's ability to manipulate others and build alliances (the "Bitter Old Lady Brigade," the smokers corner, etc.) might be limited now that she's competing against people who are as smart, if not smarter, than she is.
• Strengths: Singing, acting, impersonation, gives good confessional
• Weaknesses: You're never surprised by what she does; limited runway; can't dance
• Odds she'll win: 35-1
• Odds she'll form an alliance with anyone but Katya: 500-1
• Odds she'll say "I love everything she does, but …" before shading one of her competitors: Even
• Most iconic moment: Her homage to Edith Massey in Pink Flamingos. Eggs, eggs, eggs!
Katya Zamolodchikova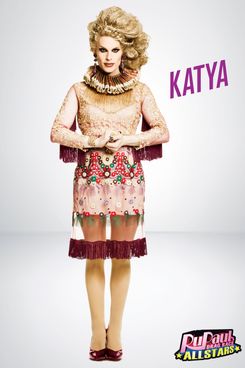 The missing cast member of The Americans has mastered the art of the self-deprecatory read ("I'm trying to just serve sexy and confident hair. Slutty cougar on the prowl. Third-rate Faith Hill impersonator."), not to mention mathematics ("80 percent sex, 20 percent disgusting"). But she famously choked midway through what was supposed to be a show-stopping performance during the Glamazonian Airways challenge. Katya has the goods, but can she keep her anxiety under wraps to make it to the finale?
• Strengths: Bilingual, gymnastics, masochistic as hell
• Weaknesses: Buckling under pressure, isn't duplicitous enough to manipulate others and form alliances (she did win Miss
Congeniality, after all)
• Odds she'll win: 8-1
• Odds she'll pick Melania Trump for "Snatch Game": 500-1 (they filmed All Stars way back in the summer of 2015, unfortunately)
• Odds she'll hang out with you: C'mahhhhhhhhhhhhn
• Most iconic moment: Her "Cowardly Lion with an identity crisis"
Phi Phi O'Hara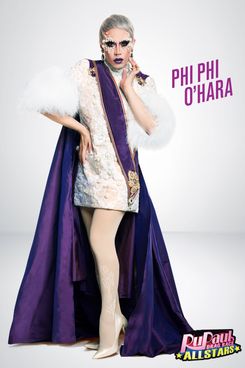 While Phi Phi ended her season as the villain, the "tired-ass showgirl" has undergone a major rebranding since 2012. Check out her Instagram to see just how much more creative her looks have become since her paint-by-numbers pageantry days of old. Who knows — maybe she's still super-unpleasant and no one will want to keep her around! But, we have a good feeling about her potential as the Rudemption arc of All Stars season two.
• Strengths: Ambitious, not afraid to manipulate others to get ahead (remember the time she sabotaged Jiggly's magazine cover?)
• Weaknesses: Manipulating others will probably only get you so far; literally has no chill; poor comedic timing; lack of self-awareness
• Odds she'll win: 7-1
• Odds she'll get the villain edit: 10-1
• Odds a Brony is getting off to her My Little Pony: Friendship is Magic–inspired looks right at this very moment: 3-1
• Most iconic moment: "GO BACK TO PARTY CITY WHERE YOU BELONG."
Roxxxy Andrews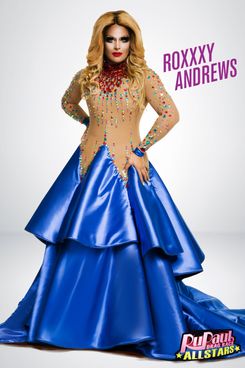 Roxxxy is the other queen on this season of RuPaul's Drag Race All Stars in desperate need of an image makeover. While she's easily one of the most gorgeous queens to ever compete on the show, she ended her season with a shaky reputation as a bully and a crybaby, because of her merciless taunting of eventual season-five winner Jinkx Monsoon. Will she snatch the Rudemption crown from Phi Phi? Well, even if she hasn't turned over a new leaf, Roxxxy is still an extremely well-rounded competitor and possesses the great ability to hide a wig under a wig. She'll be fine.
• Strengths: A face beat for the goddesses; tear-away stunt queen; the Russian nesting doll of drag
• Weaknesses: Limited understanding of other forms of drag; could be a good "comedy queen" if she didn't think comedy queens were the Devil; lack of self-awareness
• Chances she'll win: 3-1
• Chances she'll get the villain edit: 10-1
• Chances she'll do most of the heavy lifting on the shade button sound effect: 5-1
• Most iconic moment: When she exploded the Drag Race trope of ripping your wig off mid-lip sync by ripping her wig off to reveal a second wig. 
Tatianna
With her bold self-assurance and a Britney impression that would even make Derrick Barry "ooh," Tatianna left a memorable impression on the Drag Race realm after her fourth-place finish in season two. Less memorable were her makeup skills and fashion sense, because she was extremely green at the time. Judging by her Instagram, though, she's more than filled those gaps, so it'll be interesting to see what Tati brings to the table this time around now that she's no longer the inexperienced — though undeniably talented — drag queen we met back in 2010.
• Strengths: Pretty, funny, did a mean Britney impersonation
• Weaknesses: Can rest on pretty; passive-aggressive
• Chances she'll win: 10-1
• Chances she'll get a World of Wonder series on YouTube: 30-1
• Chances she'll be the one to utter some variation of "I'm not here to make friends"/"This is not RuPaul's Best Friend Race": 55-1
• Most iconic moment: "Thank you"