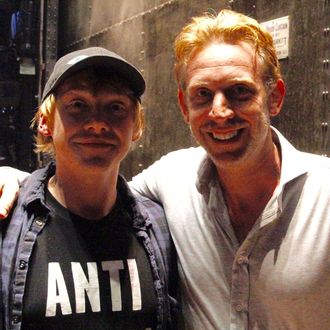 Life comes at you fast.
Photo: HPPlayLDN/Twitter
In the final Harry Potter film (hi, spoiler), through the magic of prosthetics, Rupert Grint got to stare down his future self in the mirror. Years later and now pushing 30, he got to do it again in a possibly even creepier way: On Wednesday night, Grint stopped by the West End production of Harry Potter and the Cursed Child, and, like his former co-star Emma Watson before him, he stuck around to get a good look at his replacement. At last, Grint met grown-up Ron Weasley in the actual flesh, now played by Paul Thornley. Grint may have been wearing a shirt with anti-social written in bold, but he actually cracked a smile! It's downright magical. Even his movie sister Bonnie Wright introduced herself to the new Ginny last week — so see, Daniel Radcliffe, it is possible to reenter the wizarding world and not get totally mobbed.