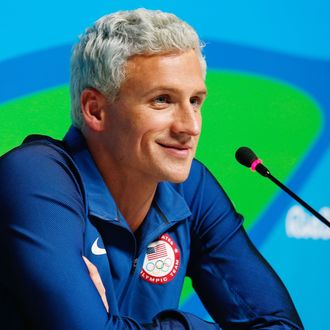 Ryan Lochte would dance with stars.
Photo: Matt Hazlett/Getty Images
What would Ryan Lochte do after causing an international scandal and embarrassing the U.S. at the Olympics in Rio? Dance with the stars, of course! The swimmer will join the cast of the upcoming 23rd season of Dancing With the Stars, premiering September 12, sources told USA Today. The news comes as Lochte embarks on an apology tour following a now-infamous incident in which he and his teammates drunkenly vandalized a gas-station bathroom in Rio and later claimed they were robbed at gunpoint. The scandal caused Lochte to lose four endorsement deals, including Speedo and Ralph Lauren. Though Deadline reports that the deal was in the works before the Rio Olympics, it's convenient timing for Lochte. According to one of Us Weekly's anonymous sources, Dancing With the Stars will be the perfect venue for Lochte's image rehabilitation: "He will be able to show America that he's a good guy who made a mistake." What is there left to say other than Jeah?!