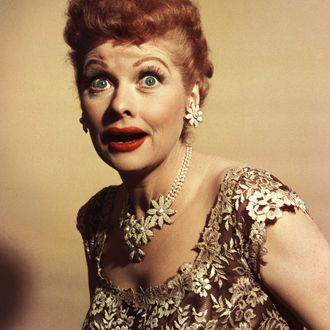 Photo: Weegee(Arthur Fellig)/International Center of Photography/This content is subject to copyright.
Since 2009, "Scary Lucy" has terrorized the small village of Celoron, New York, with square teeth and bugged-out eyes that suggest that, were she not captured in 400 pounds of bronze, she would love to pair your brains with her bottle of intoxicating Vitameatavegamin. Now that statue — which is generously considered to be a depiction of comedy legend Lucille Ball — will be replaced with another bronze sculpture, which presumably will not cause nightmares.
EW reports that the new sculpture, by artist Carolyn Palmer, will debut in Celoron, Ball's hometown, on August 6. Palmer spent months watching I Love Lucy and studying pictures for the bronze piece. "I not only wanted to portray the playful, animated, and spontaneous Lucy," Palmer explained, "but also the glamorous Hollywood icon." At that time, the town will retire the "Scary Lucy" sculpture — which its creator, David Poulin, once diplomatically referred to as "by far my most unsettling sculpture." You can see it below, and then never un-see it.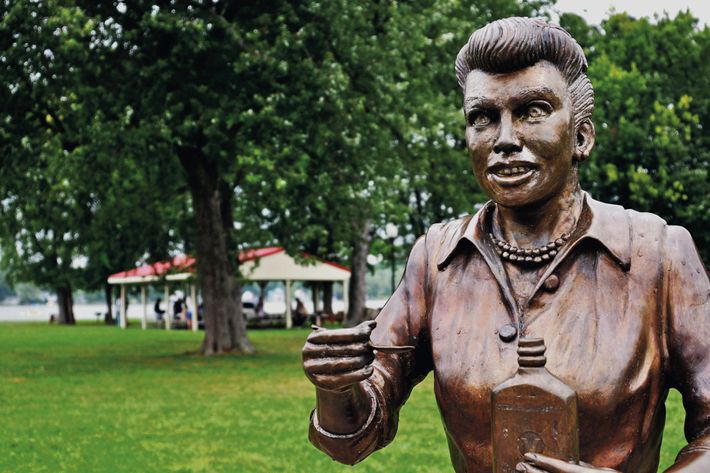 Update, August 6: The new, six-foot-tall bronze sculpture has been unveiled — and it's the vast, vast improvement that the comedy legend deserves. Today would've been Ball's 105th birthday.