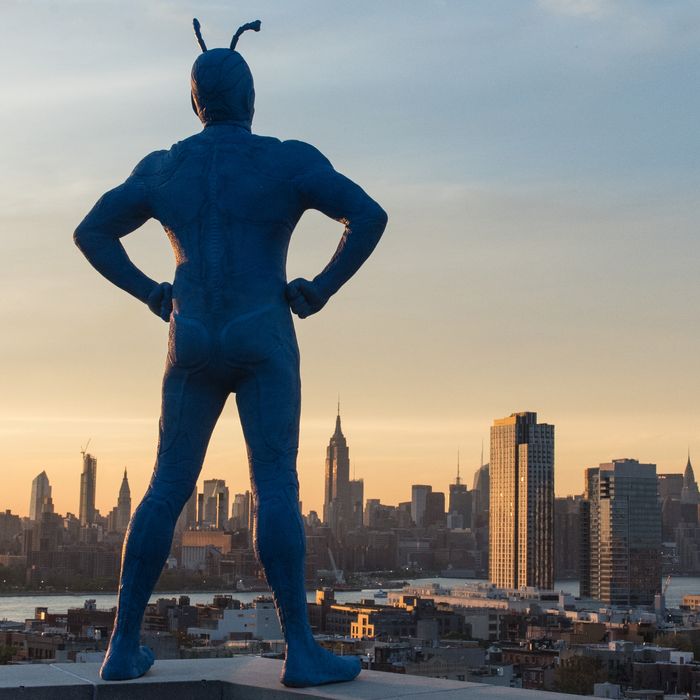 Images courtesy of Amazon Studios.
Photo: David Giesbrecht
The first incarnation of a live-action TV version of The Tick came to air in 2001, and was ahead of its time. America did not yet have the appetite for superheroes that it does now, and somehow, the absurdity of Patrick Warburton fighting crime in a blue muscle suit was not able to carry the show past nine episodes. But now that we have digital-TV networks with infinite space for original programming, The Tick has been given a new lease on life, and will focus on an accountant named Arthur Everest (Griffin Newman) who joins up with the Tick (Peter Serafinowicz) to take down master villain, the Terror (Jackie Earle Haley). Here's a look at some fresh set photos released today by Amazon Studios.
Unless you're keeping up on series like Hunt the Truth and TripTank, the last time you probably got a good look at Peter Serafinowicz was as the incorrigible secret agent Aldo in Spy. Based on that role alone, we know he's got the chops to bring all the ham necessary to play the Tick, a character whose origins have been credited as both hailing from another planet and being an escaped mental patient.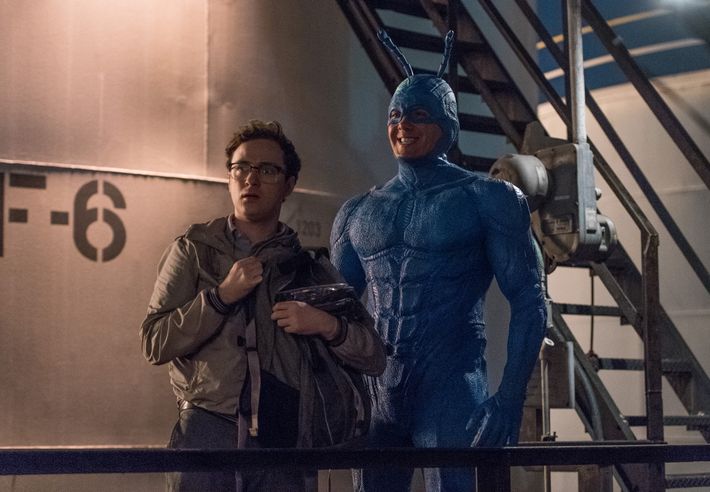 Here we see the Tick and his sidekick, Arthur, in front of a Carrie Mathison–style yarn chart tracking the movements of the Terror. The Terror was long thought to be dead, but has now returned to terrorize the City.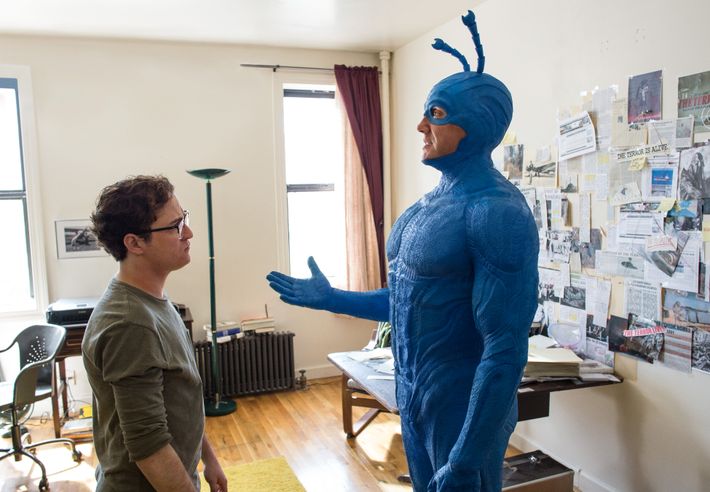 Here's Arthur in what looks like full stakeout mode. In all three incarnations of The Tick — the comic, the animated series, and the live-action one — Arthur fights crime alongside his blue friend in a white moth suit. Arthur has no powers, but is able to fly when he's in the suit, so hopefully that element will find its way into the new show.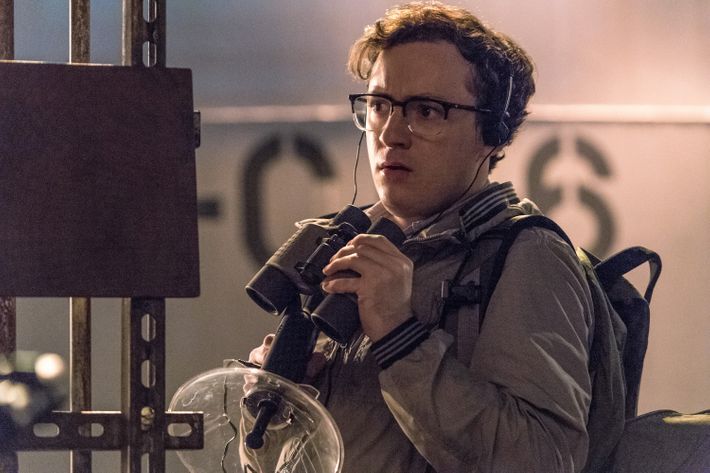 In The Tick universe, superheroes have been a part of real life for decades, and here we see the Terror taking on a few of them.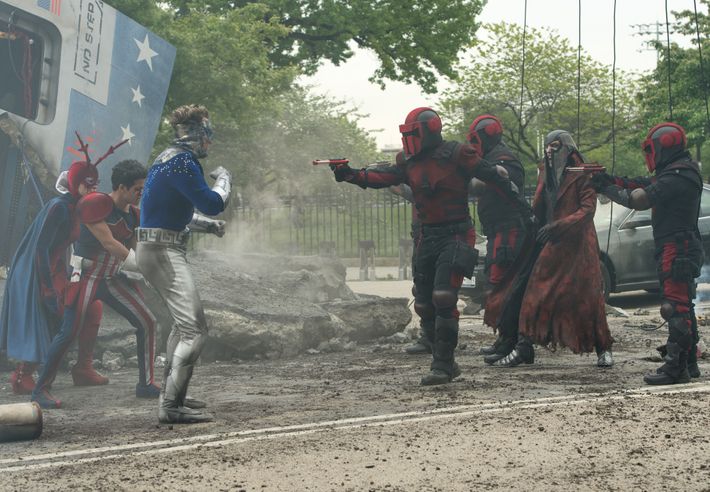 Jackie Earle Haley as the Terror with his henchmen.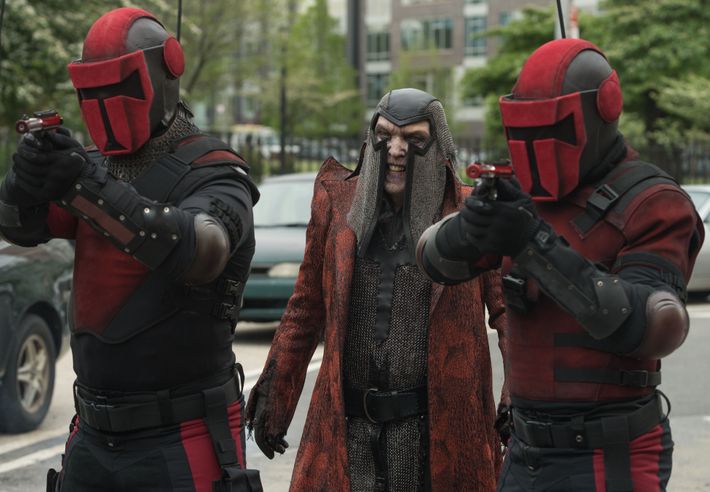 Brendan Hines as Superian.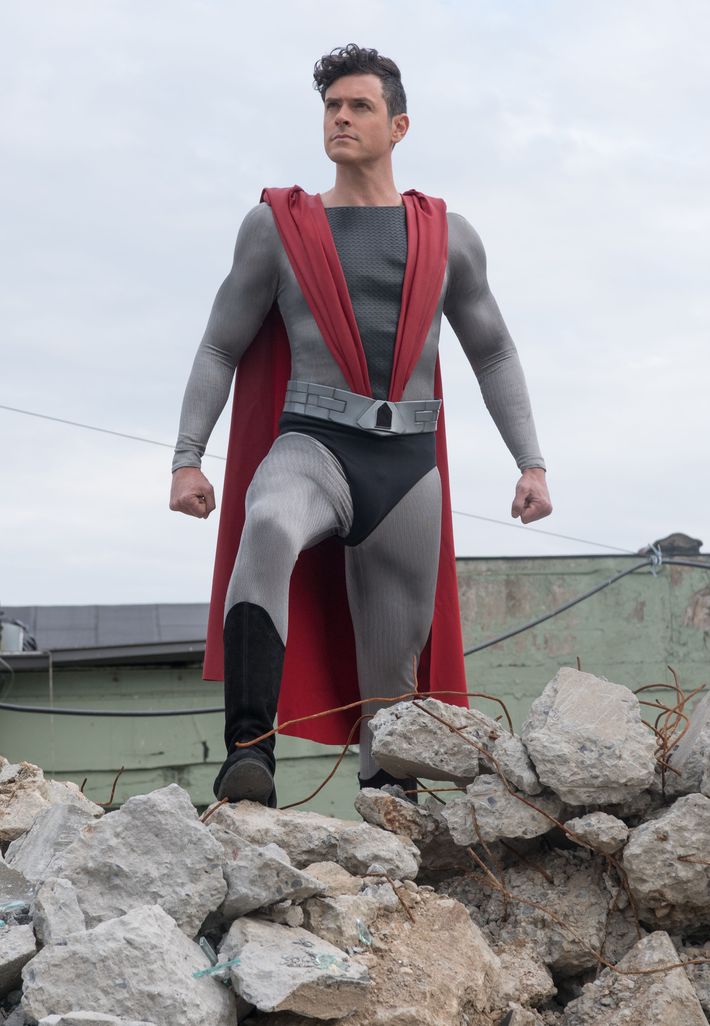 Kyle Catlett as a young Arthur Everest.
Whoopi Goldberg as, well, Whoopi Goldberg.