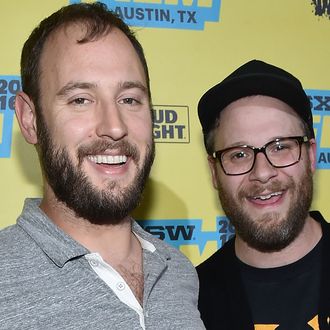 Photo: Mike Windle/2016 Getty Images
While speaking on the Nerdist podcast to promote the release of Sausage Party, Slashfilm reports that Seth Rogen teased another upcoming project he's working on. Apparently Rogen and his creative partner, Evan Goldberg, will be shooting a pilot for FX and are working on the script right now. (The producing duo previously had a deal to develop a show called Bigfoot with the network, but so far it hasn't materialized.) When host Chris Hardwick asked if this new project had been announced yet, Rogen said, "I don't know if it is, I think it is? I don't know if it is," before adding, "It's about artificial intelligence. It's a half-hour comedy about the singularity basically. And I won't say anything else." The singularity, in case you're behind on your doomsday prepping, is the point at which artificial intelligence matches and surpasses human intelligence, therefore giving way to "the end of the human era." In very brief terms: The singularity is Skynet. Rogen recognizes the very unfunny reality of Judgment Day, and told Hardwick, "Oh, it's happening, it's super scary and we're trying to make a comedy about it." Because you know what Terminators don't have? Jokes! Take that, Skynet.
Update, August 15: Deadline reports that FX has officially ordered the "futuristic comedy project" called Singularity, which will be written by Sonny Lee and produced by Rogen and Goldberg. Lee, who has written for Silicon Valley and It's Always Sunny in Philadelphia, reached out to the pair with his idea for the show because it is said to be similar in tone to their apocalypse comedy, This Is the End. This will be Rogen and Goldberg's third TV project so far, after Preacher on AMC and Future Man on Hulu.