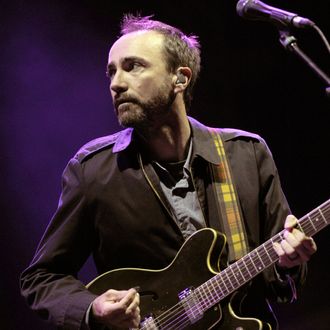 Photo: Tim Mosenfelder/Getty Images
If you're planning a long trip or painful breakup for sometime early next year, then you're in luck! According to Pitchfork, the Shins have completed their fifth studio album. In a recent interview with KBOO 90.7 in Portland, front man James Mercer said that the album will arrive "early next year," hopefully with a January 2017 release date. You can find the full audio clip below.
In the interview, Mercer reveals that he produced the album himself, and describes the new record as closer in sound to the Shins' first three albums than 2012's Port of Morrow (co-produced with Greg Kurstin). "I'm really excited about this record … I think we've got something that Shins fans will really love, and I think there's some other things on there that are different enough. I made a concerted effort on certain songs to fit the palette, to use the palette that I've used historically for the band," he said. "I think it's really strong. I think lyrically, I'm better than I ever was. And I think my songwriting is stronger than it ever was."
The Shins announced their return to live performance, and shared a Beatles cover for Netflix's "Beat Bugs" show.
Watch the Shins' video for "Simple Song" below: