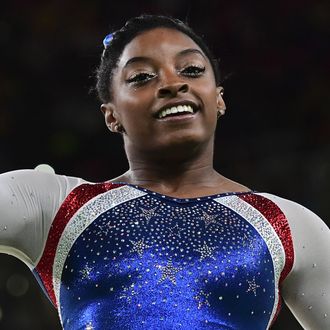 Wait, is she A?
Photo: Emmanuel Dunand/AFP/Getty Images/]
Simone Biles is the best in the world at artistic gymnastics, but how will she be on Freeform? After winning a gold in the individual all-around yesterday, Biles got a message from Marlene King, showrunner of Pretty Little Liars, one of Biles's favorite TV shows. "Hey Simone! I heard you're a big PLL fan. Well, we are huge fans of yours and everybody there," King said in a video. "We're so proud of what you're doing in Rio. The Final Five, we love it. Come see us as soon as you get home, and bring your friends." "YES X27238833," Biles tweeted in response, which seems like a step in the right direction.
Biles also received special messages from, among many, many others, PLL star Shay Mitchell, Taylor Swift, and the very thirsty tourism board of Belize.
Now, when will Zac Efron perform a "Bet on It" a cappella for our new queen?