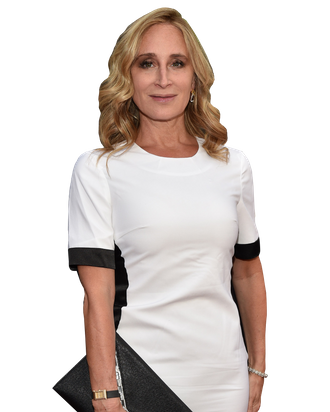 Photo: Bryan Bedder/Getty Images for Hulu
On The Real Housewives of New York City, Sonja Morgan has started a toaster-oven business, launched a clothing line, and shopped her own brand of Prosecco. But no one has seen her work as an actress. Until now! Julie Klausner — who used to recap the Real Housewives on this very site — drafted Morgan and Countess Luann de Lesseps to play themselves in her Hulu sitcom, Difficult People. In this week's episode, the women get embroiled in a feud that is mediated by Julie's mother (Andrea Martin) after she becomes a shrink on Bravo's payroll.
We caught up with Morgan to talk about her cameo and all of the controversies she's endured on her day job this season.
I was so excited to see you on Difficult People!
Our episode has Lin-Manuel Miranda in it, so I'm going to get all kinds of new intellectual followers on my Twitter and my Instagram.
Have you seen Hamilton?
No, it was $3,000 a ticket last I heard. I date guys my age now, so maybe they can afford a ticket at $1,000. $3,000 is steep. At that price, you have to sleep with them on the first date. The three-date rule is different. This is the first date.
I don't know, it's a really good show. It might be worth it.
$3,000 is like a night at the Hotel du Cap. You have to sleep with the guy. I'm not doing it.
How did you end up with a cameo on Difficult People?
Well, I'm old friends with Julie Klausner and she loves the Countess Luann. Loves her. Billy Eichner was on Watch What Happens Live with Luann, and Julie wanted her on. Luann was my roommate before she got engaged to my lover, and she said, "Can you have Sonja on too?" and Julie said, "Sure!" So we went on and did a little skit.
Was it different filming a scripted show, compared to Real Housewives?
It's pretty similar. It's delivery, really. It's how you deliver your thought. I did this before. I was a model and I did some acting. I really enjoyed it. It's different because they have a preconceived idea of what they want and you just have to deliver it. I haven't seen it yet. Probably I'll blink and my part will be over, but it won't be a waste of time, because Lin-Manuel is in our episode.
I saw the episode. You and Luann are exactly like you are on the Real Housewives, so you're very good at playing yourself.
That's easy. We didn't even have to do anything! But they did want us to do it a certain way. What did you think of Luann and I as Felix and Oscar this season, as the odd couple roommates?
I loved you two as roommates. But I didn't like they way she treated you at her engagement party when you disagreed about Tom [Luann's fiancé and Sonja's former lover].
You know how Luann gets when it comes to men. I always say that I won't let a man come between us. When we were living together, you got to see another side to her. She was more open about dating and I thought that was refreshing. Then as soon as there is a man, forget it. She gets like that. I wasn't thinking of Tom in that way. I thought of him as a drinking buddy, dinner date, have sex after 11 p.m. and leave by 7 a.m. kind of guy.
A lot of Vulture commenters think you were upset because Tom decided to marry Luann and not you.
I think that Tom just needed to tell the truth. Tom said to Luann that he was seeing me. I knew the group knew and it was going to come out. I knew there was no getting around it. To be polite, I said we were friends with benefits. I don't expect the man to do that. The man has to make a woman feel special. He should have said, "We were really good friends and we had something special, but then I fell for Lu." That would have made us both feel special. That's why I made the comments about the murky yellow diamond and stuff. I wasn't mad at her. I was mad at him.
Are you two good now?
Yes, I will never let a guy come between us. I want to be friends with him, too. You can't be a tomcat and a lying cat. You have to tell the truth.
You mentioned that you and Julie were friends before Difficult People. How did you become friendly with her? Was it weird since she recapped the show?
I knew her from before. We used to work on animal charities together. My causes are animals, children, and LGBT, so we worked on those charities together. She's a comedian and I'm quite a comedian, too. She came over to my house and we did an interview for her podcast. We just have fun together. Girls being girls.
Did you read her recaps?
No. I have a hard time even having time to watch the show. I lived it once, isn't that enough? The show is real, but with the edits, people see it differently. They only show different bits, and with that, you would think I was upset or jealous. I was surprised by that. If you saw the texts and conversations I had with Tom, it might have explained my anger. Perhaps that will come up at the reunion.
Any other previews of the reunion you might want to give us?
I just felt like there was a lot of flip-flopping, lack of loyalty, more than meets the eye. I don't like when the women don't fess up to what they're really thinking and why they really did things. I'm still pissed off about the Berkshires and Dorinda. She's very disappointing and talks out of both sides of her mouth. To say she didn't have me in the Berkshires because she was worried about me is bullshit, okay? I live in a five-floor house — I fall up the stairs, not down. If you're worried about me, why not have me instead of leaving me alone in New York when my daughter is away for Christmas with her father? There was no one talking to me off-camera saying that they were worried about me, taking me for Chinese food and a movie. Nothing.
Because the women were worried about you, you quit drinking. Are you still not drinking?
I just quit drinking because they were saying it was a problem. But look at them! At least when I'm drinking I'm showing everyone a good time. I give them a flash, I give them a kiss. I have fun, like you say, I'm everyone's favorite floozy. I'm the straw the stirs the drink. When they drink, they're just bitchy and mean. Then Ramona pissed me off because she was like, "I'm single now, I don't want to be associated with that." What, girl? Single or not single, you can do yourself in without my help. I've been bailing you out for years. You're embarrassed? You're embarrassing before people even meet you! I've been apologizing for you for years. I'm invited because I am fun at parties. I'm disappointed with the girls. I think they need to get their own lives instead of looking at mine.
It seemed like you were on the outs with the group because you and Bethenny had that fight. Do you think Bethenny is too much at the center of the show?
Yeah, I think everyone has been up her ass looking out her eyes, and that is gross. The ironic thing is that at the end of the day, you see now that she and I are fine. She was personally upset with me, because they were in her ear egging her on. Bethenny saw me out one night smashed, and they added insult to injury. And I was smashed that night she saw me. But they didn't help anything. They weren't saying, "You love Sonja. We love Sonja. She's lots of fun." They're very self-serving.
This conversation has been edited and condensed.