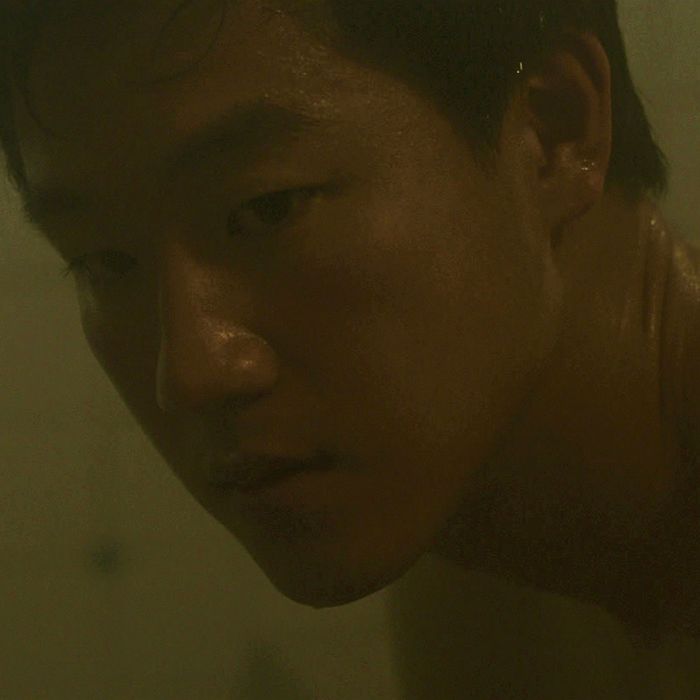 Joe Seo as David Cho in Spa Night.
Photo: Strand Releasing
For many Korean-Americans, the sauna is a familiar place. It's where you first went with your parents, where you got hot in the jacuzzi and then cold in the cold bath, and felt the burn of the rough washcloth that sloughed off a layer of skin and that left you red, raw, and new again. In director Andrew Ahn's Spa Night, a coming-of-age tale of a gay Korean-American teenager in Los Angeles, that space takes on another meaning. The spa is also a place where, with just a glance, "moments can slide from cultural to erotic," Ahn tells me over lunch. Cruising takes on an ephemeral, almost melancholic tone, with the showers saturated in soft, electric blues. "I've talked about the cruising sequences as ghost stories," Ahn says. Men come in and out; you may see them again, but likely you won't. "It's what makes it kind of sexy. It's also what makes it daring and adventurous."
To watch Spa Night, currently playing at the Metrograph theater in New York, is to be fully immersed in L.A.'s Koreatown. The film stars Joe Seo as David Cho, an 18-year-old Korean-American whose parents, played by Korean actors Youn Ho Cho and Haerry Kim, manage a small restaurant. David is a good kid, but in many ways he's being set up to fail: at the SATs, at attending college, and within his place in the heterosexual family unit. And so too, are his parents: Their small family restaurant is floundering, and there's intense parental guilt over not providing enough for their only child. David picks up the night shift at a Korean spa as a way to earn some money, but really as a way to explore his sexuality.
Theoretically, the spa is where David's identities as both a gay man and a Korean-American can join together, but it's also there that they conflict. He's a part of both worlds — the gay, cruising one, and the familial Korean one — and neither. "If you go to a Korean spa, if you're not Korean, people kind of assume that you're gay and there to hook up," says Ahn, who discovered that K-town saunas were used as cruising zones for gay men later in his adulthood. "But then if you are Korean, people assume that you're not gay, so for David, who's both gay and Korean, what is that experience like?"
In the end, David does hook up with someone: another Korean-American guy, a decision that Ahn says is a logical extension of the idea that what David is looking for is much more than just sex. "I decided that the guy that David ultimately hooks up with should be Korean because there's something beyond just the physical attraction," Ahn says. "David's sexual exploration was ultimately going to lead to not just physical desire, but a gay identity, wanting to have a community."
Remarkable to some, David's desire is unconcerned with whiteness. "It's really fascinating to me, especially with some gay press, people are asking, 'Oh, can you talk about how the gay community is racist towards gay Asian-Americans?'" Ahn says. "I can talk about that, but the movie doesn't have anything to do with it and that to me is kind of the point."
In an attempt to make the movie more conventionally legible, a potential producer suggested that Ahn write in a white surrogate. "They were just asking, will you write a [new] character? Could there be a white love interest? Any opportunity for a bigger actor?" Ahn says. "They wanted a vehicle. They wanted Piper [the white lead character in Orange Is the New Black]. They wanted Ewan McGregor for Don Cheadle's Miles Davis movie." What Hollywood producers saw as a savvy business decision, Ahn didn't see in his film, which he always intended would have an entirely Korean-American lead cast and dialogue in both English and Korean.
"It's trying to define a true and authentic queer Korean-American identity without having to talk about whiteness," says Ahn. "Is there a way to do that? For me, it's a film like Spa Night, it's nights like Gameboi at Rage in West Hollywood. There's an authentic Asian-American queer culture. I could have made a film that talks about what it means to be a gay Asian-American man in a very predominantly white gay culture, but that's not what I wanted to talk about." Instead, what Ahn has created is another possibility for gay Korean-Americans: an origin story, one that, with some struggle, allows them to emerge renewed and rejuvenated. Just like at the spa.