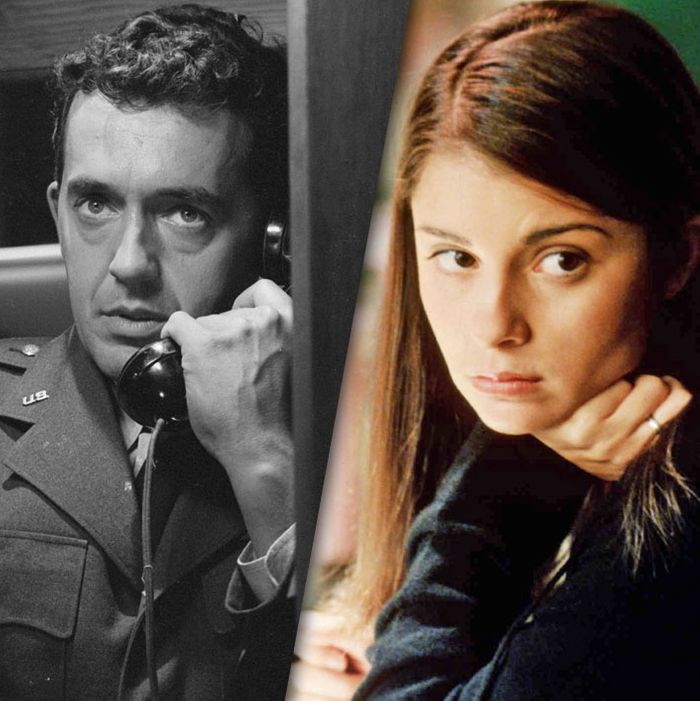 L-R: Dead Like Me, The Twilight Zone, Roswell
Photo: Showtime, Getty Images, WB
So you've eaten up Netflix's new '80s-nostalgic, kids-on-bikes, mysterious-happenings series Stranger Things, and you're looking for something to fill the goopy monster-shaped hole in your viewing schedule. You probably already know about The X-Files and Twin Peaks (although if you don't, certainly check out both of those), but if you're in the mood for inexplicable dread or creepy shadows, here are some streaming options that might help scratch that supernatural itch.
I'd like my monster to be a psychologically disturbing superhero who raises questions about trauma and power.
You're looking for Jessica Jones, one of Netflix's contributions to the ever-expanding Marvel cinematic and televisual universe. In addition to being full of twisty surprises, an ample dose of paranoia, and satisfying noir stylistics, Jessica Jones depicts a relationship between villain and protagonist that explores big, tough questions about rape, power, and sexuality, and is a sharp, steely-eyed look at how we think about victimization. It does get a little loose in the middle, and might've benefited from a shorter, Stranger Things–sized season. But it will definitely give you the willies.
Please — less psychological trauma, more campy aliens, and lots of teens.
Maybe you liked the youthful aspect of Stranger Things, but instead of feeling nostalgic for the '80s, you're more wistful about the glorious WB-style teendom of the late '90s and early 2000s. All 61 episodes of Roswell are streaming on Netflix — you're welcome. Roswell gets you aliens with secret identities, shape-shifters, clones, and a bounty of teen TV tropes, plus an impressive roster of youthful talent. Shiri Appleby, Katherine Heigl, Emilie de Ravin, and Colin Hanks all show up, and the series was developed by Jason Katims (Friday Night Lights, Parenthood).
I love procedurals, and I also love spooky monsters and weird science.
If you didn't get around to it while it was airing on Fox, go back and check out Fringe. You can stream it on Netflix or Amazon Prime, and it's a delightful option for anyone who digs the rhythms of investigation, lab analysis, and a little will-they-won't-they between the lead characters. The first season has some growing pains as it tries to find a good balance between procedural storytelling and bigger serial arcs, but especially once you get deep into its mythology, Fringe is some of the most inventive supernatural TV storytelling out there. All that, plus the endless charms of John Noble's Walter Bishop. 
I'd prefer something more like the real world, but where things are clearly not as they seem.
This is a less strictly supernatural/otherworldly pick than any of the other choices on this list, but fans of Stranger Things with a tolerance for a more adult-focused story and a fondness for Stanley Tucci would do well to check out Fortitude, which is available to stream on Amazon Prime. More of a murder mystery–thriller than it is supernatural, Fortitude nevertheless brings with it a gnarly horror vibe, in part because of its Arctic circle setting. It's a place where even things that are technically of this Earth can feel sinister and unsettling. Fortitude's 12-episode first season has been renewed for a season two, which will add Dennis Quaid to an already excellent cast including Sofie Grabol, Michael Gambon, Christopher Eccleston, and the aforementioned Tucci. 
What about vampires? And buckets of blood?
Fortitude has plenty of gore, but maybe you'd like something a bit more formulaically toothy. If you're also excited about all the familiar tropes of thriller-y, action-y vampire exterminations, you might be a good fit for FX's The Strain. The first two seasons are available on Hulu, and the third season premieres on August 28. It's not a show that will wow you with its fascinating characterization, nor will it suck you into a meticulously created world of vampire horror. But it's fun (in the way that former-Nazi vampires are fun) and will keep you reliably supplied with glistening pools of blood and vampire slayage. (For a more feminist take on vampire slaying, of course, Buffy is available on Hulu and Netflix.) 
I'm a fan of quirkiness, interesting female characters, and Mandy Patinkin.
There are some beautiful oddball Bryan Fuller shows that mix supernatural premises with other genres and tones. Pushing Daisies is a better-known example of this, but the most relevant is his earlier show, Dead Like Me, a series about a young woman who dies when a toilet seat from the Mir space station falls on her, and then she becomes a grim reaper. If that piques your interest, read this celebration of its tenth anniversary, and go find Dead Like Me on Hulu. 
Just give me the classics, already.
You like the supernatural genre, especially when it's used as a metaphor for human nature, modernity, or social issues. You think big, complex, overly long serial storytelling is overrated. You like going back to where things started. You're looking for The Twilight Zone, which you can stream on Netflix, Amazon Prime, or Hulu. Start from the beginning, or take a look at a best-of list to skip ahead to the one where the woman's waiting for the plastic surgery that will finally make her look "normal."
But wait, isn't there anything more like Stranger Things?
One of the most-remarked-upon aspects of Stranger Things is that although it's built like a TV series, nearly all of its references and inspirations are cinematic rather than televisual. If you're really looking for more Stranger Things, the place to go is probably some of the entries in this exhaustive movie-reference glossary. Unfortunately, it's hard to find any of those movies on free streaming platforms, but if you're willing to pitch in something extra, The Goonies, E.T., Close Encounters of the Third Kind, and J.J. Abrams's Super 8 should go to the top of your list.