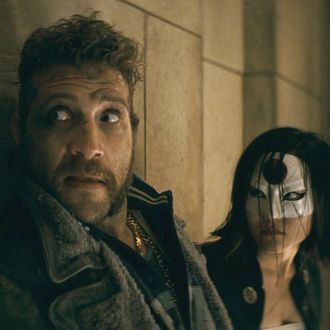 It's a high-pressure month for Warner Bros. The studio's make-the-villains-the-heroes attempt to get its DC film universe on track with Suicide Squad is falling way short of critical hopes, as it polls under 30 percent on Rotten Tomatoes, even as the movie is being projected to have the biggest August opening ever by making $125 million at home in its first weekend, and more than $100 million overseas. Throwing more fuel on the joy fire, Squad has the highest presales of any August release in the history of Fandango. Huzzah, DC, right? Well, before anyone gets too excited, be sure to consider that Squad needs to succeed for more than just one weekend to avoid being embarrassed.
Consider that Batman v Superman screamed out of the gate with $166 million and ended up grossing almost $900 million worldwide, but it was heavily derided by critics and fans alike. The result? Warner Bros. restructured and spun up a new entity called DC Films to make sure their ultra-high-budget spectacles were also, you know, worth watching. Batman v Superman, much like its predecessor, Man of Steel, hardly had any legs at the box office. After massive opening weekends, both films saw steep drops in their week-over-week earnings. Steel only kicked around theaters for 14 weeks at home, and Dawn of Justice lasted even less time and bowed out after 12. Compare that to legitimate successes — both critically and financially — like Guardians and Deadpool, which ran for 22 and 18 weeks, respectively. Hell, even Marvel's stepchild property, Ant-Man, had the same box-office run as Guardians, and it got a Certified Fresh critical rating, too.
Take all of that into account and suddenly the massive opening-weekend projections for the poorly reviewed Suicide Squad become a necessity instead of a Champagne-worthy achievement. It has to earn back that $175 million budget (which doesn't count the cost of marketing) fast in the event that its box-office tail ends up being as short as the rest of its DC cohort. It seems like there's a hyperspecific record broken every week at the movies these days, but with the measure of blockbuster success being billion or bust — just ask Dawn of Justice — starting your cinema run with $240 million only to possibly see your ticket sales drop by more than half in the second week isn't going to get you to the ten-digit mark. Maybe the combined power of fanboys and fangirls and Margot Robbie is enough to lift Suicide Squad out of the DC slump. But the scope of the movie's success won't be determined after week one. It will be determined by whether or not Warner Bros.' latest effort is still around in theaters after two months.