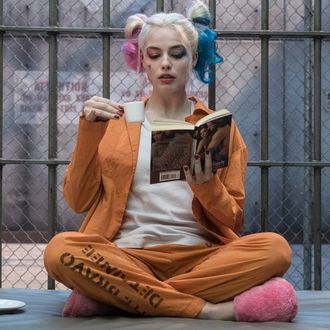 Photo: Clay Enos/Warner Bros. Entertainment Inc.
Some lewd food gave the Joker and Co. a major run for their money. DC Comics' Suicide Squad won the box office for the second week in a row, generating $43.77 million this weekend — a 67 percent drop from its debut. This is among the worst first-to-second week drops for recent superhero films, trailing behind Batman v. Superman from earlier this year and Fantastic Four in 2015; Squad now has a total global cume of $222.9 million. On the animated side, the R-rated Sausage Party earned the title of the biggest-ever debut for an animated movie in August, beating the record previously set by Disney's Planes in 2013 — it opened at $33.6 million, for a second-place finish.
Disney's family-friendly Pete's Dragon soared and swooped to debut at a respectable third place with a $22.1 million cume. Jason Bourne ($13.6 million), Bad Moms ($11.45 million), and The Secret Life of Pets ($8.8 million) followed in fourth, fifth, and sixth place, respectively. Florence Foster Jenkins — which, ironically, hits all of the high notes, with Meryl Streep and Hugh Grant — debuted in the eighth-place position with $6.48 million. Fa la la la la!