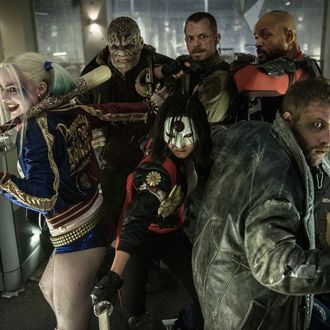 The squad smashed it.
Photo: Clay Enos/Warner Bros. Entertainment Inc
Suicide Squad's second week at the box office may have suffered a sharp drop, but its musical sidekick debuted right on par with the film's opening. The scatterbrained Suicide Squad soundtrack is your new No. 1 album, entering the Billboard 200 at the top. In its first week, the compilation — featuring new songs from Rick Ross, Lil Wayne, Kehlani, Grimes, and Panic! at the Disco's cover of "Bohemian Rhapsody" — started with 182,000 album equivalents, 128,000 of which were pure sales. That makes it the best-selling debut for a soundtrack since 2015's Fifty of Shades Grey. It's also the only soundtrack to hit No. 1 this year, and the first since Disney Channel's Descendants did it nearly a year ago. Further adding to the soundtrack's success: Twenty One Pilots' contribution, "Heathens," is sitting just outside the Top 10, at No. 11 last week. Suicide Squad at No. 1 means Drake has been dethroned for two consecutive weeks — last week, DJ Khaled took top honors — though he's still only been bumped to the second slot.