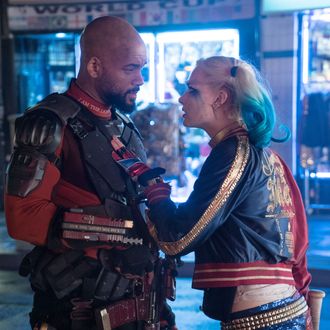 Is this the real life?
Photo: Clay Enos/Warner Bros. Entertainment Inc.
Hey, remember how that first trailer for Suicide Squad was really cool and fun? Warner Bros. does, too. An in-depth piece on The Hollywood Reporter dives into the complicated history of the film, which, like so many studio tentpoles (see: all the drama inside Fantastic Four), went into several rounds of cuts and reshoots as the studio and director David Ayer refined the film. A key takeaway from THR's report, however, is that Ayer and Warner Bros. seemed to be making two different films. After the tepid response to Batman v Superman, the studio wanted something more fun:
A key concern for Warners executives was that Suicide Squad didn't deliver on the fun, edgy tone promised in the strong teaser trailer for the film. So while Ayer pursued his original vision, Warners set about working on a different cut, with an assist from Trailer Park, the company that had made the teaser.
As post-production continued, "multiple editors" were brought in to reshape the film, while the studio tested Ayer's "more somber" cut against a "lighter, studio-favored version." The compromise that was closer to the studio version won out — though, to be clear, the final product isn't exactly a knee-slapper. And despite those reported differences of opinion, Ayer and Warner have made a outward show of unity. In the face of reports of "a lot of panic and ego instead of calmly addressing the tonal issue" from sources who spoke to THR, Ayer and the studio said "this was an amazing experience. We did a lot of experimentation and collaboration along the way. But we are both very proud of the result. This is a David Ayer film, and Warners is proud to present it." Sure, the early reviews might not be glowing, but the movie's already breaking pre-sales records. Warner Bros. was right: The trailer works!