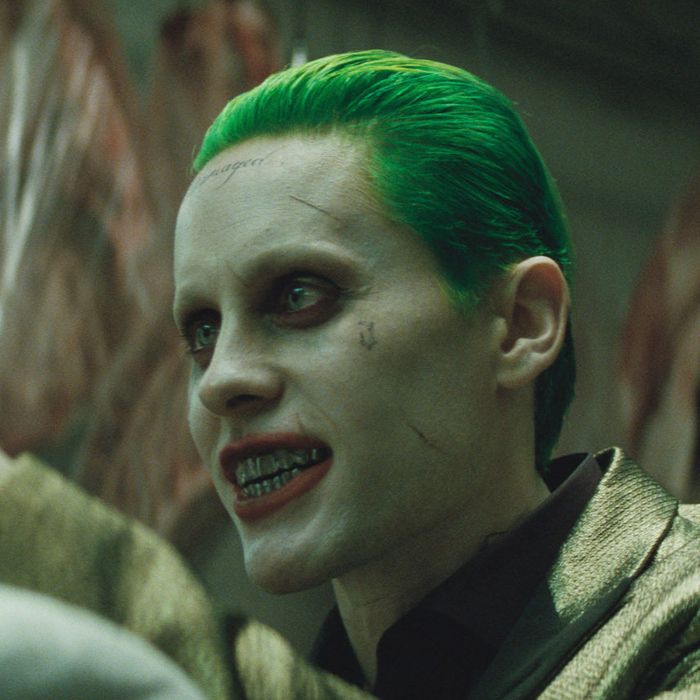 Photo: Warner Bros. Pictures
The tickets are in, the numbers are tallied, and it's official: Despite Suicide Squad's 26% score and 4.7 average rating on Rotten Tomatoes — both worse than the movie it was supposed to erase from memory, Batman v Superman: Dawn of Justice — DC Entertainment and Warner Bros.' latest critical punching bag opened to $135.1 million domestically, the best box-office performance ever in the month of August. In fact, it blew away the previous holder of this record, the well-received Guardians of the Galaxy, which bowed to $94.3 million in 2014. So does this mean Warner Bros. can finally exhale, DC can put its feet up, and David Ayer can dropkick a life-size model of Zack Snyder?
Not quite.
While Suicide Squad's opening weekend was indeed record-breaking, it also flecked the sky with red flags. After Friday's $65.1 million haul, most observers were predicting the movie to end the weekend in the realm of $145 million, well beyond the $100–$125 million that Warner Bros. had forecast initially. But revenue fell a massive 41 percent from Friday to Saturday, leaving SS $10 million short of updated tracking. And let me tell you, in case it isn't evident: a 41 percent Friday-to-Saturday drop is … really bad.
To put things in perspective, Batman v Superman dipped 38 percent between its own opening Friday and Saturday, and that film is basically the gold standard for how far a massively hyped blockbuster with a huge opening weekend can fall. Following its March-record $166 million opening, Batman v Superman made just $51.3 million the weekend after, a 69.1 percent decline. By the end of its run, momentum had slowed so drastically that it finished with $330.4 million domestically. That means BvS didn't even double its opening weekend box office over the course of its entire subsequent theatrical run, producing a 1.99 multiplier that is the worst in box-office history for a movie that debuted above $100 million.
The reason for Suicide Squad's sharp decline can best be represented by one particular metric: CinemaScore, a grade given to films by opening-weekend attendees. It's basically movie-theater exit polling, and it serves as a snapshot of audience enthusiasm — the CinemaScore reflects the first impression of the moviegoing public. Batman v Superman posted a B CinemaScore, which, for a superhero movie, might as well be a sad face written at the top of the page in red pen. Other B-scoring members of the genre include the 2005 Fantastic Four and its sequel, Ryan Reynolds's career-hampering Green Lantern, the Ben Affleck punch line Daredevil, and Zack Snyder's own Watchmen. The entries that fall below that mark are a sorry bunch indeed: the erased-from-history Ang Lee Hulk (B-), George Clooney's recurring nightmare Batman and Robin (C+), and — you guessed it — last year's Fantastic Four (C-).
Suicide Squad's defenders were quick to point out that it did manage to top BvS in that retrospect, delivering a B+ CinemaScore. While that might seem like a marked improvement, it actually doesn't bode much better than a B. Of the superhero movies to open above $75 million, three — Spider-Man 3 ($151.1 million), The Amazing Spider-Man 2 ($91.6 million), and X-Men Origins: Wolverine ($85.1 million) — also received a B+ CinemaScore. None managed better than a 2.25 multiplier.
Were Suicide Squad to perform at that multiplier, which appears to be its best-case scenario, it would mean a domestic run of $303 million. If it finished closer to a 2.0, à la Batman v Superman, we'd be looking at $270 million. While neither number looks too bad in isolation, they have to be considered in the context of its release: Last week, THR reported that Suicide Squad might need to make as much as $750–$800 million worldwide to just break even, thanks to its $175 million budget and colossal marketing costs. Meanwhile Deadpool, the platonic ideal of the edgy superhero movie, made $363 million domestically on a mere $58 million budget, providing a stark, and unflattering, counterpoint. (How about Guardians of the Galaxy, the movie SS just displaced from the record books? $333.2 million. Making money is a marathon, not a sprint, and a big opening weekend is just a good jump off the line.)
There will be an international bump — Suicide Squad managed $132 million overseas, exactly the same as Deadpool in its first weekend — but it's going to be relatively limited: Also like Deadpool, Suicide Squad is expected to miss out on China, and it's receiving a reduced release in Mexico due to a bizarre theater conflict. That means Batman v Superman's $542.3 million foreign take, which included $95.8 million from China, seems out of the question. Deadpool ultimately took in $419.5 million internationally; a similar number could leave Suicide Squad looking at the wrong side of $700 million worldwide. It's crazy that we're talking about a movie earning nearly $700 million as being a disappointment, but here we are.
While Marvel basks in the glory of Captain America: Civil War becoming its third billion-dollar earner, DC has yet to release a movie that most people simply like. Wonder Woman's June 2017 release might mark the start of the promising Geoff Johns era, but Warner Bros. still needs to get there with its brand somewhat intact. Think about it this way: So far, the relative success of DC's offerings has come from opening weekend hauls, occurring before audiences had a chance to be deterred by the poor product. Eventually, even devoted DC fans are going to grow too skeptical to turn up on opening weekend on faith alone, meaning even a good film — like, hypothetically, Wonder Woman — could be the victim of diminished expectations. DC does not want to find itself in the position of needing to convince ostensibly loyal fans to actually see its films. And in that sense, Suicide Squad, regardless of whether it's the new Batman v Superman or something marginally less bad, didn't make DC's job any easier.