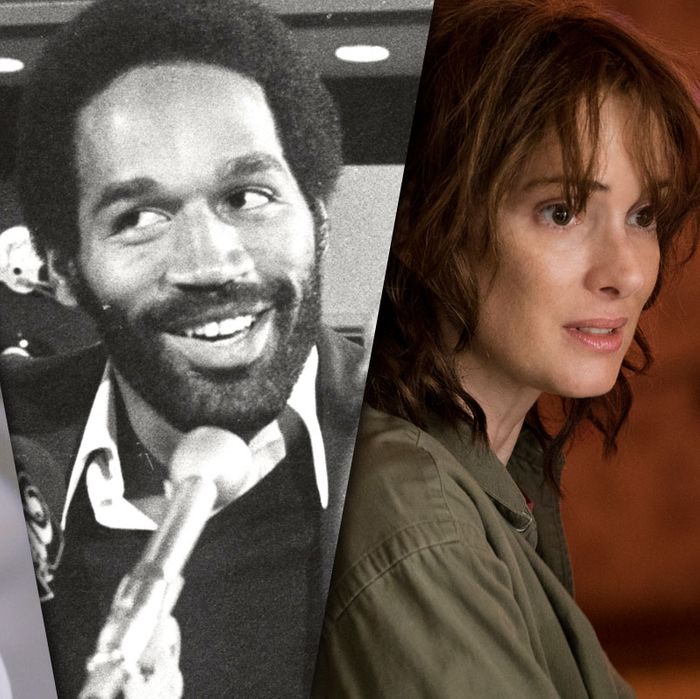 L-R: The Get Down, O.J.: Made in America, Stranger Things
Photo: Netflix, ESPN
The Rio Olympics have ended. Kids are either back in school or heading that way very soon. Labor Day may be more than a week away but you can already feel it in your bones and that nearly empty bottle of sprayable SPF 30: Summer is basically over.
Before we turn our gaze to fall and the most important part of that season — fall television, obviously — it seems appropriate to take one last look back at the summer TV of 2016. And "look back" seems like exactly the right term to use here.
If there was a unifying principle in the new and returning shows that aired or streamed over the past three months — 63 in total, according to The Wrap's tally — it was a fixation with the retro. Many of the programs that captured public attention or critical acclaim in June, July, and August revisited bygone decades or functioned as outright throwbacks.
The most obvious, high-profile example of this was obviously Stranger Things, Netflix's revisitation of '80s-era sci-fi, horror, and Winona-ness that has taken over social media and backyard barbecue conversations ever since its mid-July premiere. In a summer that couldn't get itself together enough to settle on a summer song or deliver a truly must-see blockbuster at the multiplex, Stranger Things was the best, closest thing we had to a universally shared pop-culture experience. Certainly the show's commitment to its era — from its syntho-sinister soundtrack to its thoroughly 1983 production values to its nakedly reverential homages to Stephen King, Steven Spielberg, and John Carpenter — was a major part of appeal. By weaving a supernatural tale steeped in the sensibility of 30 years ago, Stranger Things provided perfect summer escapism. And that's what summer pop-culture consumption is supposed to be about: escapism.
Stranger Things may be the most memorable show of the summer of 2016 and its flag bearer for rearview-mirror-focused storytelling, but it's hardly the only show this season that traveled back in time. The Get Down, also on Netflix, took an infectious, hyperkinetic spin through the disco and early hip-hop days of 1977 New York. Freeform revived the '80s summer-camp slasher genre with Dead of Summer, but it didn't capture the public imagination quite the same way Stranger Things did. ABC used nostalgia as a guiding principle for much of its prime-time programming, successfully slotting reboots of retro game shows like Match Game and The $100,000 Pyramid, as well as Greatest Hits. ABC also tried, and promptly failed, to reboot the 1989 John Hughes comedy Uncle Buck, while TBS tried and apparently succeeded in its attempt to revisit Lost, one of the defining TV dramas of the 2000s, in the form of the Lost parody Wrecked. (A second season of Wrecked has already been given the go-ahead.) On a far more serious note, O.J.: Made in America, the most acclaimed docuseries of the summer and, when all's said and done, probably one of the best shows of the entire year — focused on the career and downfall of O.J. Simpson but, in the process, took viewers back to the '60s, '90s, and several other decades in order to illuminate America's modern-era racial history.
Series with feet firmly planted in the now also had their throwback elements. The third season of BoJack Horseman, a dramedy always concerned with the scars etched on our souls by the past, took that idea to another level by plunging an entire episode in the year 2007. The entire first third of a recent Mr. Robot episode played out like a late '80s/early '90s TGIF-style sitcom, one that, come to think of it, would look completely at home next to BoJack's Horsin' Around. Over on CBS's gleefully grody BrainDead (we said grody back in the '80s), the D.C. political figures whose brains got eaten by weird space-ants technically exist in some contemporary parallel universe. But the song that repeatedly signaled the erosion of those minds was the early-MTV-era classic "You Might Think" by the Cars. (Could it be that too much '80s nostalgia makes us … brain-dead?)
Even the major live-broadcast TV events of the summer — the Olympics and the political conventions — often gave off retro vibes. Much of NBC's coverage of the Rio Games felt like it was beamed in from 20 years ago, in ways both good (always nice to see you, Mr. Costas) and bad (those commentators just said what about female athletes now?). As for the conventions, there were certainly elements of yesteryear to be found in both, via Donald Trump's retrograde "Make America Great Again" rhetoric and the whiff of I Love the '90s-ness that comes with seeing a Clinton in the presidential-nominee spotlight again. Honest to God, at one point during CNN's coverage of the Democratic National Convention, the network cut away from protests outside Philadelphia's Wells Fargo Center in order to broadcast Boyz II Men performing "Motown Philly" on the stage inside. Seriously: What year is this?
I know, I know: Nostalgia is hardly a new phenomenon on television. Look at any previous summer, or for that matter, any TV season at any point in recent memory, and you will find multiple examples of series set in the '80s (The Americans, Halt and Catch Fire, The Goldbergs, the Netflix version of Wet Hot American Summer) or the '60s (Mad Men, Masters of Sex, Aquarius, 11.22.63), reboots of old sitcoms (Girl Meets World, Fuller House), and contemporary comedies going full flashback for an episode (see: the recent Good Times–infused installment of Black-ish). Creators and television producers constantly go back to old wells and that will only continue in the months (and, let's be real, years) ahead, when various networks and content providers serve up fresh takes on, just to use this fall as an example, MacGyver, Lethal Weapon, The Exorcist, and Gilmore Girls.
What strikes me as interesting about this summer in particular, though, is how much it contrasts with recent TV summers. Within the past decade, a season that once was a dead zone of reruns evolved into a time to discover new episodes of brilliant television. Mad Men — admittedly, yes, a period piece — initially debuted on AMC as a summertime show; the final seasons of Breaking Bad also began to tensely play out on AMC in the months of July and August. The summer of 2013 was the summer when Netflix's original programming fully blossomed. Following on the heels of House of Cards' success, everyone got super-hyped for a new and very different season of Arrested Development and, ultimately, even more engrossed in the female-prison drama of Orange Is the New Black. Then there was last summer, which marked the arrival of two confident and fresh new dramas — UnREAL and Mr. Robot — that offered compelling takes on contemporary phenomena: reality TV in the former, and technology and its potential to cause social and economic collapse in the latter.
Now, here we are at the end of the summer of 2016, with both of those shows having lost their solid season-one footing and our attentions turned instead to series that are deeply evocative of the decade of E.T. and It. As someone whose lifeblood is rich with a love of old pop culture, I am fine with this. But I also find it ironic that this TV summer has, in a way, been all about reruns.
TV has often functioned as a time machine, and viewers have repeatedly responded to that over the years. It's what enabled us to spend part of the '70s in the '50s with the Fonz, or some of the '80s and '90s in the '60s with Kevin Arnold.
The fact that so many shows have been looking backward lately is one of these weird cultural coincidences that makes it easy to write trend pieces like this, but I don't think it means that TV creators have run out of new ideas — there are way too many series out there to possibly reach that conclusion yet — nor do I think it means that period pieces are automatically stale retreads. Practically every '80s show I mentioned, including Stranger Things, is an example of compelling television that cracks open a new universe, even if that universe is immediately recognizable to our eyes.
But I do feel like the desire to peer in the rearview mirror may be stronger than usual at this particular moment, when the Obama "Hope" era is coming to a close and the next chapter in our political history remains a mystery almost as scary as the Upside Down from Stranger Things. When you think about it in that context, is it any wonder that this summer when we've turned on our televisions or flipped on our iPads, what we've desired more than anything is the opportunity to go back?