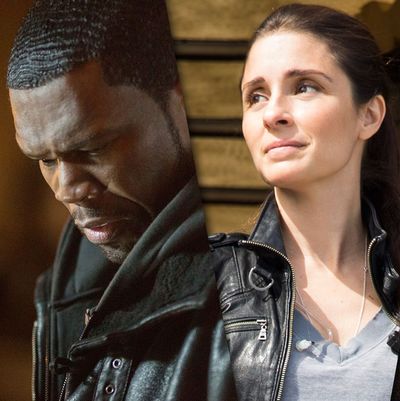 Photo: Starz, Lifetime, Fox
The calendar says there are still a few more weeks left in the summer, but tonight's start of the Rio Olympics on NBC pretty much signals the end of the season in TV land. The Peacock's endless hours of coverage will dominate the ratings and pop-culture discussion for much of the next two weeks, and when it's all over, programmers' focus will almost immediately shift to launching fall fare. Now seems like a good time to take stock of this summer's winning TV performances — as well as those shows, networks, and trends that ended up (belly) flopping.
WHAT WORKED
Dramas with African-American-led casts
As the broadcast networks prepare to roll out another season of new series mostly top-lined by white actors, cable continues to capture eyeballs (especially younger ones) with dramas centered on black characters. This strategy has proven particularly effective this summer: Three of the top five cable shows among adults under 50 during the second-to-last week of July — Starz's Power and OWN's The Haves and the Have Nots and Greenleaf — revolve around African-American characters. HAHN has been a massive hit for OWN since its 2013 debut, so its success this summer is nothing new. What's impressive is how OWN has established Greenleaf as a stand-alone success on Wednesdays, where it's now often drawing a bigger younger audience than HAHN, which airs on Tuesdays. Meanwhile, the decision by Starz to move its original programming to Sunday nights, starting with Power, has proven to be massively smart. Not only did the series surge 58 percent above its season-two opener (and improve an eye-popping 358 percent from the series premiere), but Power on Sunday gave Starz its most-watched episode of an original series ever. While numbers have slipped in subsequent weeks, Power is still beating all of its premium-cable competition on Sundays among younger viewers, including the otherwise successful Preacher, HBO's buzzy The Night Of, and Showtime's stalwart Ray Donovan.
Throwback game shows
With little fanfare, ABC scored the biggest TV hit of last summer with Celebrity Family Feud, a prime-time edition of Steve Harvey's daytime smash. The network decided to quadruple down on that success by ordering no less than three more game shows for this summer, reviving the classics Match Game, $100,000 Pyramid, and To Tell the Truth. More than a few industry insiders privately questioned whether the network was overdoing it, but it turned out the time was right to bet big on the format. Pyramid, scheduled between Feud and Match Game, has been the biggest winner, almost always matching (and sometimes surpassing) the same-day audience for Feud. And while Match Game hasn't been quite as potent, it still holds on to around 80 percent of its lead-in and, like the other two shows, regularly places in Nielsen's top 10 or 20 shows each week. Not everything is sunny about ABC's self-described Sunday Fun & Games block: Feud has cooled down quite a bit from its freshman highs. But all three shows are outperforming much more expensive to produce scripted shows on other networks, and even doing better than some of the dramas ABC has been airing on Sundays during the regular season. (The trio, along with To Tell the Truth, were all renewed for 2017 on Thursday.) But Sunday isn't the only night games have worked this summer. CBS did well in late May with a multi-night prime-time edition of The Price Is Right featuring stars from its various reality shows. And ABC also did decent numbers on Tuesdays with a short run of Truth. While none of this summer's game shows are monster hits the way Who Wants to Be a Millionaire or even Deal or No Deal were back in the late 1990s and early aughts, they have proven the format can draw a sizable, steady audience without networks having to spend a ton of money to make or market them. Survey says: Expect more.
Preacher
While OWN's Greenleaf is the summer's biggest new cable hit, AMC's adaptation of the comic-book series Preacher is a close second. It's averaging about 3 million viewers per week, about half of whom are in the key demo of adults under 50. It's regularly near the top of the cable charts each week, and it's doing well without the benefit of having an existing AMC hit as its lead-in (save for the series premiere, which was paired with the finale of Fear the Walking Dead). And while Preacher did take a ratings hit early in its run, it's since rallied back, showing ratings growth during most of the second half of its season. More important, in key demo groups, Preacher outperformed almost everything else scripted on basic cable so far this summer, including buzz-worthy shows such as Mr. Robot and TNT's heavily hyped Animal Kingdom. At a time when cable networks are in the business of creating series brands with loyal audiences, Preacher feels like a show likely to be around for years to come.
NBC
The Rio Games assured NBC a win for the summer, but even before the Olympics arrived, the Peacock had been having a great few months. America's Got Talent accounts for most of the network's success: In its second decade, the talent show not only towers over everything else on TV this time of year (drawing in nearly 14 million weekly viewers), but it's actually drawing bigger ratings. This season is currently on track to deliver the show's biggest audience in five years, a remarkable feat at a time when almost everything on TV is headed down. But NBC can also claim some other big wins. Sticking by America Ninja Warrior has paid off, with the show likely to have its most-watched season yet this year. And while it doesn't get much attention, the drama The Night Shift gets more viewers than any other network scripted series and ranks in the top 20 among adults under 50. Most impressive for NBC: If you look only at regularly scheduled non-sports programming, the Peacock is up 15 percent this summer in the key demo — while every other network is down. Having a strong summer doesn't automatically translate to success during the regular season, but having millions more viewers watching promos for new shows such as Timeless and This Is Us certainly doesn't hurt.  
WHAT DIDN'T
Network dramas
Just three short years ago, CBS's Under the Dome drew more than 13 million viewers to its June series premiere, heralding what at the time seemed like a new era of summertime scripted shows. Those days seem like a distant memory for broadcasters now. This summer has been pretty much a disaster for scripted series on the major networks, with both new (American Gothic, BrainDead) and returning (Aquarius, Wayward Pines) shows striking out with audiences. There are exceptions: CBS's Zoo and ABC's Mistresses are doing okay (but not great), and NBC's The Night Shift is a legit winner. But for the most part, audiences seem to prefer reruns of network shows over originals this year. Part of the problem is quality control. Aquarius was a ratings dud last summer, and critics didn't exactly rave; NBC brought it back anyway, to predictably disastrous results. Likewise, Wayward Pines was conceived of as a onetime event series, and did well under that construct last year. Audiences seem less interested in how producers moved forward with a second season. Meanwhile, CBS's Gothic and BrainDead don't really feel like summer shows, and certainly don't fit the mold established by the first (successful) season of Dome. Here's an idea for the networks: Why not use the summer to experiment with a crime procedural? A show that doesn't require audiences to watch every episode is perfect for this time of year, and the lower ratings expectations of summer should allow a smart producer the chance to experiment with the crime-show formula the way Anthony Zuiker did with the original CSI.
Last summer's big cable hits
Sophomore slumps are real, and this year they seem to be hitting USA's Mr. Robot and Lifetime's UnREAL pretty hard. It's not that their ratings are awful: Once DVR replays were factored in, both series demonstrated year-to-year growth compared to their 2015 launches. But given the critical love and awards nominations, execs at both networks have to be a bit bummed these two potential tentpoles are doing just a little bit better. Networks, of course, have learned to temper their Nielsen expectations and now realize series can take years to find an audience, and that said audience won't always be immediately be captured by linear ratings and must now be cultivated year-round. The problem for Mr. Robot and UnREAL is that the buzz around both shows' second seasons has turned mixed to negative. Cable networks crave positive word of mouth in the early years of their prestige shows, especially when said shows are lower-rated. It's the model that helped build Breaking Bad into a slow-motion smash and kept FX behind The Americans all these years. The meh response so far to UnREAL and Mr. Robot is hardly fatal, and it won't stop either show from returning. But execs at USA and Lifetime were almost certainly hoping for better season-two narratives.
Maya & Marty
Credit NBC for fighting the good fight: It armed two incredibly talented performers (Maya Rudolph and Martin Short) with lots of money, endless marketing, and the best possible time slot (behind America's Got Talent) in their effort to revive prime-time variety. Sadly, it's hard to say it worked. The Nielsen numbers weren't disastrous compared to other original shows this summer, but that's mostly because of its positioning behind the Tuesday night edition of the monster hit that is AGT. Fact is, NBC was able to pull bigger numbers among adults under 50 last summer with the cheapo comedy reality show I Can Do That. The real problem with Maya & Marty is that such an expensive show produced so little buzz, either from viewers or critics. Yes, the time Rudolph spoofed Oprah Winfrey's bread obsession was awesome, and it was great to see Tina Fey help bring back the musical medley. But the show too often felt like warmed-over Saturday Night Live rather than something fresh and funny. And unlike NBC's own The Tonight Show Starring Jimmy Fallon or CBS's Late Late Show With James Corden, Maya & Marty — despite having months to prepare and a plethora of talent in front of and behind the camera — produced hardly any viral moments during its run. The importance of such shareable segments is often overstated, but a show that's trying to be a summer version of SNL needs to get people talking, or at least watching in bigger numbers. For those of us who desperately want networks to find a way to make (prime-time) variety great again, and who also think Rudolph is a national treasure, it's tough to admit Maya & Marty just didn't work.
Fox
Once Empire hit its final note of the season last May, Fox might as well have just signed off the air completely. The network has seen its ratings sink to shockingly low levels over the warm-weather months, with audience levels falling to an average of fewer than 2 million viewers during several weeks last month. In fact, as a result of the boost provided by coverage of the political conventions, sibling Fox News had a bigger average prime-time audience during several weeks in July. And among adults under 50, USA Network's July average rating of 0.7 matched or beat Fox's demo tune-in for most weeks of the month. Compared to a year ago, Fox has lost roughly a third of its viewership in both overall audience and key demo groups. It's not hard to diagnose what's happening: Longtime summer staples have either faded (Gordon Ramsay's various cooking shows) or completely collapsed (So You Think You Can Dance), season two of Wayward Pines was a dud, and new reality shows like American Grit and Coupled tanked. (Despite low numbers, Fox has ordered a second season of Grit.) Worse, Fox doesn't seem to have a strategy for summer. NBC mixes megahit AGT with a smattering of scripted fare; CBS has Big Brother and at least tries to do some summer dramas; ABC leans into beach TV with The Bachelorette and its Sunday game shows (with the NBA Finals providing a big assist). Fox, on the other hand, seems to have abandoned former chief Kevin Reilly's year-round strategy and now seems content to just turn off the lights for four months, spend as little money on originals as possible, and hope audiences will return in September.