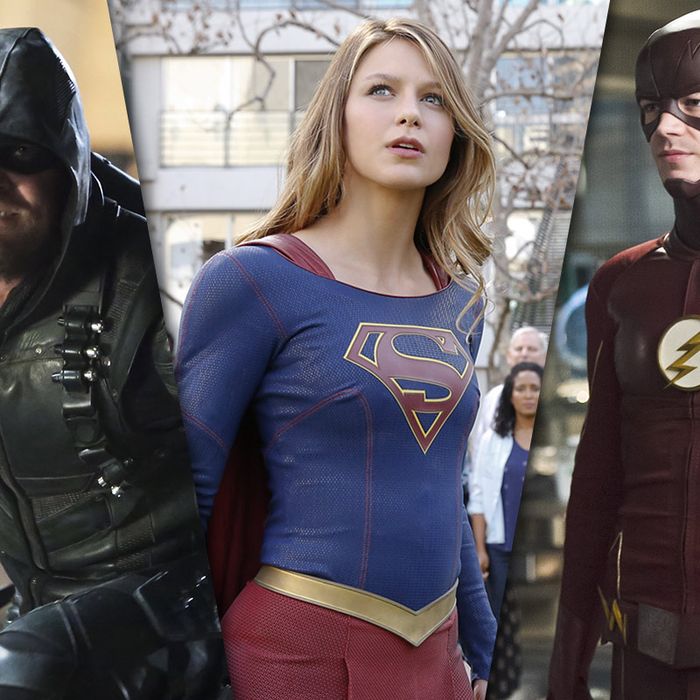 Superheroes rule the world on the CW, and at the network's Television Critics Association panel Thursday, executive producers and creators of Legends of Tomorrow, The Flash, Arrow, and Supergirl — including Andrew Kreisberg, Ali Adler, Wendy Mericle, Phil Klemmer, Marc Guggenheim and, of course, Greg Berlanti — were on hand to share details about what's in store for their caped wonders this season. From those Batman-Batgirl rumors to Calista Flockhart's absence, here's everything we learned.
There will be a Flash-Supergirl musical crossover episode.
"There will be a musical crossover; there will be a paired episode between Supergirl and Flash during the back half of the year," said Berlanti. "Some of you know my personal love of musicals and actors who have been in them. We have a number of actors who can sing across all the shows and they will be making very exciting appearances during the back half of the year."
Berlanti said the musical episode will mostly feature non-original songs and he's taking requests via his Twitter account. The Flash and Legends of Tomorrow's Victor Garber has already started pitching. Berlanti said that of all the time-traveling shows on right now his is the only one where Garber "will be singing 'Edelweiss' to a bunch of Nazis."
A character on one of the shows will come out.
"One of the characters on one of the shows will be exploring their sexuality," said Berlanti. He later added that "it is a significant character. We're not trying to be coy about it. The only reason is that we really want the audience to enjoy the character developments and of that story line."
The villains often get the most attention in the writers rooms.
"We spend sometimes more time talking about the villains than we do some of the heroes," said Berlanti. "Obviously, they're driving the plot a lot and that's setting the tone. It's reflective of what the hero is going through."
Those rumors that producers were attempting to have Batman and Batgirl on their shows were false.
"That would be a neat trick if somebody could pull it off but it's not happening," said Andrew Kreisberg.
This is the final year for those Arrow flashbacks.
"We always said that Oliver had a five-year journey when he was marooned," said Marc Guggenheim. "This year, Oliver spends his time in flashbacks in Russia. We know from various seeds we planted in the pilot that he knows how to speak Russian and he became a Bratva (Russian mafia) captain. The flashback story in the first half of the year is going to involve Oliver's introduction into the Bratva."
Oliver will get political in the new season of Arrow.
"We do think of this season as going back to our roots," said Wendy Mericle. "When you come into the season, Oliver will still be out there fighting crime on his own, and he has also taken up the mantel of the city's mayor. We're going to be exploring him as a hero, both in a very traditional sense, and also as Green Arrow. We're going to see a whole bunch of new recruits. The city's going to have a new criminal, as well as a new vigilante inspired by him." This vigilante is based on the version created by Marv Wolfman and George Pérez for the comics and will appear in the seventh episode of the fifth season.
The Flash season three picks up with Barry stuck in Flashpoint.
"Last season, we saw Barry make the fateful decision to travel back in time and try to save his mother from the Reverse Flash," said Kreisberg. "When he did so, he's created an alternative timeline where his mother's still alive that's from a story from the comic books called Flashpoint. The Flash picks up with Barry living in this new version of events and having to deal with both the benefits that's produced and also the costs." Flashpoint will also affect the events in Arrow and, in some capacity, Legends of Tomorrow, said Kreisberg.
Calista Flockhart's Cat is kind of gone from Supergirl. But she's not forgotten.
"Part of what's happening in the offices is addressing Cat's absence and who is stepping up to the plate to take her place," said Kreisberg. "Calista is such a large presence on the show and such an important one. Taking her out and watching people try to fill her role is definitely part of the story."
Supergirl will become a family affair almost immediately in season two.
"In the premiere, a threat is going to arise that's going to require Supergirl and Superman to team up," said Kreisberg. Berlanti added that "we had always hoped to end last year with him. [But] we wanted to have enough of a year to establish Supergirl as her own character."
The panelists confirmed that Chris Woods has joined the Supergirl cast as Monel, the mysterious figure in the pod that crashed into National City last season, and that Sharon Leal will be playing Miss Martian in the series.
Kevin Smith is coming back.
The superhero-obsessed director will direct episodes of Flash and Supergirl this season.
That Supergirl ice cream .gif was almost a lot hotter.
"That was actually supposed to be coffee," said Kreisberg. "It was the director's idea to make it ice cream and watching Melissa's face … that was Melissa's improv."