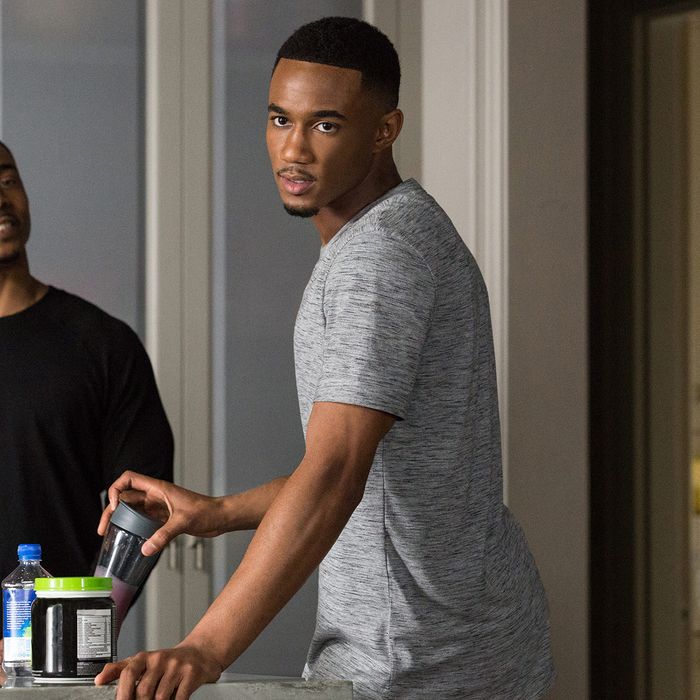 RonReaco Lee as Reggie, Jessie T. Usher as Cam.
Photo: Jackson Lee Davis/Starz Entertainment, LLC
Great TV comedies live and die by their subtle asides. On Survivor's Remorse, it doesn't get much better than Cam insisting to Jimmy that a man "can't apologize for something you're not sorry for," only to take a beat and have Reg knowingly look over at Jimmy and surmise, "He ain't married. He don't know." Not to be outdone, after Jimmy storms off declaring, "People will not pay to watch an asshole play basketball," Cam turns to Reg and quips, "People watched Kobe play for years."
If that exchange were broadcast as sport, it may have earned Carnation Stevens's "Repartee of the Week" honors. It isn't, of course, so the trio's eloquent, escalating verbal volley is just between them. The words Cam utters that do make their way onto every gym flat-screen, company break room, and mobile device in the country involve something far more sensitive than semantics. (That would be the not-actually-real "Frozen Nostrils Syndrome," not to be confused with the maybe-real Empty Nose Syndrome.) And they are not nearly as concise. But as Cassie tells a holier-than-thou housewife later in the episode, "If you were born to a bitch like me who had you when she was drinkin' hard and doing drugs and dropped out in ninth grade, you wouldn't be the most perfect forming-sentence-making person in the fucking world." Take that, syntax.
After Carnation cobbles together his comments out of context, it isn't shocking that Cam's stuck in hot water as Sport Shot's "Scumbag of the Week." If anything, this story line is the episode's (and maybe the season's) most telegraphed turn of events. But more interesting is that Reggie chooses not to rub it in (much) after Cam ignored his warnings to beg off public-radio host Ricky Shelton's interview, even if he is an old college friend. Reggie's thinking is that when you're famous, good intentions don't stand a chance against the churning waters of 24/7 news media. Let alone the likes of paid-by-the-controversy pundits like Ms. Stevens. The fallout further stokes Reg's cynicism, but he doesn't take that out on his cousin, exemplifying the understated realness Survivor's Remorse deploys to offset its self-imposed quota for layering punch lines and stacking scenarios like storytelling dares.
That School of Larry David approach to structuring each half-hour — a staple of the show since its onset, with the exception of the occasional finale where one of its main characters gets T-boned by a truck, is laid fully bare with Reg and Squeeze's opening banter about Seinfeld, a worthy homage to that little "show about a bunch of Jews" (lest you thought it nattered on about nothing). And when Squeeze misconstrues the sitcom's premise as centering on a Nazi who makes "soup out of Jews" and deduces, "Certain subjects should be off limits for comedy," it's both a wink to the audience and a tip of the hat to Seinfeld's influential skewering of the culture it was pigeonholed as representing.
Squeeze, on his merits, is an adorable antidote to the stereotypical troublemaker from a protagonist's past, though it's painfully evident that he and Chen are taking turns filling the void Julius left behind. Nor does his likability evade comparisons between Squeeze and Entourage's infamous Dom (truly the Poochie of the pussy-posse HBO series), and Survivor's Remorse has fought too hard to subvert any notions that it's a Hollywood fantasy. Characters like Cassie, Reg, M-Chuck, and Missy, so fully realized in their roles, are emblems of that success, testament to the fact that there would always be life after Mike Epps.
Julius lingers, nevertheless, on the "St. El Chopo" prayer card Cam misguidedly clutches while lying awake in bed alongside Allison, and as a way for Ricky to seduce a sentimental interview out of his old buddy. But at present, Epps's ghost haunts the show far less than Cam's comments about kids with "fucked up" nasal cavities presses on his need to do PR damage control. A for-hire spin doctor doesn't work (hello, Rectify's Sharon Conley!), and now Cam must contend with Barbara, a woman whose son has F.N.S. (even fake afflictions can have acronyms) and has been swooped up by Constance and a local congressman to maintain focus on their own agendas.
Missy gives him a script, but to no one's surprise — and to Cassie's delight — Cam goes far afield from it, expressing contriteness by launching an F.N.S. foundation and putting Constance and Congressman Perry (and even poor Barbara, on her company's behalf) on the spot to pledge their support. Now, if that spin-cycling diva who confronted Cassie actually petitions for fair treatment of poor black kids in the inner city, mother and son may well be blazing a trail. Your move, Kobe.
Apart From All That:
Somewhere, there's a much more detailed introduction to Squeeze's duties as Reggie's assistant.
Vitals on Ricky Shelton: He doesn't like horses, swears by probiotics, and believes people "take nostrils for granted."
Precious insight from Cassie: "Pork don't keep in the mail like Omaha Steaks."
The "Are Kids Deserve Better" sign. Lol.
Ditto for the "Empathy?" protester.
Would have liked to be there when the writers pulled Carnation Stevens's name out of a hat.
Monique Roosevelt is a great name, too.
And indeed, the "sow pardon" quote is from St. Francis. Can we move on now?
Allison needs more to do.
They really enjoy those copper Moscow Mule mugs. (As they did on Better Call Saul last season, incidentally.)
Tonight's primary lesson: All people should learn to "put their money where their mouths are, and where some kids nostrils aren't."