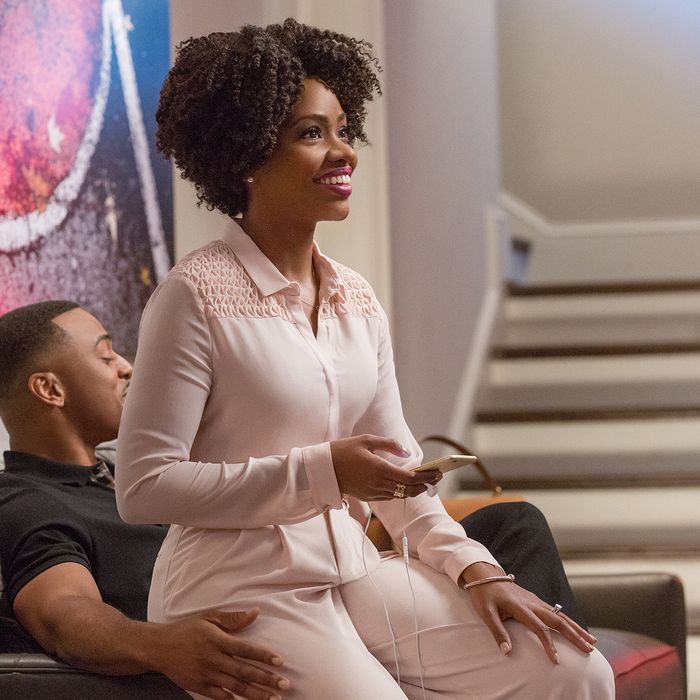 RonReaco Lee as Reggie, Teyonah Parris as Missy.
Photo: Quantrell D. Colbert/Starz
There've been plenty of memorable relationship blowouts on TV, but few have cut as deeply as Reggie and Missy's confrontation in "The Photoshoot."  The season-best (and maybe series-finest) scene was written with unsparing insight by Everybody Hates Chris creator Ali LeRoi, who also helmed last week's episode; directed by Victoria Mahoney with an emphasis on clarity of performance; and ultimately personified by Teyonah Parris and RonReaco Lee with both grace and fire. The tension itself is wound around a rare kind of performance, playing up to expectations that composure should triumph over raw emotion, and that the long view eventually validates a lifetime of being short-changed.
Sure, Missy makes a boo-boo busting up Cam's photo shoot on personal principle after arriving late (love the inessential detail of her dental issues) and observing that the tableau she'd envision — of Cam cozying up to a dark-skinned woman for a spread in an in-flight magazine published by her potential patron, Diane Freeman — had been undermined by forces largely beyond her control. Nor is her intention of leveling the light-toned-girl playing field inferred by Derek the photographer (never has Jaleel White's surname seemed so central in his casting), Reggie, or Cam. But the end result is not what any of them saw coming. When the commitment finally wraps, Trina, the model Missy had axed, stares her down and cautions that playing God might have karmic repercussions. (We'll have to see what comes of that down the road.) And further behind the scenes, Reggie gets chewed out by Cam, who is already stressed over the prospect of playing kissy-kiss for Derek with someone other than Allison.
If only they'd been the lucky recipients of Jimmy's sage advice to M-Chuck about paring down purposeful anger to bits of "manageable usefulness." To its credit, Survivor's Remorse has taken advantage of the screen time typically owed to the departed Mike Epps, in part by filling out Jimmy's backstory (not much for Squeeze to do this go-round). We know the team owner was in the foster-care system, made his bones mass-retailing hard cider, enjoys the occasional hit off a joint, and that while unlucky in love, he's opted to shower those he cares about with opportunity and largesse. Eventually, his and M-Chuck's benefactor/beneficiary relationship will complicate their friendship, but until such time, it's genuinely satisfying to watch them find an unlikely common ground. Though, it has to be said that unflinching conversations about inter- and intra-racial intricacies à la Trina and Missy and Reggie are what keep a rapport like Jimmy and Mary Charles's from feeling trite and feel-good.
If a B-story felt a bit out of place in "The Photoshoot," it would be Cassie and Chen's consternation over maintaining long-distance intimacy. It's a relief that Bao-free episodes like last week's appear to be an exception to the rule. Even more welcome is that he avoided getting dumped on account of trying to compensate for physical separation with robot sex dolls and virtual voyeurism. (Doesn't anyone have phone sex anymore?) Not to mention, who can argue with Cassie's lament that, "I just need a regular guy giving me regular dick on a regular basis," or, for that matter, enjoying Tichina Arnold rip off these kinds of lines like politically incorrect Band-Aids? Still, if we're keeping it as real as Missy, the premise and execution are a tad too farcical, and Chen's gonna have to start demonstrating more tricks up his sleeve than rushing across continents in his private jet to keep his woman from getting cold feet.
Objectively, it's hard to fault Bao for considering how to wrap his head around "logistically imperative extended monogamy" (take that, Gwyneth) with his "Cassandra." Harkening back to the my previous recap, it's worth noting that not every couple can rely on the unshakeable sexual bond Reggie and Missy share. With all said throughout the arc of their vital vent session, it is high time to get to doing. Or at least in a half-hour. And, as always, it'll be tough to wait seven more days for Survivor's Remorse's next 30 minutes.
Apart From All That:
Allison really needs more to do.
Was I the only one endeared by Reggie caressing Missy's leg while she orchestrated the shoot?
Porn is the new normal.
"We're all part of the problem sometimes" should be a bumper sticker.
No praise high enough for the give-and-take between Reggie and Missy from episode to episode.
And you know what? Missy shouldn't apologize. (Though, hopefully, she doesn't get her ass kicked.)
Has M-Chuck's narrative become that unmoored without Julius?
Fish in a barrel are still fish.