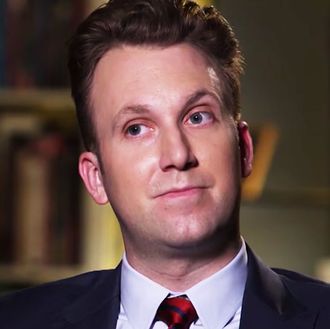 Even after the cancellation of The Nightly Show with Larry Wilmore, the current late night landscape is such an overcrowded place that it's next to impossible to keep up with what all the shows have to say about the election. But some of the smartest, most hilarious, and often most frightening election coverage this year has come from a very specific place, and an unlikely one considering how much the show continues to struggle with ratings and critics. To sum it up, if you haven't watched Jordan Klepper's segments on The Daily Show with Trevor Noah over the last few months, you're missing out.
Klepper joined The Daily Show in March 2014 just five months before Jon Stewart left, so like former correspondent Jessica Williams, he's part of the old guard as much as the new. He's done some great segments teaming up with past and present correspondents like Williams, Michael Che, Roy Wood Jr., and Hasan Minhaj, but some of the most memorable Daily Show segments over the past few months have been solo Klepper election field pieces. One of his first was supposed to be a report from the Iowa GOP's first-ever "Growth and Opportunity Party" last October, but Iowa Republicans denied Daily Show access to the event on the grounds that they "were afraid they were going to make fun of Iowa." So what did Klepper do instead? He went back to the Daily Show studio and helped Trevor Noah spend one-third of an episode making fun of Iowa:
Klepper got another chance in March when he attended a Trump rally and interviewed an unlikely expert about Trump's many supporters:
Here Klepper perfectly breaks down the freak show that is Donald Trump's campaign, but not by interviewing a political expert or overtly stating his case – it's by sitting down with Coney Island sideshow performer Adam Realman to learn about all the things that go into a successful circus sideshow. Klepper knows exactly how to guide his subjects into handing him the underlying truth on a silver platter – sometimes in creative and enlightening ways ("Well, by calling him The Greatest Show on Earth, you're kind of insulting a lot of the circus world"), other times in terrifyingly hypocritical or idiotic ways ("China will be paying for the wall!"). Which brings us to Pastor Mark Burns:
During the RNC last month, Klepper filed arguably his best segment yet when he interviewed Burns, a Trump supporter who spoke during the convention. Klepper caught Burns in a web of moral hypocrisy for calling Hillary Clinton a bad Christian because she "allowed" her husband to cheat on her while giving Trump a free pass despite being a cheater who's remarried multiple times. "So what's worse," Klepper asks, "Hillary allowing Bill to cheat, or Donald Trump cheating?" It's the kind of Just Let Him Dig His Own Grave-style interviewing The Daily Show made famous in its Stewart/Carell/Colbert heyday, but updated to reflect the ridiculous, bigoted, fear-based tactics of Trump's campaign.
Klepper used the same approach as the Christianity segment and topped it with his most recent piece on Trump's "extreme vetting" approach to immigration, using Trump's requirements for Muslims entering the States – embracing religious freedom, gender equality, and gay rights – to see how Trump's supporters stack up:
Aside from how talented he is as an improviser, what makes Klepper so effective at denuding the Trump phenomenon is something described best by Daily Show head writer Zhubin Parang. "What I love about Jordan is how his disarming agreeability draws out the worst in everyone," he says. "People see this polite, white-bread Midwestern boy nodding at everything they're saying, and they feel safe enough to drop their guard and express their darkest thoughts. For this reason I never stay too long in a room with him." This approach allows Klepper to chat with a woman who believes "the presidency is a man's job" because women have hot flashes and "more hormones," then turn around and talk about how respecting women is "an American ideal" with a guy wearing a "Hillary Sucks But Not Like Monica" shirt and end their interview laughing together like old pals, all while still slipping in the perfect punchline at the end: "We don't even see the irony of it. I love it!"
Going by the Daily Show world of influences, Klepper's approach is the perfect three-way marriage of old-school Daily Show snark, Colbert-inspired conservative satire, and the younger-skewed, nascent post-Stewart style. It's the ultimate example of "Show, Don't Tell" versus correspondents like Jessica Williams, whose most memorable reports played off her impatience for ignorance, bigotry, and hate with a much more direct interview approach (see her fantastic segments on Whitesboro's racist town seal and homophobic pastor James David Manning). And here's what happens when you take both approaches and combine them perfectly for a segment about college sexual assault:
In amping up his sarcasm and feigned cluelessness to the level where it's mistaken for sincerity, Klepper is currently the closest late night voice we have to Colbert Report-era "Stephen Colbert." I can't imagine Williams being able to get through a bunch of Trump rally interviews without eventually pushing back at the stupidity around her – and that's part of what made her such a great correspondent and perfect match for Klepper when they teamed up – but thanks to Klepper's quiet persistence, The Daily Show has allowed us to see up close the dark, twisted heart of Trump America.
Klepper's done a bunch of really great solo segments that aren't directly US election-related too. He's filed some particularly solid reports on gun control (see "Good Guy with a Gun" parts 1 and 2), Christians (of both the human and robot variety), SantaCon, magicians, and politics abroad, like this May 2015 segment about the UK's general election:
In March, Comedy Central announced that Klepper and Jessica Williams had separate shows in development. Williams's show is scripted (and for now, she's not interested in a late night host gig), but Klepper is working on an untitled special "that focuses on social, cultural and political issues" as well as a late night talk show presentation that "could end up as anything from a once-a-week showcase to something even more non-traditional." Time will tell whether Comedy Central considers him for the now-vacant 11:30pm slot, goes a more "non-traditional" route, or keeps him at his Daily Show post at least until the election. Whatever happens, it looks like we can count on Klepper to be a consistently funny – and consistently alarming – late night voice until November's election and beyond.