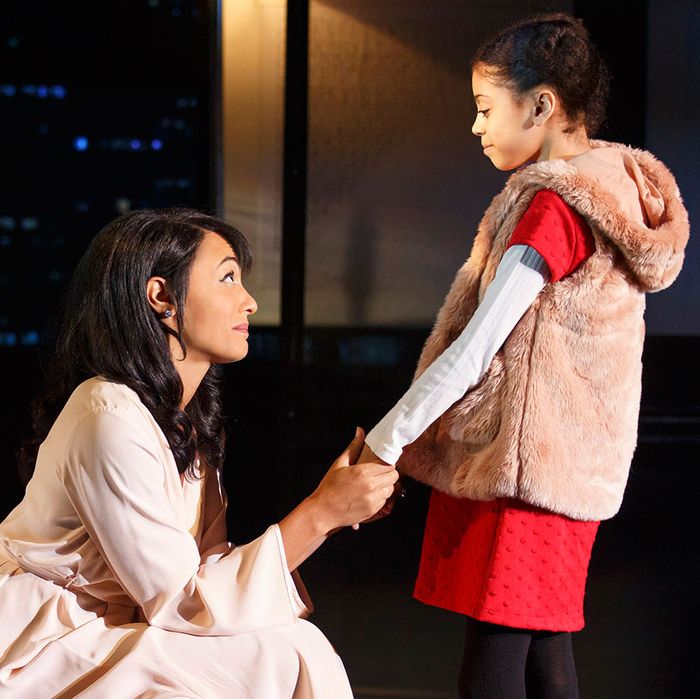 From The Layover, at Second Stage.
Photo: Joan Marcus
In adapting Daphne du Maurier's dour novella The Birds for the movies, Alfred Hitchcock instructed his screenwriter to start the story with some screwball comedy in order to heighten the terror when it came. I think, but cannot be sure, that Leslye Headland is going for a similar effect in her Hitchcock homage The Layover, which opened tonight at Second Stage. Because this is 2016, the screwball element is reconfigured as rom-com: The play opens with two attractive professionals meeting-cute on an American Airlines flight stuck on the runway at O'Hare. Dex is an engineer with a high-strung fiancée waiting for him in New York; Shellie teaches American crime fiction at Hunter. In fact, when Dex interrupts her, Shellie is reading a thick James Ellroy; over drinks at the airport Marriott when the flight is later cancelled, she rhapsodizes about Patricia Highsmith, whose novel Strangers on a Train Hitchcock also adapted. We see bits of the 1951 movie projected on Mark Wendland's sleek set.
I forbear to go into detail beyond that; you already know that this cannot be quite as it seems. (Does anyone teach American crime fiction at Hunter?) And sure enough, following Hitch's rules, the levity soon gives way to dread; as soon as Dex and Shellie part the next morning, having spent a snowbound night together at the Marriott, the rom-com train derails, taking the play with it.
We now get a gloss on Strangers on a Train, whose brilliant premise was that two men with murderous grudges trade the task of carrying them out, producing a pair of motiveless and thus almost unsolvable crimes. Headland's version is basically metaphorical: Dex doesn't want to kill his fiancée, just dump her; Shellie, too, has a situation she can't resolve on her own. Unfortunately, once we are on this metaphorical plane, nothing in the plane of reality makes sense. The plot becomes etiolated as it scrambles after excuses for itself, and, worse, the characters, constantly reshaped to support a crumbling conceit, wind up resembling, despite the best efforts of the actors Adam Rothenberg and Annie Parisse, no human form. Under Trip Cullman's direction, the supporting cast, given some truly vile material to carry off, doesn't.
Headland is smart, and writes snappy scenes. The opening is a model of its type. But the Hitchcock-ian concept, compounded by its weak execution, reveals a problem: a greater interest in ideas than in people. It's telling that Headland has for several years been writing a septet of plays meant to address the seven deadly sins. Bachelorette, which Second Stage produced at its uptown venue in 2010 — and which Headland adapted and directed for film in 2012 — represented gluttony, not only with its wedding theme and substance abuse but with its toothsomely vicious dialogue. Greed, sloth, and wrath have also been covered, in plays not yet seen here. The Layover does not appear to be part of the sequence but possibly represents an eighth deadly sin, unrecognized by the ancients: overreaching. It's what happens when a playwright tries too hard, and not enough.
The Layover is at Second Stage's Tony Kiser Theatre through September 18.