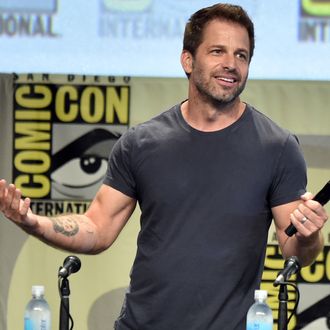 Zack Snyder.
Photo: Kevin Winter/2014 Getty Images
When people use the term "shots fired" on the internet to draw attention to some hot gossip, the news being referenced rarely fulfills the promise of high drama. But an open letter written by an alleged former Warner Bros. employee to her former place of employment is truly a diamond in the infinite digital sea of garbage. This letter, posted on the website Pajiba, isn't "shots fired." It's "The nuclear codes have been entered." The ex-WB staffer gives only the name "Gracie Law" — Kim Cattrall's character in the movie Big Trouble in Little China — but she sure throws a lot of shade at studio chairperson and CEO Kevin Tsujihara, as well as the "mastermind" of DC's film slate, Zack Snyder. "You just don't get it. And it's not just DC movies, it's your whole slate," writes Law. "Jupiter Ascending. Get Hard. Hot Pursuit. Max. Vacation. Pan. Point Break. Fucking PAN, you jerk. People lost their jobs and you decided Pan was a good idea. You think another Jungle Book is a good idea. What are you even doing? I wish to God you were forced to live out of a car until you made a #1 movie of the year."
Law says she started mulling over the takedown letter after Man of Steel turned out to be a big old "meh," and then was pushed past the point of restraint after seeing Suicide Squad and hearing from studio insiders that Wonder Woman is also apparently a catastrophe in waiting. "If I worked at a donut stand, and I kept fucking up donuts, I'd be fired," Law writes. "Even if I made a tiny decent one every now and then, it doesn't matter. I'm gonna get fired." This thing is chock-full of pullable quotes, but you can read the entire letter, in all of its excoriating wonder, at Pajiba here.
This post originally reprinted the open letter in full without permission. We regret the error, and encourage readers to visit Pajiba to see the entire text.