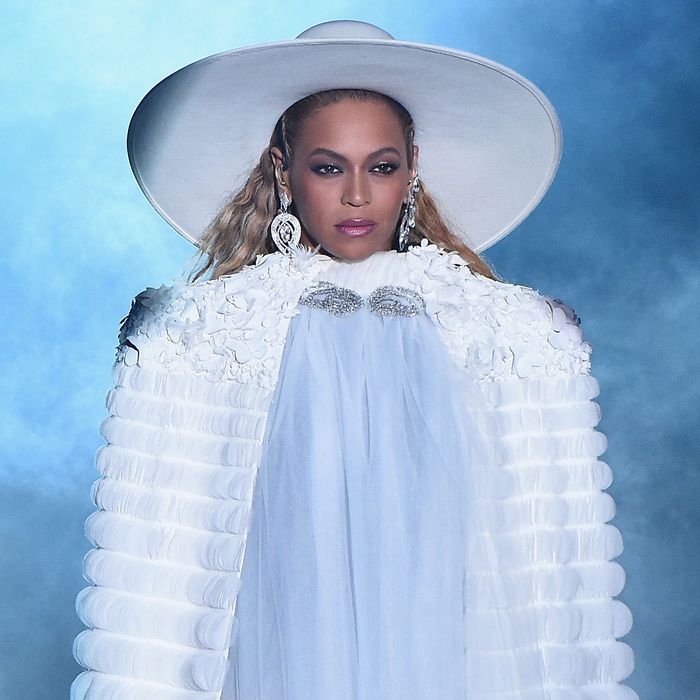 NEW YORK, NY - AUGUST 28: Beyonce performs onstage during the 2016 MTV Video Music Awards at Madison Square Garden on August 28, 2016 in New York City. (Photo by Larry Busacca/MTV1617/Getty Images for MTV)
Photo: Larry Busacca/MTV1617/Getty Images for MTV
MTV's annual Video Music Awards went down last night at Manhattan's Madison Square Garden tasked with the unenviable mission of turning a year's worth of pop-music happenings into a single, semi-cohesive event. In years past, the VMAs have leaned on both star power and celebrity drama, churning out legendary musical performances and sketchy moments of strife in equal measure. The 1992 show scored a Nirvana appearance for the history books, thanks to both the band's white-hot energy and a tiff the band had with Guns N' Roses' Axl Rose that exploded into snarky taunts from the stage. Last year's host, Miley Cyrus, suffered the public wrath of Nicki Minaj after having spoken ill of the rapper in an interview. Last night's show was an atypical VMAs, because the biggest squabbles of the past year went largely unaddressed. Drake and Meek Mill's yearlong insult war never came up. Kanye and Taylor's tiff almost did, but Swift excused herself from both the narrative and the show, and West was gracious where he could've been crude. Last night's show was different because it was almost exclusively about talent.
The intentions of the show became apparent when Rihanna was revealed as this year's Michael Jackson Video Vanguard Award recipient and alotted nearly 20 minutes of performance time, and Kanye West was given four minutes to do anything he pleased. The 2016 VMAs were the pinnacle of a year of exceptional black artistry and a celebration of West's The Life of Pablo, Beyoncé's Lemonade, and the many phases and stages of Rihanna. The Barbadian singer would perform four times throughout the night, each time showcasing a different facet of her art. She opened the show with a medley of her biggest EDM hits, and returned to flex her Caribbean roots, her snarling trap hits, and, most tantalizingly, in a set that closed the show, her naked, heartfelt balladry. Not everything crushed — "Needed Me" needed more — but the takeaway that Rihanna is a treasure lingered.
Kanye West, historically as much of a creative visionary as a bullish advocate for his peers and terror to his enemies, sat front row in the show's dais of talent, holding court and smiling warmly. He's aware of his reputation for award-show antics and was carefully measured as a result. He used his stage time for a genteel if meandering speech about the scandalous "Famous" video that name-checked nemeses Amber Rose, Ray J, and Taylor Swift but avoided easy digs. West was there not to perform, it turned out, but to deliver the video for The Life of Pablo closer "Fade," a Chicago house romp featuring singers Ty Dolla $ign and Post Malone. The clip starred underrated G.O.O.D. Music signee Teyana Taylor, who has regrettably found greater shine in tabloids for her relationship with NBA player Iman Shumpert than accolades for her own talents as a rapper, singer, and dancer. "Fade" sees Taylor nailing breathtaking choreography in a gym dance resembling one from the movie Flashdance, and many will balk at it happening in a skin-tight bikini. West's art pivots between celebration of the male gaze and light cynicism about it.
The counterpoint to the thirsty of the "Fade" video was Beyoncé, whose participation in the show remained shrouded in rumor until a night-of confirmation. It was unclear what she would do until an announcement suggested she was performing her new album, Lemonade. She powered through the up-tempo, indignant first four songs of the album and the closer "Formation," making use of every inch of the stage and runway with bright lights, colorful smoke, and what must have been 50 backup dancers. Lemonade opener "Pray You Catch Me" was stunningly dramatized by a group of standing black bodies collapsing into pools of red light every time a snare hit. (Beyoncé's guests for the show included the mothers of police-violence victims Oscar Grant, Trayvon Martin, Eric Garner, and Mike Brown.) The dizzying emotional depth and grandiosity of the staging and cinematography of the Lemonade medley are nearly without peer in the history of the VMAs. Seek it out now if you haven't seen it. It is visionary television.
The night's other big draw was the return of Britney Spears. Spears hadn't graced the VMA stage since an off-peak 2007 performance that hinted at what became a very public breakdown, so there was much to prove. She ran through a mashup of "Make Me," lead single from her days-old new album, Glory, and collaborator G-Eazy's "Me, Myself, and I" that looked exciting but felt embarrassingly small hitting just a commercial break away from the Beyoncé spectacle. Next to Queen Bey, Britney's canned vocals and chilly dance felt tame, and G-Eazy sounded like imitation Drake. Both were victims of bad timing. The only performances that could dare to sit near the Lemonade medley for intrigue were Rihanna's elaborately staged showcases and Nick Jonas's diner dance through his Last Year Was Complicated single "Bacon," notable largely for its star guests and a merciful lack of flubbed notes.
Historically, the VMAs sink or swim behind the strength of the preceding year's talent, and in the wake of genius pop offerings from a string of black musical luminaries, the 2016 show floated. The actual awards took a backseat and weren't missed. (Somehow Joe Jonas walked away with a Best New Artist award with his band the DNCE.) This show will stand out in the history of the VMAs because it was neither shady nor very funny, despite copious skits from DJ Khaled, Jay Pharoah, and Keegan-Michael Key and Jordan Peele. The show used these in lieu of an actual host and suffered for it; Pharaoh's Jay Z impression was worn and lacked the presence of the actual Jay Z to give it an edge, and Key and Peele's outlandish reality TV host shtick only landed when they turned it on G-Eazy. In the age of video clips and streams, though, you might not ever have to watch the boring parts of the show again. Come for Beyoncé, stay for Rihanna, wink at Kanye, and call it a day.