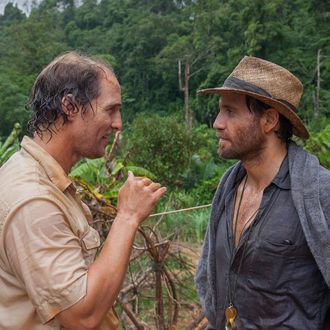 Photo: Patrick Brown/Weinstein Company
There are all sorts of flashy films coming this winter, but one of the movies we know the least about is blessed with perhaps the season's most bullish title. Gold, from director Stephen Gaghan, lands in theaters this Christmas boasting Matthew McConaughey as the lead and bearing Harvey and Bob Weinstein's valuable imprimatur, and Vulture's got an exclusive look at the film's first poster. A trailer for Gold should be arriving soon, but in the meantime, we called up Gaghan to get some intel on what could be this winter's biggest surprise, as well as a potential Oscars dark horse.
"[Gold] sort of defies a clear category — it's definitely an adventure, definitely a drama, and a third category might even be a morality tale,"  said Gaghan, who cast McConaughey as a Nevada underachiever whose life takes a drastic turn once he makes the largest gold find in the history of time in the jungles of Borneo. "Gold mining is a real feast-or-famine industry, which, if you know anything about it, is really filled with crazy characters and all sorts of skullduggery," said Gaghan. He promised a whole set of reversals and twists back home after McConaughey's character strikes it rich: "It turns out chasing the gold was sort of the easy part."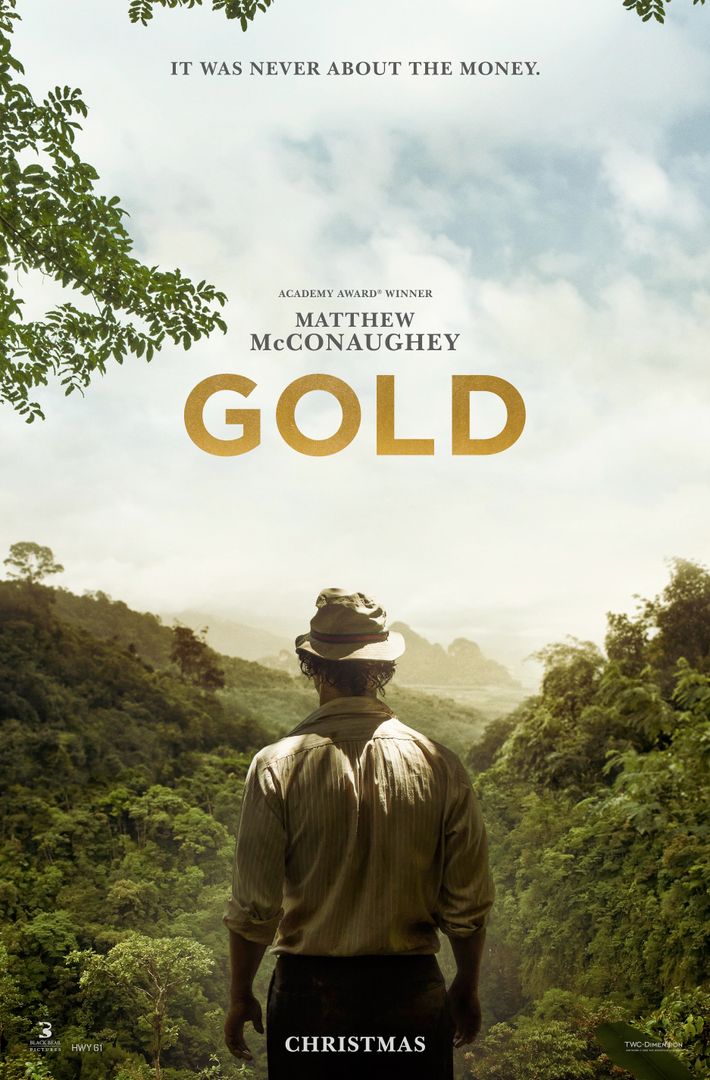 When it came to Gold's shoot, however, there was no easy part. "It was enormously challenging," admitted Gaghan, who had not directed a feature film since 2005's Oscar-winning Syriana. "We shot in the jungles of Thailand during monsoon season, and we had a once-in-a-generation meteorological event that put our main set 15 feet under water. It was like Heart of Darkness, but it was just incredible."
Gaghan didn't go easy on his lead actor, either. "I feel pretty certain that people are gonna be blown away by McConaughey in this film — it's a complete transformation," said Gaghan. The director encouraged McConaughey to sport a receding hairline, unflattering costumes, and a notable paunch, and that weight gain isn't just a special effect: After McConaughey whittled his body down to a near-skeletal frame just three years ago for his Oscar-winning performance in Dallas Buyers Club, he packed on over 40 extra pounds to play his role in Gold.
"Between those two roles, there's almost 100 pounds of difference," said Gaghan, who scuttled the notion of a prosthetic belly in preproduction. "I was looking at him, and I was just like, 'I bet you could put on weight pretty quickly, particularly if we devised some kind of beer-and-milkshake diet.'"
And while drawing a fat paycheck for that kind of meal plan may not engender much sympathy from moviegoers — "And trust me," laughed Gaghan, "Matthew would be the first guy to say, 'Don't cry for me, Argentina'" — it's still startling to see the fitness buff and Sexiest Man Alive winner plunge so deeply into character. "You know, I sent my mother a still photo of him from the set on our last day of shooting," said Gaghan, "and she called me and said, 'Oh, honey. What have you done to that poor man?'"