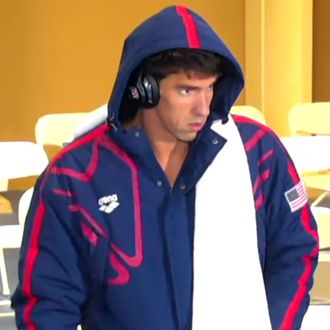 While the U.S. athletes are winning at the Olympics, the NBC coverage is not. Our Matt Zoller Seitz reviewed the coverage of the Opening Ceremonies in Rio and called it "clueless and counterintuitive," and since then, the commentators have been roundly criticized for their sexist coverage of female athletes, while viewers regularly complain about the incessant commercial breaks and delayed broadcasts. Fox News even asked, "Is NBC's Olympics coverage the worst ever?" The ratings have followed suit, delivering the lowest numbers in years. But wait! There actually have been some genuinely delightful moments from the Olympics coverage! A camera in the ready room, the holding area where swimmers hang out before their events, has captured some of the best moments of the games. Here we see Olympians act not purely superhuman or media-trained, but something else: kinda human.
There was the death stare Michael Phelps appeared to give his competitor Chad le Clos that became the meme of the games:
There are the selfies Allison Schmitt takes:
And let's not forget Lilly King's wagging finger:
And now, we add this to the list: Britain's Daniel Wallace doing a We're not worthy bow as Michael Phelps walks by. Bless the ready-room cam.