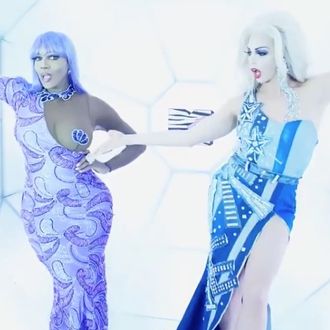 This year at the Costume Institute's annual Met Gala, Vogue set up a "Manus x Machina" photo booth for elite attendees that was decked out with mirrors and strobe lights. It produced vignettes that were as glamorous as they were awkward, and fortunately, MTV decided to set up a video-portrait tunnel of its own at this year's Video Music Awards. It was dubbed the Marc Jacobs x Dennis Leupold Hive, and it made for some really weird interactions in the lead up to the telecast. The models at the Met Gala had the advantage of being paid to vamp in front of the camera for their full-time jobs, but throw a hodgepodge of singers, rappers, actors and, blessedly, drag queens in the mix, and you get one hell of an Instagram scrapbook from this year's VMAs. Take a look at some of the best entries below.
Jaden Smith Is Not Here for Your Incipient Dancing Games Because He Lives in Another Dimension.
We're not super-sure what Chance is doing in the Hive, and he doesn't look too clear on it either.
Heidi Klum: Never afraid to make it weird.
In case you weren't sure before this moment, Bebe Rexha is a real corporeal being and not just a human image produced for music videos. And it's extra weird how her and Tove Lo turned into bizarro Kylie Jenner and Georgia May Jagger while they were in the Hive.
This was just one of the places Desiigner was living his best life at the 2016 VMAs.
Thankfully, the all star Queens of RuPaul's Drag Race were on hand to make the Hive worthwhile.