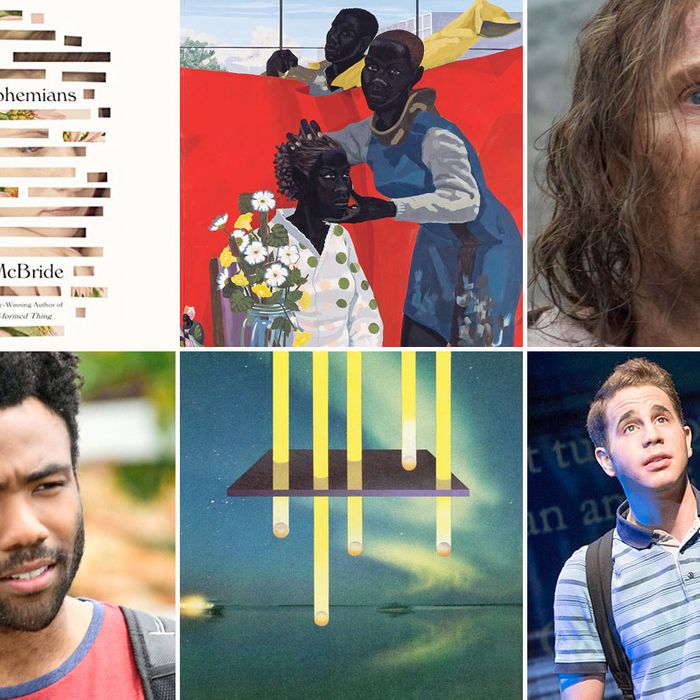 Movies
David Edelstein has his eye on the heavy stuff.
Snowden
Sept. 16
Oliver Stone takes on the multi-tentacled story of the multi-tentacled surveillance state and the alleged traitor (played by Joseph Gordon-Levitt). Needless to say, Stone does well with manic, paranoid conspiracy narratives (JFK was insane but wildly entertaining).
The Birth of a Nation
Oct. 7
In this Sundance hit, Nate Parker tells the true story of the slave Nat Turner (played by Parker), originally dispatched by his master to control other slaves but then moved to lead them to freedom. There's big awards buzz on this — and also buzz of a very different kind, about the reemergence of the fact that in college, Parker and his Birth co-writer, Jean Celestin, were accused of sexual assault by a young woman who has since committed suicide. This will be one hell of a conversation.
American Pastoral
Oct. 21
For many years, filmmakers have wanted to adapt Philip Roth's powerful and unwieldy novel, which is both the archetypal story of a teenage girl who becomes a political terrorist in the '60s and another Roth meditation on Jewish assimilation. Ewan McGregor makes his directorial debut and stars as the former high-school athlete who searches for his wayward daughter (Dakota Fanning).
The Founder
Dec. 16
Michael Keaton plays Ray Kroc — who took McDonald's to the big time — in this seriocomic business saga. Let's hope it's not a bouquet to rags-to-riches capitalism, given the horrific impact of fast food. But the writer is Robert D. Siegel, of the weird Big Fan — promising.
Silence
Date TBD
Even at this late date, a new film by  Martin Scorsese is an event. Like Kundun or The Last Temptation of Christ, this has a spiritual theme. Silence is based on Shusaku Endo's novel about Jesuit priests who travel to Japan in the 17th century, and it stars Liam Neeson, Adam Driver, and Andrew Garfield. (An official release date is widely expected before the end of the year.)
TV
Here's what Matt Zoller Seitz has already set his DVR for.
Atlanta
FX, September 6, 10 p.m.
Created by rapper-actor Donald Glover (Community), this is a regionally flavored comedy following Earnest "Earn" Marks (Glover) and his cousin, Alfred Miles (Brian Tyree Henry), through Atlanta's rap scene. In contrast to other music-driven shows, though, the emphasis is on relationships and dialogue, not so much on the question of who is going to "make it."
Queen Sugar
OWN, September 6, 10 p.m.
From director Ava DuVernay (Selma) comes this adaptation of the novel by Natalie Baszile about estranged siblings in Louisiana who mend their differences in order to save the family's sugarcane farm. The emphasis on a family of African-American entrepreneurs in the South would make this show worth a look no matter who was behind it, but DuVernay's sense of wider context bumps this to the top of the must-see list.
Better Things
FX, September 8, 10 p.m.
For years, detractors of Louie asked if the behavior it depicted would be considered quite so adorable if the main character were a woman. We might get an answer to that question courtesy of Louis C.K.'s longtime friend and collaborator Pamela Adlon, who writes and acts in this semi-autobiographical sitcom about a working actress and single mom struggling to raise three kids.
Marvel's Luke Cage
Netflix, September 30
Mike Colter's supporting turn as Luke Cage on Netflix's Jessica Jones made him an instant star and the character a no-brainer subject for a spinoff. And here it is, in record time: a showcase for Colter's nitrogen cool, deadly moves, and eminently photographable physique.
Westworld
HBO, October 2, 9 p.m.
This series is a glossy, grim expansion of novelist and occasional director Michael Crichton's Frankenstein riffs, as embodied in the original film version of Westworld (1973), its sequel, Futureworld (1976), and Jurassic Park.
Pop
Craig Jenkins sets his playlist for fall.
Bruce Springsteen, Chapter and Verse
Sept. 23
This September, the Boss will publish Born to Run, his long-awaited memoir. If you need more than the old albums, get Chapter and Verse, which is being billed as a career-spanning audio companion to the book, one that includes previously unreleased cuts from the singer-songwriter's late-'60s-early-70s Jersey-shore beginnings.
Wilco, Schmilco
Sept. 9
Wilco will follow last summer's surprise-released Star Wars with another trollingly titled album, though early cuts "Locator" and "If Ever I Was a Child" suggest that the title may also be a nod to Harry Nilsson's 1971 oddball pop classic Nilsson Schmilsson.
Beck, TBA
Oct. 21
A year-and-a-half after his folk album Morning Phase won a surprise Grammy for Album of the Year (and set Kanye off on a bit of a rant for not winning the same award), the '90s survivor and protean shape-shifter cycles back to the playful spirit of his beloved dance and rock-friendly classic Odelay.
Swet Shop Boys, Cashmere
Oct. 14
When they're not out making strides in the television and literary worlds, Riz Ahmed, star of HBO's The Night Of, and MC-writer Heems, formerly of the late lamented Das Racist, are uniting as a rap trio (with producer Redinho). Cashmere should be a wry collection of raps about race and American culture (insofar as those two things are separate, a question the Boys have posed before).
S U R V I V E, RR7349
Sept. 30
This summer's Netflix hit Stranger Things featured a chilly electronic score so arresting that fan demand willed an official soundtrack into existence, but it's also worth noting that the musicians responsible for it, Michael Stein and Kyle Dixon, are members of Austin synth-poppers S U R V I V E. Consider that group's forthcoming studio album a suitable, more psychedelic supplement.
Art
Jerry Saltz's must-sees.
Rashid Johnson
Sept. 8, Hauser & Wirth
Johnson brings a beautiful brutality to materials; a hatchet man's sense of cutting to the core of what he's after. Paintings, performance, drawing, and sculpture will be featured in this gigantic show. If Johnson really brings it performance-wise, great things could happen.
Agnes Martin
Oct. 7, Guggenheim
Born in desolate rural Saskatchewan and a longtime denizen of desolate rural New Mexico, Martin (1912–2004) was the amazing maker of mysterious, minimal, meditative pale paintings. Coma-inducing, hallucinatory turns of subtle touch in sweet geometry, ravishing washes of light emit almost incantatory color and give us a paradise of pure painting.
Kerry James Marshall, "Mastery"
Oct. 25, Met Breuer
A painter of historical mysteries and the "African-American vernacular," Marshall will showcase his huge graphic masterpieces of jet-black men, women, and children in housing projects, on streets, at play in the fields of the American Dream.
Pipilotti Rist, "Pixel Forest"
Oct. 26, New Museum
"Pixel Forest" is the perfect Land of Mysterious Milk and Visual Honey title for this first-ever soup-to-nuts retrospective of a true magician of video. Rist creates Arcadias and dreamscapes of naked bodies in boundless optical oceans of projected color, accompanied often by music or the artist's voice carrying us as far away as the video format has ever taken us.
"Francis Picabia: Our Heads Are Round So Our Thoughts Can Change Direction"
Nov. 21, MoMA
This full-on Francis Picabia (1879–1953) retrospective will reveal an unreliable narrator of the past century. The French avant-gardist changed styles, mixing Cubism, kitsch, mechanical drawing, Dada, and dreams, and overturned every table in the café of early-20th-century art.
Theater
The shows Jesse Green can't wait to see.
All the Ways to Say I Love You
Previews begin Sept. 6
There will be lots of TV and movie stars onstage this fall (Daniel Craig, Liev Schreiber, Josh Groban), but the one I'm most excited to see is Judith Light, a perennial supporting actress onstage (with two Tony Awards) and onscreen (Transparent). In Neil LaBute's latest drama, about a teacher's relationship to a former student, she's not only the star but the whole cast.
What Did You Expect? and Women of a Certain Age
Previews begin Sept. 10 and Nov. 4
Parts two and three of Richard Nelson's trilogy about the Gabriel family of upstate New York: good, cultured liberals struggling to understand what has become of the life — and country — they know. Part one (Hungry) whetted the appetite as primary season began; how could you not want to know what happens to the clan by Part Three, which opens on Election Night?
Falsettos
Previews begin Sept. 29
William Finn and James Lapine's 1992 musical, about an extended family of gay and straight boomers during the first years of AIDS, returns to Broadway just as New York hopes to end the epidemic here within four years. I'm not sure my tear ducts can handle it.
Sweat
Previews begin Oct. 18
Lynn Nottage, who made her mark with Intimate Apparel and won a Pulitzer Prize for Ruined, has not had a new play in New York since By the Way, Meet Vera Stark, five years ago. In her latest, which rides a tide of raves into town this fall, she turns her attention from the past and the foreign to the grippingly here and now: a working-class postindustrial community under stress.
Dear Evan Hansen
Previews begin Nov. 14
Last season's best Off Broadway musical may be this season's best Broadway musical, if the creators of this devastating show about teen anxiety and social media can scale it up judiciously.
Books
Christian Lorentzen's got these bookmarked.
Against Everything: Essays
Sept. 6, by Mark Greif
Following on the heels of last year's ambitious, if somewhat clunkily titled The Age of the Crisis of Man: Thought and Fiction in America, 1933–1973, Grief's new book collects more than a decade's worth of provocations from a founder of n+1. In it, he traces the arc of a young intellectual through the Bush and Obama administrations, from the gym to the ramparts.
Substitute: Going to School With a Thousand Kids
Sept. 6, by Nicholson Baker
Baker is an obsessive with immense powers of observation, a strong social conscience, and, as those familiar with his House of Holes well know, a wild, often perverse wit. All of which means he's one of the few writers I'd read 700 pages of on being a substitute teacher.
The Lesser Bohemians
Sept. 20, by Eimear McBride
In her first novel, A Girl Is a Half-Formed Thing, McBride showed that Irish modernism still had plenty of life in it, so her sophomore effort, about a young actress in London, will show where she can go with that potentially burdensome legacy.
Future Sex
Oct. 11, by Emily Witt
A wide-ranging sociological study and personal trek into whatever stage of digital sexual decadence we've now reached, Future Sex, which Witt first felt compelled to write after reading Gay Talese's landmark look at the sexual revolution, Thy Neighbor's Wife, is also the book-length debut of one of America's foremost prose stylists under the age of 40.
Swing Time
Nov. 15, by Zadie Smith
In her fifth novel, Smith follows the triumph of NW with an intercontinental story of two women — one is truly talented, the other more politically aware — their youthful friendship, and scandalous ambition in the world of dance.
Classical and Dance
Justin Davidson puts his ear to the ground.
Steve Reich at 80
Sept. 15
Reich's 80th-birthday celebrations started during the Lincoln Center Festival in July and will meander from Miller Theatre (his Daniel Variations) to Carnegie Hall (the video work Three Tales) and Symphony Space (next spring). One event seems especially poignant: Ghanaian drummer Gideon Alorwoyie comes to National Sawdust to pay homage to his former student, the composer of Drumming.
Tristan und Isolde
Sept. 26
The Metropolitan Opera opens its first post–James Levine season with a production of one of his signature works, conducted this time by Simon Rattle. The soprano Nina Stemme returns to the Met as Isolde, and there are few operas where her blend of power and nuance would be more welcome.
Simón Bolívar Symphony Orchestra
Oct. 6
Venezuela's two proudest artistic products, its flagship youth orchestra and the conductor Gustavo Dudamel, open the hall's season at a time when the regime that promoted both is driving the nation off a cliff. Dudamel has been circumspect about his native country, hoping that music trumps politics.
New York Festival of Song: Rodgers, Rodgers, and Guettel
Nov. 1 and Nov. 3
Richard Rodgers didn't just launch great partnerships (with Lorenz Hart and Oscar Hammerstein) and produce hundreds of classic tunes; he also spawned a dynasty. NYFOS weaves his music together with compositions by his daughter Mary Rodgers and long-awaited new songs by his grandson Adam Guettel.
L'Amour de Loin
Dec. 1
Kaija Saariaho's opera about a prince and his lady parted by the Mediterranean has been slouching toward New York ever since it dazzled at the Salzburg Festival in 2000. It finally arrives at the Metropolitan Opera in a new production by Robert Lepage.
*This article appears in the August 22, 2016 issue of New York Magazine.