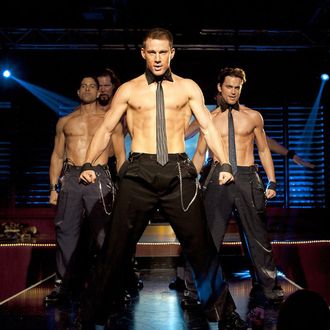 Photo: Claudette Barius/Warner Bros.
Each month, several films and TV shows leave HBO's catalogue. We provide a list of departing titles so you can watch them before they're gone forever (or are just available on a different site). For more comprehensive coverage of the best titles available on HBO and elsewhere, check out Vulture's What to Stream Now hub, which is updated throughout the month.
Handsome hunks: Magic Mike, Magic Mike XXL (2012, 2015)
The nation is about to mourn the loss of both Magic Mike films from HBO's library, so revel in Channing Tatum's and Matthew McConaughey's abs and well-choreographed dance moves one last time. The plot is a lot more nuanced than you think! Leaving September 30.
Not a jolly green giant: Shrek (2001)
Until Mike Myers returns to the world of non-animated films (which is soon!), the Dreamworks classic will fill the Myers void quite well with its endearing tale about a curmudgeonly swamp ogre who attempts to rescue a princess from an evil lord. You certainly don't have to be a kid to be charmed by the narrative … or the feisty donkey. Leaving September 30.
Mustache hall of fame: Raising Arizona (1987)
The early Coen Brothers cult hit details a childless, eccentric couple (Nicolas Cage and Holly Hunter) who decide to undertake the very reasonable act of kidnapping a child — one of quintuplets — to raise as their own. What could possibly go wrong, even if one of them is a noted convenience-store robber? Leaving September 30.

Leaving September 23
Alvin and the Chipmunks (2007)
Leaving September 30:
Agent Cody Banks 2: Destination London (2004)
Antwone Fisher (2002)
Breach (2007)
Cry-Baby (1990)
Furious 7 (2015)
Kung Pow: Enter the First (2002)
Magic Mike (2012)
Magic Mike XXL (2015)
Ouija (2014)
Raising Arizona (1987)
Remember the Titans (2000)
Road House (1989)
San Andreas (2015)
Shrek (2001)
Slither (2006)
Super Trooper (2001)
The Birdcage (1996)
The Book of Life (2014)
The Invasion (2007)
The Maze Runner (2014)
We Are Marshall (2006)
For more details on the best film and television available online, consult Vulture's What to Stream Now hub.