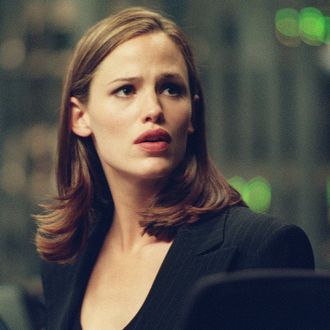 A twist Sydney Bristow never saw coming!
Photo: Mitch Haaseth/ABC via Getty Images
Each month, several films and TV shows leave Netflix's catalogue. We provide a list of departing titles so you can watch them before they're gone forever (or are just available on a different site). For more comprehensive coverage of the best titles available on Netflix and elsewhere, check out Vulture's What to Stream Now hub, which is updated throughout the month.
Celie is here, but not for long: The Color Purple (1985)
Alice Walker's story about women in the 1920s South has received much more attention recently thanks to a hit revival of the Broadway musical, which is all the more reason to revisit Steven Spielberg's film before it leaves Netflix. One of the director's first "serious" projects, the film also benefits from a cast that includes Whoopi Goldberg, Danny Glover, and little-known character actress Oprah Winfrey. Leaving September 1.
Hang with Meryl: Defending Your Life (1991)
Nothing good can last, it seems. After adding a bunch of Albert Brooks movies in June, Netflix seems to be phasing out some of the films. Before Defending Your Life leaves, take some time to hang out with Brooks and Meryl Streep in the afterlife. Leaving September 1.
Wrong lever! The Emperor's New Groove (2000)
Something of a black sheep among Disney's animated features, The Emperor's New Groove is far sillier than most of the studio's output, but that's a feature, not a bug. Come for the impeccable sight gags, stay for Eartha Kitt's deliriously wicked Yzma. Leaving September 9.
Francie doesn't like coffee ice cream: Alias (Seasons 1–5)
J.J. Abrams came up with Alias while wondering what would happen if Felicity were a spy, and then recruited former Felicity bit player Jennifer Garner for the lead role. The rest is wig-filled history, as Alias launched Garner's career (and arguably Bradley Cooper's), turned Abrams into an action director, and had one of the craziest post–Super Bowl episodes ever (even if it was one of the least-watched). Leaving September 25.
Children grow older: The Kids Are All Right (2010)
Do you want a movie that combines the charms of Mark Ruffalo, Julianne Moore, and Annette Bening (plus wee Josh Hutcherson and wee Mia Wasikowska) with the melancholy realization that all your children will eventually start to grow into their own lives, apart from you? This is the movie for you. Leaving September 16.
TELEVISION
September 1
Everybody Loves Raymond (Seasons 1–9)
September 4
Melissa & Joey (Seasons 1–4)
September 11
Fringe (Seasons 1–5)
September 25
Alias (Seasons 1–5)
September 30
666 Park Avenue (Season 1)
League of Super Evil (Season 1)
MOVIES
September 1
2 Fast 2 Furious (2003)
A Walk to Remember (2002)
Anywhere But Here (1999)
Avengers Confidential: Black Widow & Punisher (2014)
The Bridge on the River Kwai (1957)
Call Me Crazy: A Five Film (2013)
The Color Purple (1985)
Crocodile Dundee (1986)
Days of Thunder (1990)
Defending Your Life (1991)
Double Jeopardy (1999)
Exporting Raymond (2010)
Flight of the Intruder (1991)
Girl Rising (2013)
Hachi: A Dog's Tale (2009)
Hardball (2001)
The Haunting (1999)
Nick Cannon: Mr. Showbiz (2011)
Our Man in Tehran (2013)
Primal Fear (1996)
Roboshark (2015)
Roman Holiday (1953)
S.W.A.T. (2003)
Sins of My Father (2009)
Spanglish (2004)
Traffic (2000)
The Weather Man (2005)
The Wood (1999)
Zoolander (2001)
September 4
Shanghai Knights (2003)
September 5
Gabe the Cupid Dog (2012)
September 6
Hollywood Homicide (2003)
My Babysitter's a Vampire: The Movie (2010)
September 9
The Emperor's New Groove (2000)
Lilo & Stitch (2002)
September 11
How to Train Your Dragon 2 (2014)
September 15
Bob Saget: That's What I'm Talkin' About (2013)
September 16
Gridiron Gang (2006)
The Kids Are All Right (2010)
September 17
Gimme the Loot (2012)
Simon Killer (2012)
September 20
Something, Anything (2014)
September 23
The Lost Medallion (2013)
September 24
The Forbidden Kingdom (2008)
September 25
Jobs (2013)
September 28
Open Water (2004)
Open Water 2: Adrift (2006)
September 30
Another Gay Movie (2006)
The Aviators (2008)
We Were Soldiers (2002)
Wolf (2013)
For more details on the best film and television available online, consult Vulture's What to Stream Now hub.