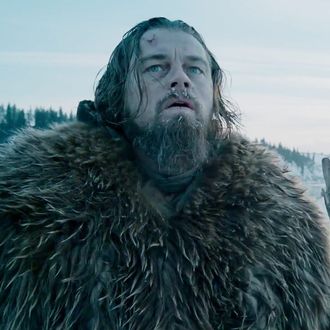 Baby it's cold outside.
Photo: Twentieth Century Fox
At the beginning of (and during) each month, HBO adds new movies and TV shows to HBO Go and HBO Now. We figure you want to know what they are. For more comprehensive coverage of the best titles available on HBO and elsewhere, check out Vulture's What to Stream Now hub, which is updated throughout the month.
Consume responsibly: High Maintenance (Original 19 webisodes)
In the contemporary world, fractured as our lives are by technology and city life, one thing unites us all: Pot – or, more generally, the need to relax and, however briefly, feel human. That might as well be the central thesis of High Maintenance, a web series about a marijuana-delivery man ("The Guy") who drops in on a wide array of New York characters. New episodes will start arriving on September 16, but before then, HBO has picked up the series' back-catalogue, which will provide a fitting introduction to the series' low-key aesthetic. Available September 1.
It's Garry Shandling: The Larry Sanders Show (All seasons)
The late Garry Shandling's landmark hall-of-mirrors take on a celebrity talk show helped define a certain style of self-aware yet penetrating TV comedy. Shandling plays the title character, an egoist obsessed with getting the best guests, while Jeffrey Tambor, Janeane Garofalo, Wallace Langham, and Penny Johnson Jerald fill out the supporting cast. And then, of course, there were the celebrities, who come by for a hearty skewering and also seem to have so much fun. Available September 23.
A beautiful nightmare: Children of Men (2006)
Humanity has lost the ability to have children and, in the process, become even more brutal and xenophobic than it already was. Amid that collapse of British society, depicted with astoundingly specific severity by Alfonso Cuarón, Clive Owen makes his way across the country, eventually agreeing to save one miraculously pregnant woman. It's a vision of the future that doesn't seem too far off from the present, and a vision of humanity at its ragged extremes that still weaves in a few stray threads of hope. Available September 1.
I am Shiva, god of death: Michael Clayton (2007)
They don't make movies like Michael Clayton anymore. Written and directed by Tony Gilroy, Michael Clayton benefits from taut pacing, clever dialogue, and a conspiracy plot that actually moves somewhere. Also, there's an Oscar-winning turn by Tilda Swinton as a fuming and villainous general counsel. Available September 1.
The passion of Leonardo DiCaprio: The Revenant (2015)
Leo ate raw bison liver in order to win an Oscar for this movie. The least you could do is open a browser tab sometime and watch it. Available September 17.
TELEVISION
High Maintenance (Original 19 webisodes) (September 1)
Dane Cook's Tourgasm (2006)(September 1)
Down and Dirty With Jim Norton (2008)(September 1)
Stand Up to Cancer (September 10)*
Habla y Vota (September 16)
High Maintenance  (New Season)(September 16)
Vice Principals  (Season 1 Finale)(September 18)
Three Days of Terror: The Charlie Hebdo Attack (September 19)
The Larry Sanders Show (September 23)
Ballers (Season 2 Finale)(September 25)
Sr. Avila  (Season 3 Finale)(September 25)**
Vice News Tonight (September 26)
*Available to stream one day after live broadcast
**Available to stream one day before linear premiere
September 1
10 (1979)
300 (2006)
Arthur (1981)
Arthur 2: on the Rocks (1988)
The Bonfire of the Vanities (1990)
Cafe Para Llevar (a.k.a. Coffee to Go)(2014)
Children of Men (2006)
Coyote Ugly (2000)
Definitely, Maybe (2008)
Doctor Dolittle (1967)
The Forest (2016)(September 1)
Ghost World (2001)
Gotcha! (1985)
The Great Muppet Caper (1981)
I Love You, Man (2009)
I Now Pronounce You Chuck and Larry (2007)
Michael Clayton (2007)
The Princess Diaries (2001)
Rushmore (1998)
Stephen King's Cat's Eye (1985)
This Boy's Life (1993)
Available later in September
Codigo Paa (a.k.a. Peace Code)(2014)(September 2)
The English Patient (1996) (September 2)
Alvin and the Chipmunks: The Road Chip (2015)(September 3)
Sisters (2015)(September 10)
East Side Sushi (2014)(September 16)
Por Amor En el Caserio (a.k.a. For Love in el Caserio)(2014)(September 23)
The Revenant (2015)(September 17)
Steve Jobs (2015)(September 24)
Child 44 (2015)(September 12)