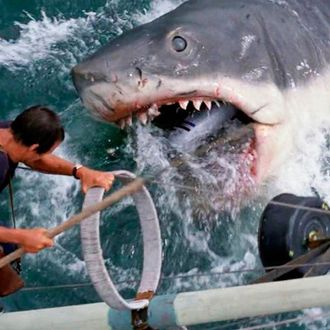 Kaboom!
Photo: Universal Pictures
At the beginning of (and during) every month, Netflix adds new movies and TV shows to its library. We figure you might want to know about them. For more comprehensive coverage of the best titles available on Netflix and elsewhere, check out Vulture's What to Stream Now hub, which is updated throughout the month.
You're gonna need a bigger boat: Jaws (1975)
A master class in building tension and knowing how long to hold back a big reveal, Steven Spielberg's Jaws remains as creepy as ever — though you might want to skip the set of sequels that are also arriving on Netflix this month. Stick with original and learn to treat the ocean with the terror it deserves. Summer's almost over — you weren't going swimming anyway. Available September 1.
Pro patria mori: Saving Private Ryan (1998)
It's a good month for Spielberg movies on Netflix. In Saving Private Ryan, one of our best World War II epics, the standard beats — a team of rag-tag soldiers risk everything — are weighted with the realities of war, while Tom Hanks gives an unforgettable performance centered by true and remarkable goodness. Earn this. Available September 1.
A trip to the '80s: Footloose (1984) and Top Gun (1986)
Maybe you got a good dose of the 1980s from Stranger Things, and are already getting more from this season of Halt and Catch Fire (and if you aren't, you really should catch up on the show). But if you want to watch some true products of the '80s, you could do worse than the exuberant Footloose and Top Gun. Available September 1.
A new shipment: Narcos (Season 2)
"Who killed Pablo Escobar?" goes the marketing slogan for this season of Narcos. As with most of Narcos, the explanation is on Wikipedia, but that'd defeat the fun of watching the show basically read the Wikipedia page out loud. Available September 2.
Way back in days of old, there was a legend told: Galavant (Seasons 1­2)
ABC's medieval musical comedy serves a very specific demographic, "people who love The Court Jester and Robin Hood: Men in Tights," extremely well. To that end, Galavant boasts music from Alan Menken, oodles of fourth-wall-breaking dialogue, and lots of silly wordplay. You can probably binge the two short seasons of half-hour episodes in one sitting, though the theme song will definitely get stuck in your head. Available September 7.
From the mouse house: Zootopia (2016)
Netflix's pact with Disney begins to bear fruit, as one of 2016's biggest Disney movies (and biggest movies in general) hits the site in late September. The film's an animated morality tale about a fox and a bunny who learn to work through prejudice in ways that become more complex than you'd initially expect. Available September 20.
Meet the latest defender: Marvel's Luke Cage (Season 1)
Netflix returns to the streets of Marvel's New York with Mike Colter's Luke Cage, the bulletproof man who's getting his own story after being featured in Jessica Jones. Expect more of the literal and thematic darkness that permeated Jones and Daredevil, plus some choice needle drops. Available September 30.
TELEVISION
September 1
Crashing (Season 1)
Game-Winning Hit (Season 1)
Heartland (Season 7)
Hellevator (Season 1)
I Am the Ambassador (Season 1)
The IT Crowd (Series 5)
Lucky Days (Season 1)
Shameless (U.S.)(Season 5­6)
September 2
Baby Daddy (Season 5)
Chef's Table: France
Kazoops! (Season 1)
Kulipari: An Army of Frogs
Narcos (Season 2)
Young & Hungry (Season 4)
September 7
The Blacklist (Season 3)
Galavant (Seasons 1­2)
September 10
Supergirl (Season 1)
September 13
Hawaii Five­-0 (Season 6)
September 14
Goldie & Bear (Season 1)
September 15
Sample This (2012)
The Walking Dead (Season 6)
September 17
Luther (Season 4)
Penny Dreadful (Season 3)
September 19
Call the Midwife (Series 5)
Gotham (Season 2)
September 20
New Girl (Season 5)
September 22
Bones (Season 11)
Easy (Season 1)
Wallander (Series 4)
September 23
Last Man Standing (Season 5)
Longmire (Season 5)
VeggieTales in the House (Season 4)
September 24
Portlandia (Season 6)
September 25
Family Guy (Season 14)
September 28
The Fosters (Season 4 Part A)
September 30
Marvel's Luke Cage (Season 1)
Scream (Season 2)
MOVIES
September 1
The Amityville Horror (2005)
Babel (2006)
Bayou Maharajah: The Tragic Genius of James Booker (2013)
Bill & Ted's Bogus Journey (1991)
Bratz: The Movie (2007)
Burn, Burn, Burn (2015)
Cats & Dogs (2001)
Defiance (2008)
Easy Fortune Happy Life (2009)
Europe's Last Great Wilderness (2015)
The Fierce Wife (2010)
Footloose (1984)
Full Out (2015)
Hoot (2006)
Hope Floats (1998)
Indochina's Wild Heart (2015)
Jaws (1975)
Jaws 2 (1978)
Jaws 3 (1983)
Jaws: The Revenge (1987)
Joyful Noise (2012)
Keepers of the Game (2016)
Last Holiday (2006)
Man on Wire (2008)
Milk Money (1994)
Practical Magic (1998)
Road Trip (2000)
Sam Kinison: Breaking the Rules (2000)
Saving Private Ryan (1998)
Scary Movie 2 (2001) Stomp the Yard (2007)
Sweeney Todd (2007)
Top Gun (1986)
True Grit (1969)
U­571 (2000)
The Wicker Man (2006)
Wild Madagascar (2015)
September 6
Crash (2004)
The Finest Hours (2015)
Hard Target 2 (2016)
Honey 3 (2016)
R.L. Stine's Mostly Ghostly: One Night in Doom House (2016)
September 13
Extremis (2016)
London Has Fallen (2015)
September 15
Sample This (2012)
September 16
Cedric the Entertainer: Live From the Ville (2016)
Raiders!: The Story of the Greatest Fan Film Ever Made (2015)
The White Helmets (2016)
September 17
3 Days to Kill (2014)
September 20
Colliding Dreams (2016)
Zootopia (2016)
September 23
Audrie & Daisy (2016)
Iliza Shlesinger: Confirmed Kills (2016)
September 24
River (2016)
September 25
Margaret Cho: PsyCHO (2015)
September 28
The Imitation Game (2014)
September 30
Amanda Knox (2016)
For more details on the best film and television available online, consult Vulture's What to Stream Now hub.