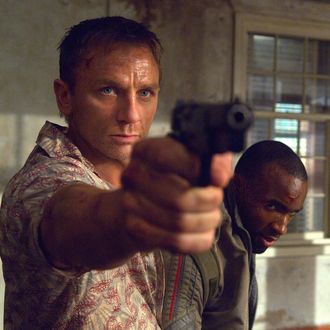 The name's Bond.
Photo: Jay Maidment/Columbia Pictures
At the beginning of (and during) every month, Showtime adds new movies and TV shows to its library. We figure you might want to know about them. For more comprehensive coverage of the best titles available on Showtime and elsewhere, check out Vulture's What to Stream Now hub, which is updated throughout the month.
The swingin' '70s: Masters of Sex (Season 4)
After yet another time jump, Masters of Sex returns in the midst of the 1970s, where Masters and Johnson can explore the heights of the sexual revolution. From the trailer alone, we know we're getting a key party, some swinging couples, and a whole bunch of psychedelic production design. Season premiere September 11.
Counselor? Counselor: Cape Fear (1991)
Robert De Niro plays Max Cady, a man released from prison who starts stalking the family of the lawyer who defended him in a remake of the 1962 Gregory Peck original. Cape Fear brought Scorsese and De Niro together once again, and pushed the latter to his limits with one of his most unhinged characters ever (aside from the bad grandpa in Bad Grandpa). Available September 1.
I'm the money: Casino Royale (2006)
One of the all-time best Bond movies, Casino Royale absorbs the aesthetic of the Bourne movies into classic British franchise. Daniel Craig plays an especially moody hero, Mads Mikkelsen is a leering villain par excellence, and Eva Green plays a Bond girl who, for once, gets to be as witty and capable as Bond himself. Available September 9.
TELEVISION                  
Masters of Sex (Season 4 premiere) (September 11)
The Circus: Inside the Greatest Political Show on Earth (New episodes) (September 11)
Ray Donavan (Season finale) (September 18)
A Season With Florida State Football (Season premiere) (September 6)
Inside the NFL (New episodes) (September 6)
60 Minutes Sports (New episodes) (September 6)  
MOVIES
September 1
After Dark, My Sweet (1990)
All Stars (2015)
The Architect (2016)
Beyond the Law (1992)
Bless the Child (2000)
Breaking Point (2010)
Cape Fear (1991)
Danger Zone (1996)
Deal (2008)
In the Shadows (2001)
Lucky Town (2001)
Only You (1992)
The Prisoner of Zelda, Inc. (1996)
Rat Race (2001)
Refuge (2015)
The Surface (2015)
Tapeheads (1988)
Tears of the Sun (2003)
Ticker (2001)
Available later in September
Forsaken (2016) (September 3)
Casino Royale (2006) (September 9) 
Rocky Balboa (2006) (September 9)
The Gift (2015) (September 11)
DOCUMENTARIES AND COMEDY SPECIALS
Springsteen & I (2013) (September 1)
Martin Lawrence Doin' Time: Uncut (2016) (September 9)
Guns N' Roses – The Most Dangerous Band in the World (2016) (September 16)
For more details on the best film and television available online, consult Vulture's What to Stream Now hub.